Assisted Children: Individual Stories
Overwhelmed Grandma Pleas for Help as Teen Battles Advanced Cancer
Collection Complete March 2022. Thanks to generous contributors, JJCCF's Financial Assistance /Advocacy / Supportive Care Services Programs and collaborative support from partner charities, this family benefited from having access to basic human needs during a dreadful time.
---
Story:
Zoey, 13-year-old, Nicklaus Children's Hospital & Memorial Sloan Kettering Cancer Center
Zoey was first diagnosed with Neuroblastoma after a cheerleading accident in 2016.  Since then, her diagnosis has advanced to recurrent Metastatic Stage IV Neuroblastoma.  For almost 5 years Zoey has endured multiple surgeries and many types of cancer treatments including out of state clinical trials in NYC during her ongoing battle.  Zoey's Grandmother has devoted her life to saving Zoey's life.
Needs:
Zoey and her sister were adopted by their grandparents when it became unsafe for them to live with their biological parents.  In addition to providing 100 percent support for the girls, the grandparents have addressed the girls' mental health needs and are steadfast in their commitment to seeing Zoey beat cancer.  Grandmother is unable to work while caring for the two girls, and family relies on grandfather's social security benefits as their only source of income.
---
Letter from Hospital Social Worker:
Dear Jessica June Children's Cancer Foundation,
This letter is being written on behalf of Zoey and Rosa. Zoey is a 13-year-old young lady being treated at Nicklaus Children's Hospital for diagnosis of recurrent metastatic stage IV Neuroblastoma with metastases to lymph nodes and bone marrow.  Zoey was diagnosed in 2016 after suffering a cheerleading accident.  Since her diagnosis, Zoey has endured chemotherapy, stem cell boost, stem cell transplant, ICE therapy, 3F8 therapy and tumor resection.  Zoey and her sister have been in the care of their grandmother (Rosa) and grandfather since early childhood as a result of their biological parents' inability to provide them with a safe home.  In order to further ensure their safety, Rosa and her husband legally adopted Zoey and her sister.  Zoey has been fighting cancer for many years.  Her grandparents have remained by her side for every hospitalization and every treatment.  Additionally, the grandparents have assured that their adopted children's mental health has been properly addressed through on-going therapy.
The children's' care combined with the chronic medical needs of Zoey have drained the family finances.  Rosa has been unable to work due to the multiple hospitalizations which Zoey has endured for so many years.  Zoey's family depends on the grandfather's disability income to supplement the family's needs.  Most recently in the last 2 years, Zoey has required special treatment at Memorial Sloan Kettering in NY.  The supplemental travel costs for this treatment have further burdened the family's already limited income.  This is a proud family who volunteered with earnest and joy to care for their grandchildren never expecting for the turn of events brought on by cancer.
We kindly ask that you open your hearts to helping this very deserving family.  Zoey's treatment is ongoing, and she and her family continue to fight.  Any assistance will be so greatly appreciated by her family during this incredibly challenging time.
Warm Regards,
Tiffany Gallart, MSW, RCSWI
Pediatric hematology/oncology social worker

Click on the PDF icon to view original letter from the Hospital Social Worker
---
Plea from Grandmother:
"Your child has cancer".  Four little words but the most dreaded words I believe in any language for its the confirmation of the nightmare you have been living.  I say confirmation because for a long time I knew something was wrong. I even prayed to God to please do not let it be cancer, but everything, all the tests kept coming back as "growing pains", "it's viral" "allergies".  Until my child could not walk and what seemed like a cheerleading injury in October of 2016, turned out to be Stage 4, high risk neuroblastoma.
Nothing has ever been quite the same.   Friends become family and family become strangers. All but a handful disappeared.  Too painful to handle, I guess. Zoey and I are hardly ever home. We go from one hospital to another, state to state if necessary, whatever it takes looking for a cure.
You rob Peter to pay Paul. It is a constant battle with the insurance company in trying to get approval. Approvals that no matter how many appeals does not get result. So, you pay cash for meds, and charge everything until your credit card is maxed to the limit on meds, food, travel expenses etc.
Pediatric Cancer affects everyone. Especially the younger siblings.  Zoey and her younger sister used to be best friends now they hardly speak. Zoey is going thru physical and mental hell, her siblings emotional, confused and angry.  A never-ending horrible roller coaster ride.
I would like to thank all of you for your generosity. We are so grateful for the kind hearts of others that have helped us and continue to help us on this journey. This support means so much to me and my family. Rosa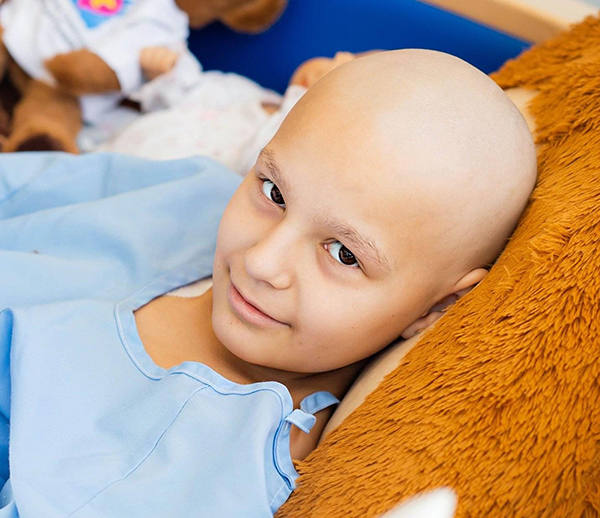 Zoey