Assisted Children: Individual Stories
Collection Complete December 2019.  Thanks to generous contributors, JJCCF's Financial Assistance / Advocacy Programs and collaborative support from partner charities,  this family benefited from having access to basic human needs during a dreadful time.
---
Story:
Yordin, 3-years-old, Nicklaus Children's Hospital
In December of 2018 Yordin was diagnosed with Retinoblastoma – a rare form of eye cancer, in his home country of Guatemala.  He has bravely undergone surgery, but sadly his left eye had to be removed.  His family understood that survival for Yordin meant traveling to the U.S. for treatment. Leaving mother and younger brother behind, Yordin and his father left Guatemala and arrived in Miami with nothing. Over the past two months Yordin has been in-patient responding well to treatment at Nicklaus Children's Hospital.  He needs to receive radiation treatments, but does not have the funds required to cover this expense.
Needs:
Yordin and his father need help paying for everyday needs.  Father would like to look for work when Yordin is discharged from the hospital, but he does not have any mode of transportation.  They need help with expenses relating to transportation, food, rent, medications and cell phone service which allows Yordin to remain in contact with his mother in Guatemala.
---
Letter from Hospital Social Worker:
Dear Jessica June Children's Cancer Foundation,
Yordin Gonzalez Yaque is a 3-year-old oncology patient at Nicklaus Children's Hospital. Yordin was diagnosed with a retinoblastoma, for which his left eye was resected and is now receiving chemotherapy and laser therapy. Yordin and his father Milson are here all by themselves. His mother and little brother are hundreds of miles away, as they've made this sacrifice to give Yordin the best chances possible. Yordin has been admitted for extended periods of time and is not eligible for insurance coverage outside of hospital stays. With his dad unable to work during his treatment, he cannot collect money to pay for basic needs such as rent or food or even medications or follow-up appointments for Yordin. They have made it this far due to their determination and the help of good people that have opened their hearts to this young family.
While the Gonzalez family is very humble, I ask on their behalf for your consideration to help this family during a very difficult time. It is my belief that they will be most grateful for any assistance that is provided to them through the advocacy program.
From myself and my fellow social work colleagues, we deeply appreciate the continued assistance and support the Jessica June Children's Cancer Foundation community provides to our families.
Sincerely,
Tiffany Gallart, MSW
Pediatric Social Worker

Click on the PDF icon to view original letter from the Hospital Social Worker
---
Plea from Father:
To begin, through this letter, I send you a cordial hello and hope that you find yourself well in health and enjoying the blessings of God. These are my deepest hopes for you, from your friends Milson and Yordin Gonzalez. In these few lines, I will tell you a little more about Yordin's story. My son was born in January of 2016 in the national hospital of Sambenito. After a year and a half, we returned to this same hospital, where he was diagnosed with a grave retinoblastoma in his left eye. They transferred him to the cancer treatment center in the capital city of Guatemala, where they operated and removed his left eye completely. Months later, I decided to come to the United States with Yordin for better opportunities. During his treatment back home, Yordin's mom would stay at the hospital with him while I worked to pay for medicines and the needs of our younger son. We had to leave Yordin's brother in the care of his grandmother with just 2 months old. I worked day and night in these times because the money would not last. My pay was about 100 quetzal, which is equivalent to about $15 a day. We weren't able to make ends meet and I decided to come to the U.S. to better provide for my family. My ideas changed when I got here because Yordin's tumor came back and I have not been able to work. I have faith in God and the good of people so I know it will get better. May God bless you all for taking the time to read this.
Milson, alongside his beloved son Yordin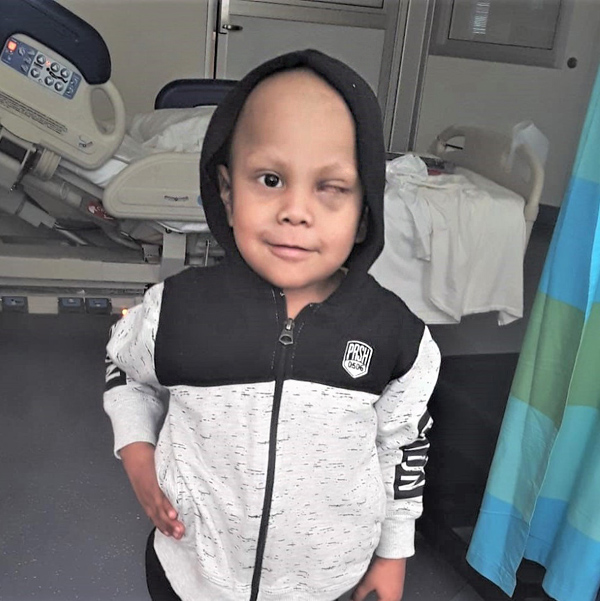 Yordin