Assisted Children: Individual Stories
Family Payments Are Past Due as Teen Battles Leukemia
Collection Complete October 2021.  Thanks to generous contributors, JJCCF's Financial Assistance / Advocacy Programs and collaborative support from partner charities,  this family benefited from having access to basic human needs during a dreadful time.
---
Story:
William "Geo", 16-year-old, The Children's Hospital at Palms West
Geo was first diagnosed with Leukemia November 2018 and has been in treatment ever since.  This soccer aficionado was once a highly active young man, but cancer has taken its toll on him and his family.    Additionally, Geo's younger brother was born with Hemihypertrophy (a rare genetic disease) causing the left side of his body to be enlarged.  As Geo continues to battle blood cancer, his family is facing past due bills they cannot afford to pay.
Needs:
This family of (6) lives in a trailer home with only one functioning bathroom since mold was detected in the second bathroom. With Geo's compromised immune system, the mold needs immediate remediation. Essential repairs to the bathroom are in process, but have diverted funds from groceries, rent, electricity and car payments. In order to care for her children, Geo's mother had to leave her employment as an assistant to a Chiropractor. Geo's stepdad works as a carpenter, but is unable to makes ends meet during this temporary crisis.
---
Letter from Hospital Social Worker:
Geo is an outgoing and active 16-year-old. Shortly after entering High School Geo's Mom noticed her happy and active son was very quiet and tired. Instead of wanting to run and play soccer he was very tired and complained of joint pain. Thinking he had a virus he went to the doctor and they ran some blood tests which showed Leukemia. In that instant Geo's and his family's world turned upside down. Geo's mom who was already dealing with medical issues with Geo's 2-year-old brother now had to leave her job to care for both her son's. Needless to say, this put a strain on the family financially. Geo's stepdad has been working as much as he can to help make ends meet which has been a struggle. Naturally, the emotional and financial toll that Geo's health has had on his family is devastating. They need assistance for basic needs such as: repairs to their trailer which has a bathroom that needs repair and is not able to be used at this time, so they have one functioning bathroom they all (6) share. They also need assistance with food, utilities, and gas for their car (to help with the added expense of traveling to and from the hospital for treatment). Their car also needs new tires.
Any financial assistance you can provide would be greatly appreciated and would help make this difficult journey of battling childhood cancer a little easier.
Yours truly,
Michelle O'Boyle, RN, CPON
Founder/Executive Director, Kids Cancer Foundation

Click on the PDF icon to view original letter from the Hospital Social Worker
---
Plea from Mother:
My son, Geo is 16 years old and has Leukemia.  Geo is currently in remission but has another 13 months of cancer treatment to go. I also have 2 other children at home and my mother who lives with us. My youngest son also has health issues, so I had to leave my job when Geo was diagnosed in order care for both. My husband is currently working very hard to provide for the six of us and our family desperately needs assistance with our monthly bills and to help with the bathroom repairs we need to make due to mold. Any financial assistance you can provide our family would be greatly appreciated.
Thank you,
Lisandra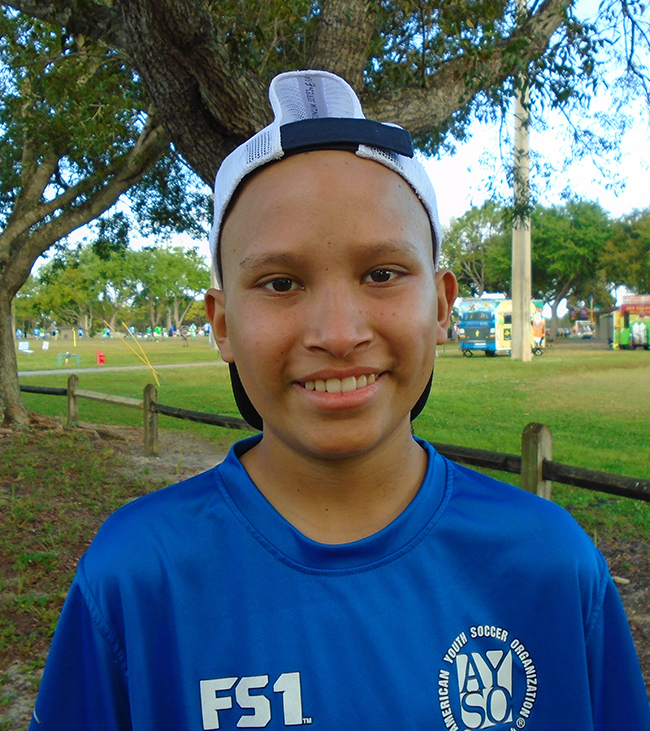 Geo