Assisted Children: Individual Stories
Tough Battle for Teen Going Through Intense Chemo (RIP)
Collection Complete December 2011. Thanks to JJCCF's Financial Assistance, Advocacy and Share the Joy programs this family benefited from $9,700 representing basic human necessities (several rent, electricity, car, phone and medical payments). Share the Joy ceremonies: on 3/2011 Marine Power Engineering donated $2,000 to JJCCF- 100% benefited Valentina. On 7/18/2011 local teen Christie Parsons raised funds with RBIs4Cancer and donated $2,000 to JJCCF- 100% benefited Valentina.  Both teens met for the first time on Channel 6 News, Live Positive Report. See video. See press: Huffington Post, Sun-Sentinel
---
Story:
Valentina, 14 Y/O, Broward General Medical Center
Valentina was diagnosed with Rhabdomyosarcoma (stage IV) on February 2011 and since has been receiving aggressive chemotherapy. Her treatment requires hospitalization ten days per month as well as coming to the outpatient oncology center once per week. Valentina's intense chemo treatment has left her body weak having to often return to the hospital emergency room after treatment.
Valentina's biological father offers no financial support, and her mother had to quit working to become her full time caregiver. Cancer treatment for Valenitna will last approximately one year, and mother is not certain if she will be able to work during this time.
---
Needs:
For the next couple of months, while Valentina is receiving chemotherapy, this family needs assistance with rent, utilities and food gift cards.
---
Message from Social Worker, 4/20/11:
Dear Sandra,
Valentina Londono (DOB: 8/9/96) is a patient at Chris Evert Children's Hospital Pediatric Hematology/ Oncology Clinic. She is diagnosed with stage IV Rhabdomyosarcoma since February 21, 2011. She is receiving chemotherapy treatment.
Valentina's treatment will continue for approximately one year. Her treatment requires her to be hospitalized for approximately five days twice a month. She is also seen in the outpatient clinic approximately once per week. It is likely that she will require additional hospitalized days for treatment of side effects of chemotherapy.
She resides with her mother, step-father, maternal grandmother, eighteen year-old sister and thirteen year-old brother. She is a resident alien of U.S but not eligible for SSI. Her mother was employed full time working two jobs doing cleaning and bookkeeping. She has not been able to work since Valentina has required constant care at home and when hospitalized because of side effects of chemotherapy.
Her step-father is not able to provide adequate financial support to meet all of their needs. They have considered moving to less expensive rental apartment or home, but the application requires proof of employment. They require assistance with all of their household bills, including rent, electric, water and phone. Thank you for your consideration of this patient and family to enter your Advocacy Program. If you have any questions, you may contact me at (954)355-4522.
Sincerely,
Bernadette Brunetti, LCSW
Social Worker
---
Plea from Mother, 04/29/11:
Jessica June Foundation:
A very big thank you for the help provided to us in March. It is very much appreciated. This letter is to inform the Jessica June Foundation that due to the medical condition of my daughter, Valentina Londono, I have not been able to take on my job responsibilities again. My husband is self-employed and for that reason he does not have a fixed salary. Because of this situation, we request help from the foundation so that we can pay some of our bills. God Bless and an infinite thank you.
Sincerely,
Gloria Cardona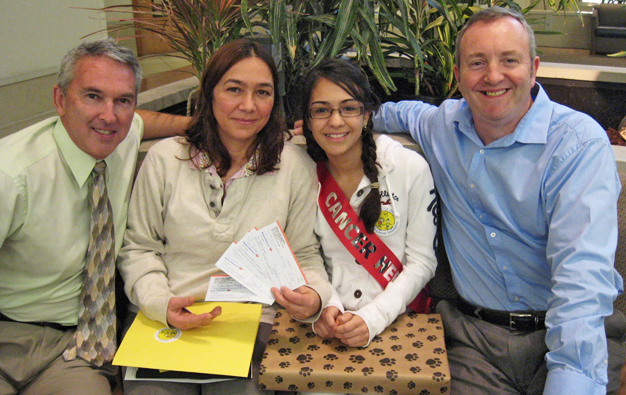 Valentina with Mother and members of the British American Chamber of Commerce & Marine Power Engineering