Jessica June Children's Cancer Foundation is a Children's Cancer Charity, Fund, and Foundation based in South Florida with children assisted in Miami, Broward County including Ft. Lauderdale through Weston, and Palm Beach County including West Palm Beach through Wellington and most recently St. Petersburg and Tampa in Pinellas County, Florida.

Imagine you're told that your child has cancer. What would you do? Sandra Muvdi, the founder of the Jessica June Children's Cancer Foundation (JJCCF), discovered that: "Your entire life turns upside down and you're thrown into a downward spiral leading to various types of situational crisis."
Imagine dealing with the trauma of your child battling a life threatening illness while unable to pay the rent to keep your family off the streets. Even worse, imagine you're unable to pay for medical tests and treatments that are critical to your child's survival. Unfortunately, many low income families lack the financial resources required to provide optimal care for a sick child.
In short, a diagnosis of childhood cancer creates an immediate medical and emotional crisis while also creating a financial crisis for many families. That's why JJCCF is committed to providing emergency financial relief to help families pay for everyday necessities such as medical, utility, rent, mortgage, car, and groceries. This direct and tangible assistance for access to basic necessities is vital to the survival of these children while they're receiving treatment.
The mission is helping children fight cancer by providing emergency financial assistance to ensure access to basic human necessities. Advocacy, emotional support and respite options encompass our supportive care services for families served.
JJCCF is a nonprofit IRS approved 501(c) (3) public charity founded in 2004 by Sandra Muvdi shortly after the loss of her only child to cancer. The Foundation was created in memory of Jessica June Eiler Muvdi (1996 – 2003).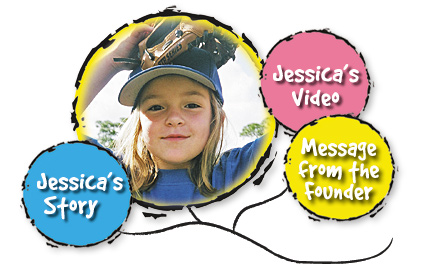 ---
Help a Child Survive Cancer