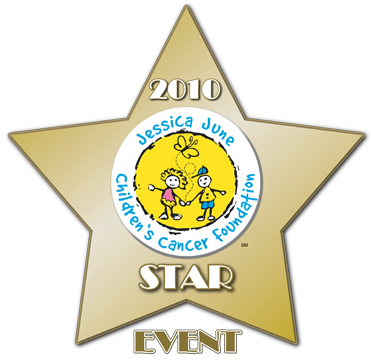 Annual STAR event on May 4, 2010 ROLLS OUT THE RED CARPET
TO RECOGNIZE THOSE WHO HELP CHILDREN FIGHTING CANCER
---
CLICK ON THE SMALL PICTURE BELOW TO VIEW LARGER IMAGE
Photographers: Ginny Fujino, Black-Tie South Florida & Dr. Tom Latrielle
---
Thank you to The Wasie Foundation for being our
Host, Sponsor & Partner!
---
FORT LAUDERDALE, FL – The Jessica June Children's Cancer Foundation (JJCCF) recently thanked those who help the non-profit organization provide temporary financial assistance for needy children fighting cancer in South Florida.
The JJCCF STAR event, held at The Wasie Villa in Fort Lauderdale, recognized contributors, volunteers, in-kind donors, pediatric hospitals, social workers and, most importantly, four children and their families currently being served by JJCCF.
"It was a magical evening full of joy and sparkle," said Sandra Muvdi, founder/president of the Jessica June Children's Cancer Foundation. "The STAR event was everything I had hoped for. Our guests, all from diverse backgrounds, had a common thread of being genuine, loving and caring individuals. It is a night I will cherish for the rest of my life."
Muvdi was surprised by her volunteers and Windsor Diamonds with a diamond starfish necklace, which symbolizes the hope from the Starfish Story adapted from "The Star Thrower" by Loren Eiseley. The story describes the importance of helping others, one person at a time.
Gregg Sjoquist, JJCCF Chairman of the Board of Directors and CEO of The Wasie Foundation, said the work done by Muvdi and those who work with JJCCF are the living embodiment of that story."They make a real difference in the lives of children with cancer and their families every day," Sjoquist said. "Sandra wanted to thank everybody for their help, but it is she who deserves to be thanked for the work she does. It was a special evening."
---
Recognitions
Longest Serving Volunteer
Magali Salazar

Youngest Most Outstanding Volunteer
Michelle Miggins

Most Outstanding Volunteers
Phillip & Ellie Biber

Most "Special" Volunteer
Jen Klaassens

Donors of Distinction
Michael & Mary Ellen Coen

Bus Loop Chairman for Ongoing Unconditional Support
John Haley

Most Outstanding Independent Fundraiser
Ana Ramoski

Outstanding Nonprofit Collaboration
Children's Aid Club
Andre Sobel River of Life Foundation

Most Committed Supporter
Gregg Sjoquist

Cancer Heroes Guests of Honor
Cara Dennis (3 Y/O, Neuroblastoma)
Diamond Leath (7 Y/O, Brain Cancer)
Sisters Fighting Cancer:
Liana Garcia (5 Y/O, Leukemia-AML)
Lilibet Garcia (18 Y/O, Rhabdo)
---
Guests express themselves about the STAR event:
Dr. Ana Calderon, Children's Diagnostic & Treatment Center: "I just wanted to thank you for inviting me and Dr. Hernandez to your beautiful event. It was very touching and I am glad to be your colleague. "

Margarethe Sorensen, Professional Make-up Artist, JJCCF volunteer: "Thank YOU so very much for allowing me the privilege of helping your organize the JJCCF Star event. It was truly an amazing experience from the Wasie Villa decorating to the Hero Awards. You did such a terrific job with so much love and care. You are THE STAR yourself!"

Beverly Denham, Miami Children's Hospital Pediatric Oncology Social Worker: "Thank you again for recognizing us for the work we try to do by inviting us to such a lovely affair. It felt good to be able to unwind in such nice surroundings with such giving people and to see the cancer heroes so happy. "

Derek Parsons, Windsor Diamonds, JJCCF volunteer: "Thank you for a wonderful evening. You have no idea how much I admire you!"

Kathy Koch, Ambit Advertising Public Relations: "What an awesome event last Tuesday! I was struck by the great diversity of people – all warmly joined by a common thread. You were amazing in your ability to make each person feel absolutely special. I was so glad I could be there. Thank you for your recognition of Ambit, too! We're honored to be able to help."

Jackie Rodriguez, Windsor Diamonds, JJCCF volunteer: "I enjoyed the one on one with the families. In regards to the starfish well deserved the families think the world of you. Ana said that you have been a blessing to her family. Thanks for being who you are!"

Jen Klaassens, The Wasie Foundation, Recipient of JJCCF's "most" special volunteer award: "What a special night for Sandra and ALL. Seeing those kids dancing and the families enjoying themselves was a great sight to see."

Maria Romero, JJCCF volunteer: "You are the STAR Sandra. You have touch and change so many people's lives. THANK YOU"

Jackie Chavez, Riverwalk Trust: "Thank you for inviting me to your event yesterday. You did a fantastic job and I think it went fabulously!"

Ginny Fujino, Blacktie-South Florida: "Great event! A tear filled event! What wonderful children and families!"

Ana Vento, Vento Designs: "It was so great to see you tonight and see all the wonderful things you have done for these children and their families. It was beautiful to see the recognition you gave to all those special people surrounding you and your organization. It's truly amazing to all those with such great blessed hearts."

Magali Salazar, Recipient of JJCCF's Longest serving volunteer award: "Thank you so much for such an amazing event. Mil gracias nuevamente por todo, que Dios siempre te bendiga por ser un angel para muchos!!!!!"

Gregg Sjoquist, CEO The Wasie Foundation & Chairman of JJCCF Board of Directors: "Congratulations on another JJCCF winning event! People went on and on about how special yesterday evening's recognition party was. You have made quite a difference in the lives of many in South Florida."

Sandra Muvdi, JJCCF Founder / President: "I know everyone felt special and enriched from contributing and knowing the joy brought to three families in crisis enduring pediatric cancer attending the event. The magical evening at the Wasie Villa was full of surprises including one for me! JJCCF volunteers and Windsor Diamonds unexpectedly gave me a symbolic diamond "starfish" necklace which I will always cherish and wear proudly."
---
Media Coverage
Sun-Sentinel News Article, 6/9/10
Sun-Sentinel News Article, 7/4/10
Miami Herald News Article, 7/4/10
---