Advocacy Program: Children Urgent Needs 
Humble Mother and Son Plea for Help Post-Transplant and Hurricane
JJCCF is accepting donations in honor of Simon. If you wish to share your compassionate support, 100% of your donation will go towards assisting Simon and his family with their basic necessities. JJCCF does not charge for its services or take a percentage of funds raised.
Online:
Donate Indicate Dedication / In Honor of Simon
Mail:
Kindly make your check payable to "JJCCF" and write "For Simon" in the memo
Address:
Jessica June Children's Cancer Foundation
1 Las Olas Circle, Suite #209
Ft. Lauderdale, FL 33316
---
Story:
Simon, 15-year-old – Golisano Children's Hospital & Johns Hopkins All Children's Hospital
Simon was a gregarious teen living with his single mother and 3 younger siblings in a mobile home in Bonita Springs, FL until he was diagnosed with Leukemia in September 2020.  His father was deported to Mexico and his mother is the sole provider picking crops in a farm.  Soon after diagnosis, the humble family of (5) was not able to afford bare necessities since the single mother had to care fulltime for Simon's medical needs.  After receiving Simon's referral from Golisano Children's Hospital in Ft. Myers, we immediately assisted his family with food and gas gift cards. Sadly, Simon relapsed, and his survival depended on a bone marrow transplant at All Children's Hospital in St. Pete, FL.
His mother was able to gather enough money to buy a vehicle to transport her son to the new hospital 140 miles away from home.  While Simon was hospitalized after the transplant, everyone had to evacuate since the forecasts predicted Hurricane Ian would be directly hitting the hospital.  Seeking safety, Simon and his mother drove their car South where they found a hotel room.  The hurricane hit their ground floor room directly and they remained 9 hours with most of their bodies submerged in water in the dark until they were rescued. Unfortunately, the family car and all their personal belongings were flooded and a total loss.  After narrowly surviving, Simon contracted a virus which is being monitored at the hospital.
Simon's siblings evacuated their mobile home and remained a few weeks in a shelter. Thanks to our Kids Cancer Relief Drive -Hurricane Ian Aftermath donors, Simon's family received emergency assistance.  During a time of loss and despair, we provided 3 loaded credit cards (each $500) restricted for food, transportation, lodging, and hardware purchases to help stabilize the entire family.
Although the family's road to recovery is lengthy, we will continue supporting the family through our Advocacy Program (last resort program).  We hope Simon will be released from the hospital to a safe home environment while he is immunocompromised and that his family can once again own a car. Simon's mother deserves a break after enduring spousal abuse, the kidnapping and tragic death of her daughter and her current hardships.
Needs:
Simon needs new clothing and a new bed after losing his personal belongings during the Hurricane. He is immunocompromised and should not sleep on an old mattress which was flooded by the hurricane.  Family also needs food and transportation to get Simon to his post-transplant hospital checkups.
---
Letter from Hospital Social Worker:
To Whom It May Concern:
This letter is on behalf of Joelia Jose, mother of Simon Hernander Jr. DOB 03/05/2007.  Simon is currently a patient at Golisano Children's Hospital of Southwest Florida in the Pediatric Hematology/Oncology program under the medical care of Drs. Nicholson, Macarthur, DePombo, Sawczyn, and Salman.
Simon is a 14 year old male battling leukemia since 9/18/2020.  He received weekly chemotherapy and had weekly appointments in our office for labs, physical exams and symptom management.  Simon had significant complications related to treatment including fever and infection.  Unfortunately, in January 2022 he relapsed, therefore needed transplant.  Simon went to JHACH in St. Pete for a Stem cell transplant in July where he remained hospitalized for over a month.  He continues to receive post-transplant follow up care in St. Pete.  Joelia and her family have also been extremely affected by Hurricane IAN that hit Lee County area on Sept. 28th the family lost all their household belongings due to flooding.
Joelia is a single mother of 5 and is Simon's primary caretaker.  She lost her job due to Simon's treatment needs.  She is supportive and caring with her son and plays a very important role in his recovery.  The family is enduring financial hardship and is seeking assistance to cover basic living expenses.
We thank you in advance for special consideration for this very deserving family.  Simon't treatment is ongoing as he and his family continue to fight.  Any assistance will be greatly appreciated by his family during this incredibly challenging time.
Warm regards,
Lina Diaz-Conde, MSW, CMC
Pediatric Hematology/Oncology
Golisano Children's Hospital of Southwest Florida

Click on the PDF icon to view original letter from the Hospital Social Worker
Plea from Mother:
My name is Joelia. I have 4 children and I am a single mother. 2 years ago, my son Simón was diagnosed with cancer. Since then, I have not been able to work because I must care for my son and take him for his treatments. We were impacted by Hurricane Ian on September 28, 2022. I rented a hotel room in For Myers for my son and the water hit the room. In a second the room was flooded, and I went out with my son walking until I reached the hotel office. As we walked, we saw trees, palms, power cables, and the hotel roof fall and the water reached my chest. We managed to walk 60 feet to the hotel restaurant and I placed my son on top of a table so he would not be in the water. There were many people crying and others passed out in the water. I was standing in the water for 9 hours while I dialed 911 but the call would not go through since there was no signal or power. After 9 hours I was able to ask for help. The car with which I was transporting my son to his hospital appointments was flooded and a total loss. Right now, I have nothing; I lost everything. I am asking for anyone to help me so that my son can continue his treatment and survive. I thank everyone who can help me. Thank you and God bless you all.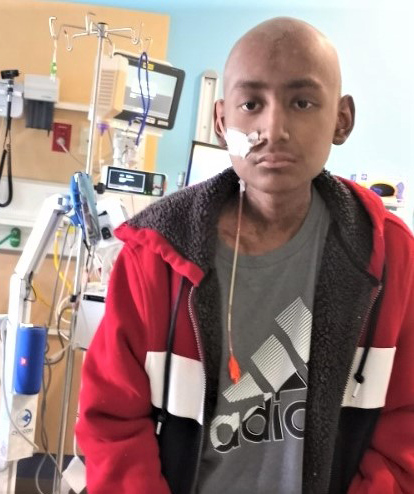 Simon