Assisted Children: Individual Stories
Single Mother of 2 Struggling to Make Ends Meet While Battling Her Illness & 12 Y/O Daughter's Leukemia
Collection Complete June 2013. Thanks to JJCCF's Financial Assistance and Advocacy programs this family benefited from having access to basic human needs during a dreadful time.
Story:
---
Shayla, 12 Y/O, Miami Children Hospital
Shayla was diagnosed with Leukemia April of 2011. Her single mother had to stop working due to the daughter's health. Shayla's treatment has increased her appetite and the family is struggling to keep food on the table. Mother had to put a stop on her own treatment for Hepatitis C that she contracted 20 years ago from a blood transfusion because she could not afford the cost. She is struggling financially, emotionally and health wise. JJCCF provided assistance for this family in June of 2011 to pay for rent, car repairs and car insurance.
---
Needs:
For the next couple of months while Shayla is undergoing intense chemotherapy, her family will need assistance with their rent, utilities and their phone.
---
Message from Hospital Social Worker, 5/4/12:
May 4, 2012
Re: Shayla Morales, DOB 11/12/1998
Dear Valerie,
Thank you for helping Shayla and her family last year with household bills. I spoke with her mother yesterday and she informed me that despite having received help from other organizations, their financial situation remains the same. She is still an unemployed single mother trying to provide for Shayla alone with the help of social security benefits.
Therefore I am asking that Shayla and her family be considered for more assistance, this time from the Advocacy Group.
Thank you for your help once again,
Sincerely,
Beverly J. Gibson, MSW
Pediatric Social Worker
---
Plea from Mother, 02/27/12:
My name is Judy and I am forever the proud mother of Shayla N Morales. I write this letter in the hopes that maybe I may be able to obtain some financial help. As of April 29, 2011 Shayla was diagnosis with (Leukemia A.L.L). Shortly after starting chemo treatment Shayla got three fractures in her lower back. Shayla's walking is very slow and falls a lot. I myself cannot work for I'm the only one she has who can take care of her. Sadly I myself will need to start a form of chemo sometime very soon. I need to take Shayla a lot to the doctors and my car is giving me some problem and needing the money to help with the down payment for the new insurance, cell phone and short on my rent. Things have gotten so much harder with needing to have to buy more much more food now because these steroids Shayla's on. Its almost like she does not stop. Everything so much more I so please need help…thank you so much
Testimonial from Parent, 04/13/12:
They have been an amazing kind upstanding respectful of our feelings always thank you JJCCF.  Donors Please don't ever stop helping I don't know what I would had done.Donors we don't get to see your faces but we get to feel your love when someone who does not even know us helps us to save our car so that my daughter can make it to MCH._We thank you from our hearts and soul really thank you with a hug and some kisses from our family to all of yours.
Judy Guitierrez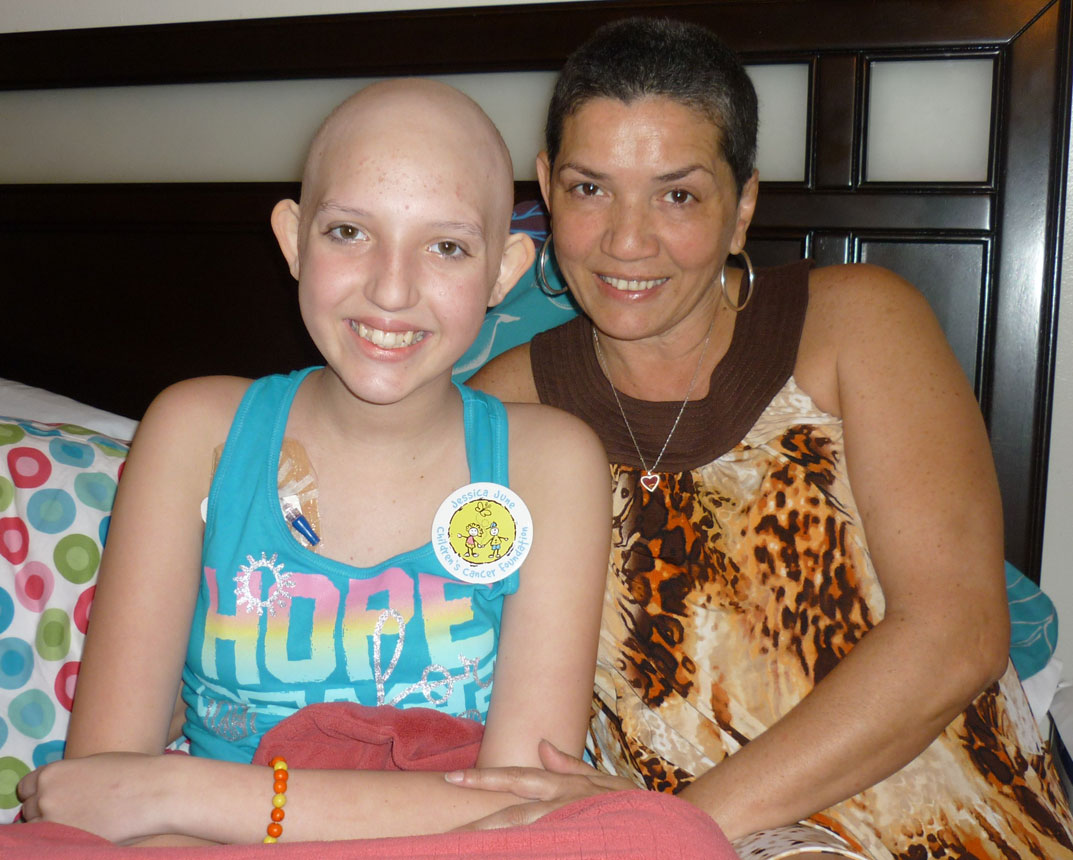 Shayla with mother