Assisted Children: Individual Stories
Single mother needs help caring for daughter with metastatic liver cancer
Collection Complete  January 2020.  Thanks to generous contributors, JJCCF's Financial Assistance / Advocacy Programs and collaborative support from partner charities,  this family benefited from having access to basic human needs during a dreadful time.
---
Story:
Shaddai, 16-years-old, Salah Foundation Children's Hospital at Broward Health
Since August 2018 Shaddai has been battling metastatic neuroendocrine liver cancer which has affected all the organs in her stomach. Only 5% of her liver is functioning and will likely need a transplant.  For this rare cancer she has is also being treated at Johns Hopkins All Children's Hospital (St. Petersburg, FL), Moffitt Cancer Center (Tampa, FL) and Mayo Clinic (Jacksonville, FL).  Her twin siblings (12-years-old) also have medical issues related to a blood disorder.  Mother is an Uber driver when she is able to allocate time to work.
Needs:
The family of (5) asks for financial assistance to pay monthly bills for basic needs including car, food, gas and insurance while they focus on Shaddai's treatment and survival.
---
Letter from Social Worker:
Shaddai Randolph is a 16 year old Pediatric Oncology patient at Salah Foundation Children's Hospital at Broward Health Medical Center. Shaddai was first admitted to the hospital on August 14th, 2018 and was diagnosed with neuroendocrine tumor of the liver. Shaddai has been undergoing treatment which includes injections on a monthly basis. Unfortunately, Shaddai's recent scans of her liver have shown that her condition is worsening. Shaddai has been referred for a liver transplant. Her doctors have shared that not proceeding with the transplant could result in liver failure or death. If she proceeds with the transplant, it will involve the liver plus other organs and will take months of recovery.
Shaddai's mother had been working but had to leaver her employment when Shaddai was diagnosed. She is now working in a flexible position, but this may change depending on the course of her daughter's disease. Shaddai has still been attending school throughout her treatment and diagnosis. Shaddai's mother is a single mother to Shaddai, her twin siblings, and an older daughter who is in college. This family would benefit from any assistance possible during this time of need. Thanks you for your consideration.
Sincerely,
Melissa Stachowiak, LCSW
Social Worker, Salah Foundation Children's Hospital Broward Health

Click on the PDF icon to view original letter from the Hospital Social Worker
---
Plea from Mother:
Shaddai is one of mommy's little blessings. My baby is 16 year old and is a ray of sunshine. August 2018, she was diagnosed with Metastatic Neuroendocrine tumor of the liver. The cancer is malignant and has spread to other parts of her abdominal area. As a result of this she must undergo a Multi-Visceral Transplant. This type of transplant involves removing her liver, stomach, spleen, pancreas small and large intestines and replacing them with healthy organs from a donor. Me and my babies have no fear because we know King Jesus is with us and He will us win this fight.
I am a divorced single mom of 4 beautiful blessings. Their father does not provide any type of financial or emotional support. I have always worked full-time and provide for my babies. I had to quit my full-time job and started driving part-time for Uber so I could have the flexibility needed to be there to love, support and fight for my daughter's life. Shaddai is a fighter. We have put on our boxing gloves of relentless hope and love.
We're asking for your prayers and support. We're asking you to please get into the ring with us and help us fight and TKO this horrific cancerous disease. Thank you so much for all your prayers, help and support. Special thanks to The Jessica June Children's Cancer Foundation, Sandra you are light in the darkness. Thank you so much for helping me and my babies dance in the rain as this storm passes.
Special thanks to The Salah Foundation Children's Hospital Pediatric Hematology Oncology Team. You guys and gals are the true super heroes.
Have a blessed day.
Williemae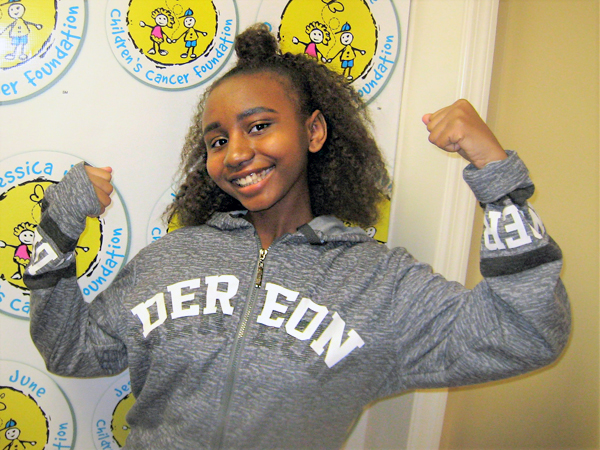 Shaddai