Assisted Children: Individual Stories
Family in Despair as Toddler Battles Brain Cancer
Collection Complete July 2021.  Thanks to generous contributors, JJCCF's Financial Assistance / Advocacy / Supportive Care Services Programs and collaborative support from partner charities,  this family benefited from having access to basic human needs during a dreadful time.
---
Story:
Sebastiana, 18-month-old, Nicklaus Children's Hospital
Since July 2020 Sebastiana and her humble family of (4) have been battling Medulloblastoma (brain cancer) at Nicklaus Children's Hospital.  This toddler is now enduring stem cell rescue procedures. The family relies on public transportation for the commute from their bedroom in Indiantown (village in Martin County, FL) to the Miami Hospital since they do not own a vehicle.  The family lives in one small bedroom rented in a house with various other individuals sharing a bathroom.
Shortly after Sebastiana took her first steps, she stopped walking and talking; her parents knew something was horribly wrong.  After her brain tumor was discovered, the family hopes turned to despair. Sebastiana and her mother travel 2 hours-plus from their home and spend months at a time in the hospital to get the intense treatment she needs. During this stressful time, the father suffered injuries and has not been able to work for weeks at his minimum wage job. Mother stopped her work cleaning homes to dedicate her fulltime care to Sebastiana. The family is seeking alternative low-income housing options to adequately serve their living and medical needs.
Needs:
As this family's bills pile up, Mom pleads for temporary assistance to ensure her family has a place to live and food to eat during their arduous pediatric cancer journey.
---
Letter from Hospital Social Worker:
Sebastiana is an 18-month-old little girl who was diagnosed with medulloblastoma in July 2020, currently being treated at Nicklaus Children's Hospital.
Shortly after her parents witnessed her take her first steps, Sebastiana stopped walking and talking as she did before. They knew something was horribly wrong and a brain tumor was soon discovered. Their lives completely changed, as Sebastiana and her mother would have to travel 2 hours from their home and spend months in the hospital to get her the treatment she needs.
Her father and 8-year-old sister, now miles apart, are struggling to cope with the diagnosis and having trouble making ends meet. Sebastiana's parents are humble people working laborious jobs for pennies on the dollar. The loss of mother's income left them unable to pay their rent or even secure meals at times, causing great stress to this family. Father recently also suffered an injury, which did not allow him to work for several weeks. With almost no family to offer support, the pressures continue to mount. To add, Sebastiana's family of 4 lives in a single bedroom they rent inside a home where she is exposed to many other residents- a home not at all suitable for Sebastiana's condition.
We would like to see Sebastiana in a place conducive to her healing, as well as assist this family in having food on their table every night. It truly breaks our hearts to know what this family is going through. Her end to treatment is still many months away with more chemotherapy and three transplants ahead of her. We want the family to be able to focus only on getting Sebastiana cancer-free. We kindly ask you to open your hearts to helping Sebastiana and her family during this incredibly difficult journey.
Sincerely,
Tiffany Gallart, MSW, RCSWI
Pediatric Oncology Social Worker, Nicklaus Children's Hospital

Click on the PDF icon to view original letter from the Hospital Social Worker
---
Plea from Mother:
Hello everyone,
My name is Rosario and I am the mother of Sebastiana. I write to you now asking you for help because me and my family are in a very difficult situation. My baby has had four surgeries this year because of a tumor they found in her brain. We truly need your help. I stopped working in June when my baby got sick and I never thought that my daughter would be diagnosed with cancer. I am by her side now taking care of her and we are very far away from my other daughter and family. We need help paying our rent and with groceries. My baby is in the hands of the doctors. She is receiving chemotherapy now and we will be at the hospital for months and months trying to cure her. I kindly ask you to help us in any way you can. God bless you and repay you for your kindness and generosity.
Thank you, Rosario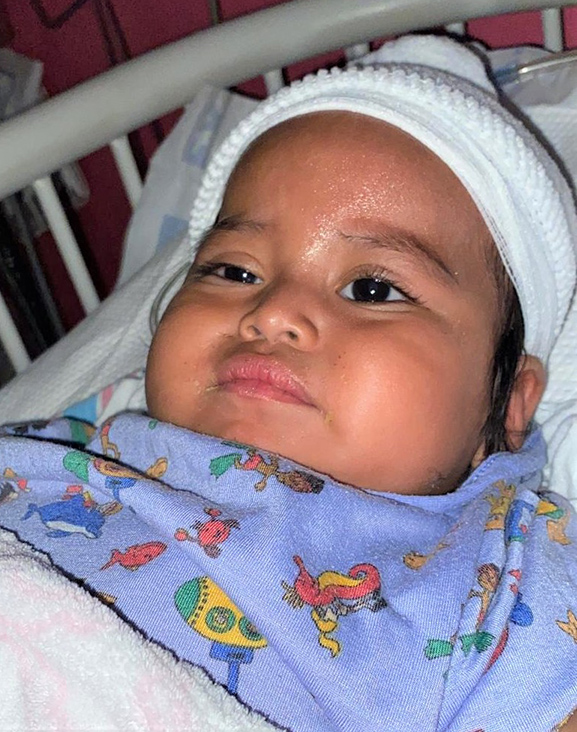 Sebastiana