Assisted Children: Individual Stories
Help Boy Battling Relapse Leukemia Achieve Victory
Collection Complete September 2018.  Thanks to generous contributors, JJCCF's Financial Assistance/Advocacy Programs and collaborative support from partner charities, this family benefited from having access to basic human needs during a dreadful time.
---
Story:
Sebastian, 9-year-old, alex's place at Sylvester
In 2013 Sebastian was diagnosed with Leukemia in his home country, Venezuela. Sadly, in 2015 he relapsed as the political situation in Venezuela was deteriorating. In order to save his life, Sebastian had a bone marrow transplant at Holtz Children's Hospital which used up the family's savings. Although Sebastian's cancer came back, his family is optimistic he will achieve victory with a promising immunotherapy procedure (Cart T Cells) he will soon receive.
Needs:
Sebastian and his family need help to pay for their apartment rent and groceries.
---
Message from Hospital Social Worker, 9/6/17:
Dear Jessica June Children's Cancer Foundation,
My name is Ida Rodriguez, and I am a pediatric clinical social worker for the University of Miami/Sylvester Comprehensive Cancer Center/alex's place-pediatric hematology/ oncology department.
Sebastian Roo is a 9 year old young boy diagnosed with Pre-B cell acute lymphoblastic leukemia who was initially diagnosed in November 2013. He was born in Venezuela and was treated there when he was first diagnosed. Sebastian came into remission and unfortunately he relapsed from his disease. The family then decided to come to the United States to seek medical care for Sebastian, as they stated that with the political state of Venezuela at this time, there was not the right medical treatment for him.
Sebastian and his family came to Miami,  Florida and he is currently being treated at University of Miami/Sylvester Comprehensive Cancer Center alex's place. He has been receiving his treatment here for almost 2 years. During this time, he received a bone marrow transplant in which he was able to come into remission for approximately 6 months and then unfortunately again relapsed from his disease. Sebastian began and continues to receive medical treatment at alex's place.
Sebastian came to the United States with his parents so that he can receive medical treatment. Parents stated that they worked in Venezuela and reported that due to political status in their country, they are no longer employed and they stated that they have a very limited income.
Any help for this family would be greatly appreciated by the family.
Sincerely,
Ida Rodriguez, LCSW
Clinical Social Worker / alex's place

Click on the PDF icon to view original letter from the Hospital Social Worker
---
Plea from Dad, 10/11/17:
My name is Alexander Roo. I am the representative of a family made up of my wife, Elenice, my eldest son Alexander, and my youngest son, Sebastian, who is the reason for this story.
Sebastian was born on August 28, 2008 in the city of Maracaibo, Venezuela. During the first 5 years of his life he had a normal childhood surrounded by love, affection, and complete health. However, in September of 2013, he began to present with rare bone pains that soon was accompanied with fever and loss of the appetite. After 2 months of intense examinations, on November 30, 2013, Sebastian was diagnosed with Acute Lymphoblastic Leukemia B lymphocytes beginning his treatment in Venezuela on December 1, 2013.
Sebastian received the protocol established throughout 2014 without major problems except some isolated episodes. He entered in full remission and began the maintenance stage at the end of that same year 2014.
In May of 2015, after 6 months in maintenance, Sebastian relapsed and at that moment, the possibility of a bone marrow transplantation for his survival is manifested to us.
Because the situation in Venezuela was already beginning to deteriorate, it was impossible to carry out this procedure in the country so we were in need with much effort to come to the United States, specifically to the University of Miami, in order to have the opportunity that Sebastian receive his transplant.
We arrived in this country in October 2015 and Sebastian began his pre-transplant treatment, but in January 2016, almost ready to suffer another relapse, Sebastian's doctor decides to place him on a research protocol to get him back to remission and to perform the transplant. The procedure resulted and finally the transplant was performed on March 21, 2016 with quite success, the donor being his older brother Alexander.
Everything happened normally until after 6 months, in September 2016, the disease reappeared. A rescue protocol was performed on Sebastian, which complicates some organs taking the worst part of your kidneys, which resulted in him needing dialysis for about 2 months. He stopped dialysis in February 2017. Currently, he is receiving a treatment to regain remission of his disease with a new treatment based on Monoclonal Antibodies. It is anticipated that Sebastian receive a new procedure called Cart T Cells, in which he is anticipated to receive at Cincinnati Children's Hospital.
As you can imagine it has been a very hard fight for Sebastian and for us as a family, not only medically, but also financially.
Your help would be very important to continue this fight and finally achieve victory from this terrible disease.
Thank you in advance and God bless.
Alexander Roo.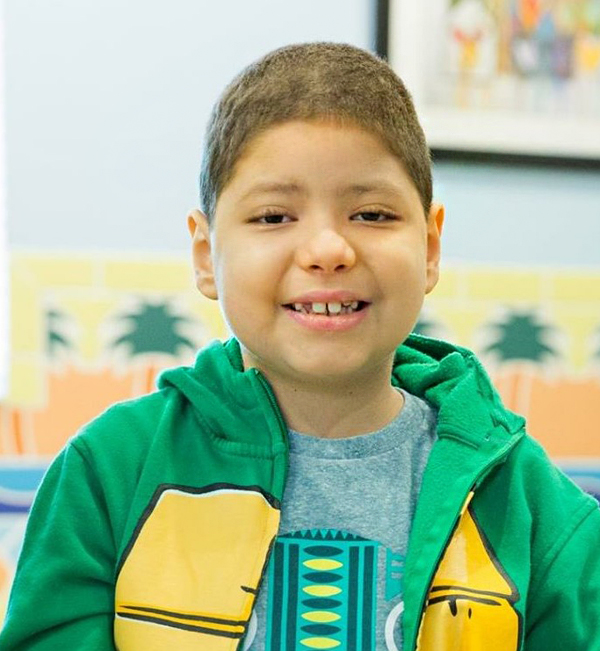 Sebastian