Assisted Children: Individual Stories
Family Migrates in Hopes of Saving Teen Fighting Recurrent Rare Cancer
Collection Complete September 2021.  Thanks to generous contributors, JJCCF's Financial Assistance / Advocacy / Supportive Care Services Programs and collaborative support from partner charities,  this family benefited from having access to basic human needs during a dreadful time.
Story:
Patricio 15-year-old, Nicklaus Children's Hospital
Patricio was first diagnosed with Neuroblastoma in March 2018 and relapsed in January 2020 in his native country of Ecuador. On the heels of his relapse, he was given no chance of survival.  Before COVID-19 was declared a Pandemic, the family migrated to Miami with hopes of saving their child's life.  Although the family did not have the means, they decided not to give up on Patricio and sought treatment in Miami. Patricio has been receiving treatment at Nicklaus Children's Hospital with hope for the future.
Needs:
This family of (4) gave up everything when they left Ecuador and moved to Miami without having extended family or work in the US.  The family is lodging at a hotel room and is dependent on the generosity of others and local non-profit organizations for all their needs including food, housing, and transportation to and from the Hospital.
---
Letter from Hospital Social Worker:
Patricio is a 15-year-old boy that was diagnosed with neuroblastoma in March 2018.  He and his family (father, mother and 5-year-old sister) are originally from Ecuador where Patricio was originally diagnosed.  Patricio had been receiving treatment back home, but it appeared his tumors were not responding well, and he had many lesions in his vertebrae, bone marrow, and spinal cord.  His doctors in Ecuador at that point thought they should stop his treatment and start palliative efforts.  This is when his parents decided they would not give up on Patricio and began their search for alternative options.
Patricio, his parents, and his younger sister arrived in Miami in January 2020, just months before the pandemic hit.  They left absolutely everything behind.  With no family here in the U.S. and no option to return home, Patricio's family found themselves in a frightening position.  Throughout their time here, they have been lodging in a hotel.  The parents have been unable to work and have received support along the way from local oncology foundations like Jessica June Children's Cancer Foundation and others.  The family needs assistance now more than ever with food, transportation, and lodging.
Patricio continues in his battle against neuroblastoma and his parents are always by his side.  We kindly ask that you help this family in any way possible.  It will mean more than you know to them.  Thank you to all those who open their hearts in support of Patricio and his family.
Sincerely,
Tiffany Gallart, MSW, RCSWI
Pediatric Hematology/Oncology Social Worker

Click on the PDF icon to view original letter from the Hospital Social Worker
---
Plea from Mother:
Hello everyone,
My name is Karen, and I am the mother of Patricio. I write to you to very respectfully to ask for your generous support. I ask you for this help because my son was diagnosed with cancer (ganglioneuroblastoma) three years ago. He has been fighting this illness since we were back in our home country of Ecuador. My son has a tumor in his back and multiple lesions in her extremities as a product of his cancer. Now he is 15 years old and we had decided to come to the U.S., leaving absolutely everything behind, because the doctors in my country said his case was hopeless. As parents, we decided we would not give up and we started looking for alternatives. The journey we made to the U.S. was to find my son a second opinion and treatment.
We then succeeded in getting him evaluated by an oncologist here in Miami, based off of his history, and the oncologist determined that there is hope. From that moment, and with the help of God, my son has been receiving chemotherapy and other treatments proposed by his medical team. Within all the treatments, he recently received radiation therapy. The radiation has provoked a lot of side effects like intense headaches, muscular fatigue, nausea, vomiting, itchiness, etc. He needs our absolute help – he cannot walk at this time and therefore, we have to be very attentive of his needs.
All of this brings us to kindly ask you for your help, as my husband and I cannot work. We are dedicated to our son 100%. It is me, my husband, Patricio, and our 5-year-old daughter here. We need your help with food and transportation to medical appointments. I want to thank you all for your attention and support. May God bless you always and repay your generosity.
Sincerely,
Karen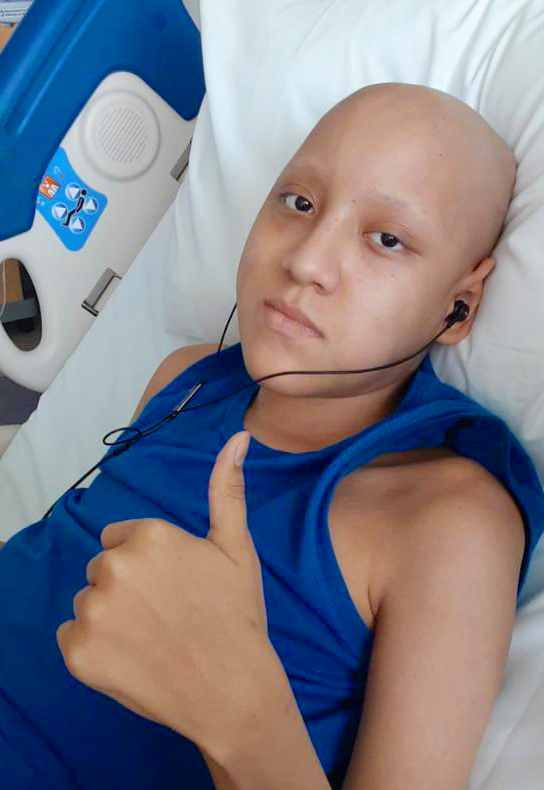 Patricio