2013 Fancy Jeans Annual Event
5th ANNUAL FANCY JEANS PARTY
Sponsored by The Wasie Foundation and Presented by Premier Beverage
Fancy Jeans Raffle Winners
1) 2013 FIAT 500: #0876, Jack Chomey. Ticket sold by volunteer Margarethe Sorensen
2) Two RT tickets on American Airlines to any destination in South America:  #2324, Sulaico Hernandez.  Ticket sold by JJCCF volunteer Raul Gomez
3) Twenty suite tickets for Disney on Ice show:  #3518, Carlos Muvdi (gifted to Meli's family by winner).  Ticket sold by JJCCF

4) Norwegian Cruise Line Bahamas Cruise (bonus prize):  #3192, Eduardo Caballero (gifted to Meli's family by winner).  Ticket sold by JJCCF volunteer Aida Char 
BUY TICKETS            SPONSOR PACKAGE             Video: MELI INVITES SHAKIRA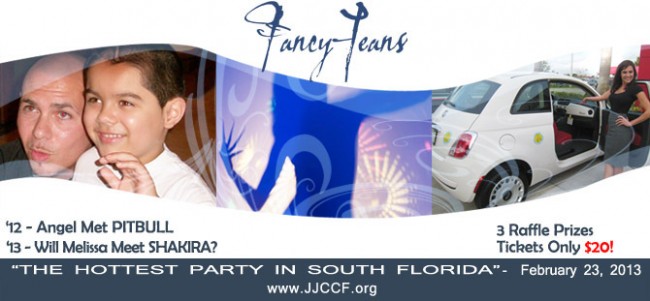 ABOUT FANCY JEANS:  Are…You…Ready…for "The HOTTEST Party in South Florida"?

The event has been described by many as the "must not miss" party of the year.  The one-of-a-kind event focuses on live interactive entertainment and includes an open bar, tasty delights, dancing, surprise appearances, a "Best Dressed Fancy Jeans" contest, an extraordinary raffle, and a fabulous silent auction.  Fancy Jeans is Chaired by Jen Klaassens, VP of Programs for The Wasie Foundation, and produced by Events by Vento Designs.
100% of the proceeds from this event fund JJCCF's Emergency Financial Assistance Program benefiting families in crisis fighting childhood cancer. The signature event has raised over $385,000 to help these families meet their everyday basic human necessities such as food, shelter, utilities and medical treatments. Fancy Jeans was JJCCF's first social fundraising event started 2005.
Last year's Fancy Jeans Party was sold out with over 650 tickets sold and we expect 700 guests at the upcoming event. Buy tickets early!
WHEN: Saturday, February 23, 2013, 6:00PM – 10:00PM
(Champagne Sponsor Reception – 5:30PM)
WHERE: Seminole Hard Rock Hotel & Casino – Passion Nightclub
5701 Seminole Way, Hollywood, FL  33314, T: (954)321-3443
ATTIRE: Fancy Jeans
EVENT TICKETS: $50.00 in advance ($65.00 at the door) Buy Tickets
VIP Tickets $100.00 in advance ($125.00 at the door) Buy Tickets
PARTNERSHIPS: Available from $1,000-$25,000 view Partnership Package
RAFFLE TICKETS: (1) ticket at $20 or (6) tickets at $100 Buy Tickets

For event information, tickets and partnership opportunities please call (954)712-6322, (954)770-1745 or email James@JJCCF.org
OUR PARTNERS

Thank you to our committed sponsors:  The Wasie Foundation, Premier Beverage, Seminole Hard Rock Hotel & Casino, Passion Nightclub, Broward Health-Chris Evert Children's Hospital, Daoud's Fine Jewelry, Florida Panthers Foundation, AutoNation, SIDES, BB&T, Ed Morse Bayview Cadillac & Ed Morse Sawgrass Cadillac , Miami Children's Hospital, Joe DiMaggio Children's Hospital, Bacardi, Holland America Line, American Airlines, MSC Cruises, Nature's Products, Inc. Publix Super Markets, Inc, Broward Bank of Commerce, Bloom, Gettis & Habib P.A., GMAIR, Tecnoglass, Alan G. Kipnis from Arnstein & Lehr LLP, Ruben & Diana Minski, Lauderdale Marine Center, Dacha Storani, Events by Vento Designs, KP Design & Photography, CreativeDust.com. Media Sponsors include Sun-Sentinel, THINK Magazine, Lifestyle Publications, Effects Entertainment, Latin2Latin Marketing, Eye on South Florida, Blacktie-Southflorida. Food Sponsors include Wanda's Sweet Breads, Rice & Dough, Hard Rock Cafe, Grille 401, Roho Kitchen, LIME, Hooters + Hooters Girls.
RAFFLE  Buy Tickets (One (1) Ticket to Win $20 Donation / Six (6) Tickets to Win $100 Donation)
3 Exclusive Prizes:  1) 2013 FIAT 500, 2) Two RT tickets on American Airlines to any destination in South America, 3) Twenty suite tickets for Disney on Ice show
The raffle is a Fancy Jeans event tradition. Raffle tickets get sold by volunteers and online three months before the drawing. The raffle drawing will take place during the Fancy Jeans Party on Saturday, February 23, 2013 at the Seminole Hard Rock Hotel & Casino – Passion Nightclub, 6-10 P.M. Our Child Honoree, Melissa, will be drawing the winning tickets. 100% of the proceeds benefit children fighting cancer. Auto Raffle Official Rules and Regulations    Raffle Ad (description & images of prizes)   Attendance is not required to win

EVENT LEADERSHIP
Event Chair: Jen Klaassens, Sponsorship Chair: Sandra Muvdi, Raffle Chair:  Marissa Homrighouse, Silent Auction Chair: Cindy Eisen, Event Production: Ana Vento of Events by Vento Designs
Committee: James DeAnda, Karen Wichman, Simon Ruzgar, Angela Salter, Wayne Eisen, Magali Salazar, Margarethe Sorensen, Mercedes Raffo, Patrik Garde, Oscar Mendez, Donna Nightingale, Lima Auclair, Anne Reinstein, Skip Kimpel, Drazenka Kimpel, Sandra Campos, Gineen Bresso, Leon Meir, Keith Castello, Lisa Nalven, Pedro Ramos, Donna Zieminski, Jade Bunke, Carola Seminario, Maria Romero
CHILD HONOREE
Melissa Gomez, an adorable 4 year old fighting Leukemia (blood cancer), has been chosen 2013 Fancy Jeans Child Honoree. Her wish is for SHAKIRA to be her idol date at the Fancy Jeans Party. "Genie, will Meli's wish come true?" Read Melissa's Story,   Video-Meli Invites SHAKIRA  Video-Meli's Family Interview. 2012 Fancy Jeans Child Honoree's Wish to Meet PITBULL Came True!  View video
FANCY JEANS MEDIA COVERAGE
Think Magazine, 2/13
Lifestyle Publications, 2/13
Sun-Sentinel Cover Box Society, 1/23/13
Video: 2013 Fancy Jeans Child Honoree, Meli's Family Interview
Video: 2013 Child Honoree Meli Invites SHAKIRA to Fancy Jeaqns Party on 2/23/13
Fancy Jeans 2012 headline snapshots
Video of 2012 4th Annual Fancy Jeans Party- by Eye on South Florida
Video of 2012 Fancy Jeans Child Honoree's Wish to Meet PITBULL Came True!
Sun-Sentinel, 4/8/12
THINK Magazine, 4/12
Miami Herald, 3/18/12
Las Olas Lifestyle Magazine, 3/12
Sun-Sentinel Cover Box Society, 2/8/12
Las Olas Lifestyle Magazine, 1/12
THINK Magazine, 1/12
Sun-Sentinel, 3/31/08
Sun-Sentinel Cover Story Lifestyle, 3/12/08
Sun-Sentinel, 3/10/08
Sun-Sentinel, 12/31/06
Sun-Sentinel, 12/11/06
Sun-Sentinel, 10/16/06
Sun-Sentinel, 3/19/06
PHOTOS & TESTIMONIES
Testimonies Fancy Jeans Sponsors
Fancy Jeans IV
Fancy Jeans III
Fancy Jeans II