Assisted Children: Individual Stories
Family Battles Child's Stage IV Cancer Alongside Newborn
Collection Complete August 2022. Thanks to generous contributors, JJCCF's Financial Assistance/Advocacy/ Supportive Care Services Programs and collaborative support from partner charities, this family benefited from having access to basic human needs during a dreadful time.
---
Story:
Meredith, 5-year-old, Alex's Place at Sylvester Comprehensive Cancer Center
Meredith has been battling Stage IV metastatic Neuroblastoma for over one year.  She has endured two Bone Marrow Transplants, multiple rounds of chemotherapy / radiation and treatment for her affected kidney. Only one of her kidneys works partially. This courageous child is being treated with Immunotherapy. Although she has a long road to recovery, Meredith continues to smile and vigorously fight for her life.
Shortly before Meredith's cancer diagnosis, her mother received a bachelor's degree in nursing, but is unable to work given the fulltime care Meredith requires.  When the timing is right, she is anxious to become a pediatric oncology nurse and giving back to families that are in her situation.
Needs:
While Meredith's mother is unable to work, family needs help paying for food and other basic needs such as gas for transportation and rent.
---
Letter from Hospital Social Worker:
Dear Jessica June Children's Cancer Foundation:
My name is Ida Rodriguez and I am the clinical social worker at the University of Miami Sylvester Comprehensive Cancer Center Alex's Place, Pediatric Hematology Oncology.
I am writing regarding Meredith Garciga, a 5-year-old little girl living with neuroblastoma since December 2020.  Her mother, Marlise, was forced to leave her job to care for Meredith full time, as Meredith's medical needs include frequent medical follow-up visits to Alex's Place Outpatient Center and frequent hospitalizations.  Mother reported limited financial support and asked about any assistance during this challenging time for her Meredith.
Any assistance would be very helpful to this family if possible.
Warmly,
Ida Rodriguez, LCSW
Licensed Clinical Social Worker

Click on the PDF icon to view original letter from the Hospital Social Worker
---
Plea from Mother:
My name is Marlise Guerra, and I would like to start by saying I am very grateful to all people and foundations that have supported my daughter during this time. Meredith was diagnosed with neuroblastoma stage IV December 2020 and is still receiving treatment. She has received 6 sessions of chemotherapies plus two bone marrow transplants. The second bone marrow transplant produced severe damage to her renal function which resulted in 5 weeks in the ICU. She has not recovered yet from this complication, and Doctors believe that she will probably need treatment for many months. It has been a very rough year for us. I had to quit my job in order to take care of Meredith, and that led us to struggle financially. Despite having the support of her dad, we are still very affected because of the many expenses that we have to cover. It has been a very hard year between appointments, chemotherapies, and multiple hospitalizations. She is currently receiving treatment as an outpatient pretty much every day. Every time we go to the clinic, we have to pay for gas, parking space, and food.
Without any doubt, these latest months have been terrible for Meredith. Thank God she has been treated by the amazing bone marrow team at Holtz Children Hospital and Alex's Place. Meredith also has the support and love of her dad which has been crucial during this period of time. When I think about what she has gone through and all the treatments she is still receiving, it makes my heart ache. Meredith is very brave kiddo because despite the fact that her health is very delicate at this point, she continues smiling and fighting for her life. Her dad and I are very proud of her and pray every day for her recovery.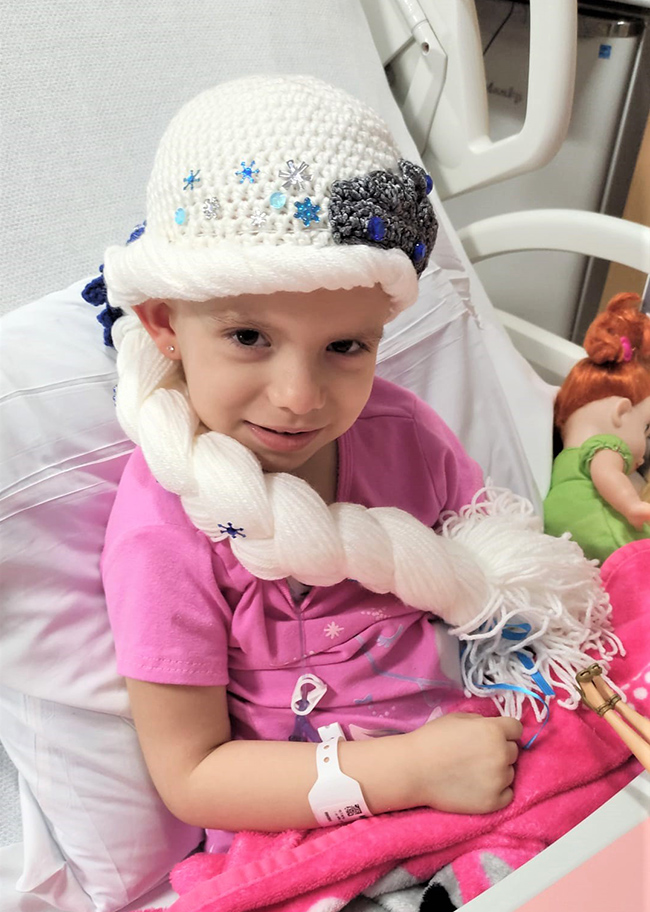 Meredith