Emily is a 7 Y/O Fighting Brain Cancer as Her Single Mother Struggles to Pay for Basic Needs.


Holiday Newsletter Year-End Giving
November 2015
5 Cancer Heroes: Emily, Lysander, Ashley, Elijah & Andrew

 
Dear JJCCF Friends,
During this time to be thankful, please consider contributing to families trying to focus on their child's survival while struggling to keep a roof over their heads and food on the table. What if this was your child? We hope you will never discover a parent's worst nightmare, "your child has cancer." No parent ever prepares emotionally or financially for such devastating news. Just $1 dollar will make a difference for these children in crisis especially during the Holidays. Your contributions will add up to make a significant impact in the lives of these 5 children and their families. Your support will make a difference!
The needs for these families fighting childhood cancer exceed the Jessica June Children's Cancer Foundation (JJCCF) limited resources to assist them. JJCCF has already provided each family with emergency financial assistance representing basic human needs which is significant, but not sufficient. As an advocate for these children, I am reaching out for outside urgent support (YOUR HELP) so that these families can survive a temporary crisis during the holidays.
For those in the battle now, please give a year-end tax-deductible donation. Together we are helping save one child at a time.
Sandra Muvdi, President/ Founder
*Online Donation allow you to choose your donation In Honor of "5 children" or a child's name.
Visit www.JJCCF.org or just click on the "Donate" button above.
*Mail check payable to "JJCCF." Please memo "5 children" or a child's name and mail to: Jessica June Children's Cancer Foundation, Broward Health Medical Center, 1600 South Andrews Ave, Ft. Lauderdale, FL 33316

Advocacy Program – Children with Urgent Needs:
1) Emily, 7 Y/O, St. Mary's Hospital 
(see her photo above)
Emily has been struggling with brain cancer since she was 18 months old. She has had 3 surgeries, 64 radiation treatments and 3 years of chemo. After her second surgery, Emily was in a coma for 8 days and a vegetative state for 100 days. Emily has lost her ability to walk, is gastrostomy tube dependent for nutrition and oxygen dependent.
-Quote from single mother: "Our landlord has stated that we cannot stay any longer because Emily's equipment causes too many expenses. Our rental agreement ends in December, so I do not know what will happen after that." read more.
2) 

Lysander, 2 Y/O, Nicklaus Children's Hospital, Miami Children's Health System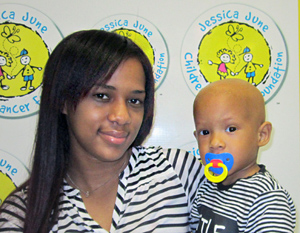 Lysander is a strong 2 Y/O child that has been battling Rhabdomyosarcoma since 8/2014. His cancer in his right leg was spreading and his mother remained at his bedside in the hospital for 3 months as Lysander fought for his life. Lysander's 18 Y/O mom relocated from the Bronx in NYC to Miami in 3/2015 so that she and Lysander could be closer to their family during this difficult time. The mother is unable to work due to Lysander's medical treatment requirements and is emotionally weary as Lysander continues to suffer.
Quote from single mother: "After he was diagnosed, Lysander and I were in the hospital for three months. I was in shock. It was like watching my life on the movie screen." read more.
3) Ashley, 5 Y/O, St. Mary's Hospital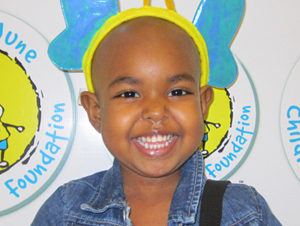 Ashley is fighting relapse Leukemia and has endured multiple hospitalizations that included intense chemo with rare research drugs, heart blood clot emergencies and countless complications over the past year. Her recent relapse requires a live-saving Bone Marrow Transplant. Ashley single mother has been unable to work due to her treatment requirements and has lost her job, car and home … forcing the family into a local shelter for nearly a year. JJCCF received an application for emergency financial assistance 10/2015 shortly after the family moved out of the shelter and JJCCF paid for their rent. Family desperately needs more emotional and financial support.
-Quote from single mother: "I lost my job, my home, my car; everything and was forced to live in a roach infested shelter in one of the worst drug and violent neighborhoods in West Palm."read more.
4) Elijah, 1 Y/O, Nicklaus Children's Hospital, Miami Children's Health System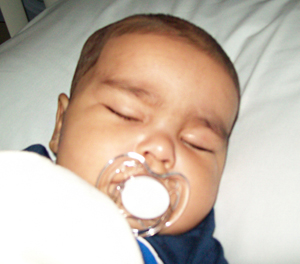 Elijah has been struggling with brain cancer since he was 3 months old. As he fights for his life, this little angel is able to smile and blow kisses to everyone he meets. Elijah had a portion of his brain tumor successfully removed in 2014, but the remaining tumor is inoperable and has continued to spread. His single mother has remained by his side to comfort her only child while the chemo and radiation only slow the growth of the tumor. This battle has prevented his mother from working full time which has crippled the family financially.
-Quote from single mother: "The baby and I have been surviving on a monthly payment of $449 from social security benefits and $200 per month food stamp allowance. Please, if you can find it in your heart to help me, I would really appreciate it."read more.
5) Andrew, 6 Y/O, Palms West Hospital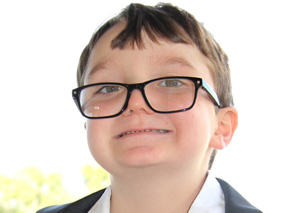 Andrew is no ordinary child … he has been a Super Boy while fighting Leukemia for 3 difficult years. Recently Andrew was hospitalized due to painful rare side effects including a partially collapsed lung and a spinal fluid leak caused by a lumbar puncture. This long battle continues to prevent his mother from working full time given Andrew's health and treatment plan while the medical debt continues to rise. Step by step, Andrew is making progress, but the family's emotional and financial accumulation of stress and debt has been overwhelming.
-Quote from mother: "The medical bills just keep piling on, and because I had to miss so much work to care for him our income has gone down a lot so I just don't have the money to pay our household bills." read more.