Dear JJCCF Friends,

2014 marks 10 years in the history of the Jessica June Children's Cancer Foundation (JJCCF) and I thank all of you for helping impact nearly 3,000 children and family members fighting pediatric cancer. After facing my own cancer diagnosis early this year and a difficult 10 month battle, I am now a Breast Cancer survivor! My cancer experience motivated me to launch a fundraising campaign in honor of our milestone, entitled "Beating Cancer Together", to raise $200,000 in 200 days. As we approach the final days of my campaign, I invite you to be a part of helping exceed my fundraising goal before December 31, 2014. Click to make a tax deductible commemorative DONATION.
Press articles covering JJCCF's 10th Anniversary (click on links to view):

Lifestyle Publications 11/14
HerLife Magazine 10/14
Broward Health Magazine – Fall 2014
Sun-Sentinel 10/19/14
El Sentinel Front Cover Story 9/26/14
Sun-Sentinel Cover Story Society Scene 8/21/14

I am confident together we will reach the goal so JJCCF can continue to impact and help save one child at a time. I extend my sincere gratitude to all contributors for being a part of this milestone and journey. On behalf of the children we serve, Happy Holidays and cheers to a healthy 2015!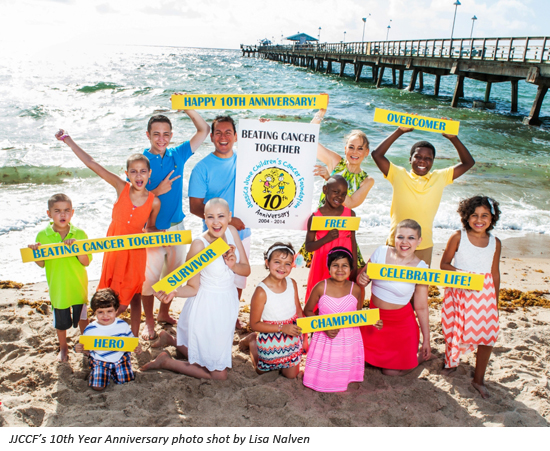 Sandra Muvdi, MBA, President / Founder

*To DONATE by Mail simply mail your check payable to "JJCCF": Jessica June Children's Cancer Foundation, Broward Health, 1600 South Andrews Ave., Ft. Lauderdale, FL 33316

W: www.JJCCF.org, E: info@JJCCF.org, T:(954)712-6322