PARENT TESTIMONY | VIDEO TESTIMONY
---
Assisted Children: Individual Stories
Family Struggles for Basic Human Needs As Only Child Fights Advanced Cancer
Collection Complete April 2010. Thanks to JJCCF Financial Assistance and Advocacy programs home eviction was prevented, and family had access to basic human needs (several rent, medical, utility payments, gas & food gift cards) plus help from various collaborating charities.
---
Story:
Marcus, 3year old, Stage IV Neuroblastoma, Joe DiMaggio Children's Hospital
Marcus was diagnosed with Stage IV Neuroblastoma on 12/11/09. After the child was diagnosed, family's car got repossessed and lost their home because they could no longer make payments. Family had to give up everything and move from Palm Beach County to Broward County in order for Marcus to receive cancer treatment.
Marcus is constantly in and out of Joe DiMaggio Children's Hospital receiving treatment for his advanced cancer and already had surgery on his back skull to remove a mass tumor. Mom has to be the full time caregiver and Dad lost his job in construction because he was missing work to be with his sick baby.
A JJCCF volunteer met with this family on 2/11/10 to deliver an urgent check for $1,200, otherwise landlord at their new rental was going to place all their belongings in the lawn that day. We also provided $200 Publix and $125 Gas cards. This family is living day to day trying to survive, cover their human needs and take care of their very sick baby.
Recently the family came to the Foundation because they needed to immediately utilize the rest of their assistance funds. Mom first said she wanted $400 Publix and $125 Gas cards but she changed her mind. She said they will sacrifice Publix to get her husband to the doctor and provide his medicines he has not been able to afford. Instead of Publix we made a $400 check out to A P Clinic in Boca so Dad could take care of his health needs.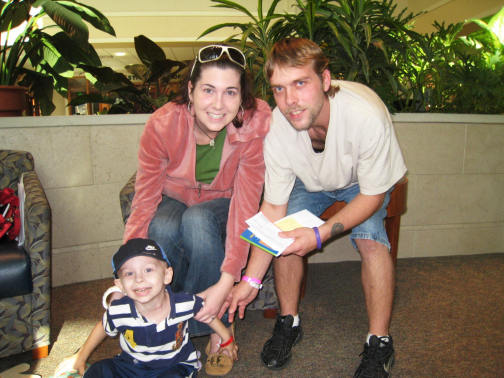 Marcus and his parents