Assisted Children: Individual Stories
Single Mother Caring for Teen Son Fighting Stage IV Lymphoma Needs Lifeline Support for Family of (6)

Collection Complete October 2019.  Thanks to generous contributors, JJCCF's Financial Assistance / Advocacy Programs and collaborative support from partner charities,  this family benefited from having access to basic human needs during a dreadful time.
---
Story:
Marcus, 15-years-old, Salah Foundation Children's Hospital at Broward Health Medical Center
A post surgery complication since his diagnosis of T-Cell Lymphoblastic Lymphoma, Stage IV, has changed the lives of 15-year-old Marcus and his family. As a result of complications involving a blood clot, Marcus now suffers from seizures, requires additional mediation and receives chemotherapy weekly (sometimes multiple times each week). The family has been increasingly stressed as Mom is no longer able to work to support their family of 6 as she focuses all her attention, time and energy on Marcus' survival.
Needs:
Marcus and his family ask for lifeline support to pay monthly bills for basic needs including transportation to his treatments (family does not own a vehicle), food and housing for Marcus and his 4 siblings.
---
Letter from Social Worker:
Marcus Auguste is a 15-year-old Pediatric Oncology patient at Salah Foundation Children's Hospital at Broward Health Medical Center. Marcus was first admitted to the hospital on April 7th, 2018 and was diagnosed with T-Cell Lymphoma Stage IV.
Marcus had surgery to implant a port, and has been receiving chemotherapy. Unfortunately, Marcus experienced a complication of his treatment when he was admitted into the Pediatric ICU in January 2019 due to a complication of chemotherapy involving a blood clot. He was able to be discharged, but he now requires additional medications for this complication. He also suffers from other difficulties including seizures. Marcus receives chemotherapy inpatient and outpatient on a weekly basis. His mother previously worked full time but had to leave her job due to his strenuous treatment schedule. His grandmother resides nearby but is going through the own serious medical illness, and is unable to support the family and Marcus's treatment schedule.
This family would benefit from any assistance possible during this time of need.
Thank you for your consideration.
Yours truly,
Melissa Stachowiak, LCSW
Social Worker
Salah Foundation Children's Hospital / Broward Health Medical Center

Click on the PDF icon to view original letter from the Hospital Social Worker
---
Plea from Mother:
Ever since my son was diagnosed with lymphoblastic T-Cell lymphoma it has been a real roller-coaster ride. I never imagine that my child would go through this. He is in and out of the hospital. I had to stop working so I can take better care of him and his chemotherapy schedule is every week. There are times he goes to the hospital more than once a week. I don't have a vehicle;  some of the time I don't have the funds to get him there. Not being able to work has also made it hard to keep up with the bills and hard to take care of 5 kids. It is even hard to get all of the clothes washed. We sometimes go weeks without being able to wash clothes. It hurts when you as parent give or provide for your children, especially when you have a child that is ill. I am reaching out because I am really in need of some help. Any type of help you can give will be deeply appreciated.
Esther Auguste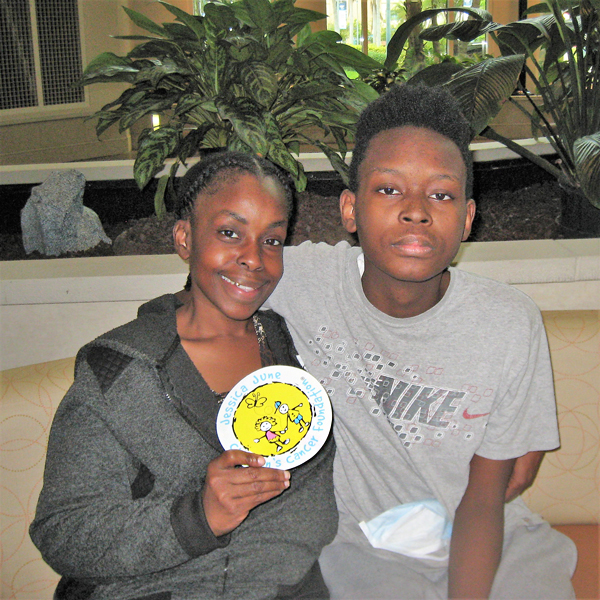 Marcus and his mother Esther