Assisted Children: Individual Stories
Help Teen Without Insurance Fighting Leukemia 
Collection Complete January 2017. Thanks to generous contributors, and JJCCF's Financial Assistance and Advocacy programs this family benefited from having access to basic human needs during a dreadful time.
---
Story:
Luis, 16-year-old, Holtz Children's Hospital, Jackson Memorial Medical Center
Luis was enjoying a normal teenage life in Venezuela until earlier this year when he was diagnosed with Leukemia. Suddenly, due to the political / healthcare crisis in Venezuela, Luis' mother was forced to seek medical treatment in the US to save her son's life. Luis was admitted at Jackson Memorial Hospital emergency room in May and has begun chemo that will ultimately cost more than 1 million dollars. The mother and son are lodged at the Ronald McDonald House in Miami near the hospital. The family continues to grapple with the emotional stress of the cancer treatment, being separated from their home and the financial challenge to pay for medical expenses and basic needs.
Needs:
Luis and his mother need immediate help to pay for food and medical expenses.
---
Message from Hospital Social Worker, 5/26/16:
I would like to refer Luis to the Jessica June Children's Cancer Foundation's Advocacy Program. Luis is a 16 year old young man from Venezuela who was diagnosed just one month ago with T-cell Acute Lymphoblastic Leukemia (ALL). Because of the precarious social/political/medical situation of his native country, Luis' family decided to travel to South Florida seeking specialized medical care. Luis was admitted into our facility via the Emergency Department on May 4, 2016 and has been enrolled in an induction chemotherapy protocol, which he is currently receiving.
His mother, Linett, is by Luis' bedside. There is a relative living in the Doral area who has offered lodging, however, because Luis is hospitalized and will require frequent medical management even after he leaves the hospital, we have referred the case to our local Ronald McDonald House and they are presently on a waiting list for an available family room. Luis' medical treatment could potentially be as long as 1 year or even longer.
As Luis' social worker, I ask that JJCCF consider this case for your Advocacy Program as Luis and his family will, most definitely need more ongoing financial assistance than what the foundation is able to offer him. Please don't hesitate to contact me should you need further information. I thank you in advance!
Rolando Tabares LCSW, CCM
Holtz Children's Hospital, UM/Jackson Memorial Medical Center

Click on the PDF icon to view original letter from the Hospital Social Worker
---
Plea from Mother, 5/26/16:
Asking for help and support in the current situation we are facing is no easy task. My son, Luis, age 16, a Venezuelan adolescent with a world full of dreams and aspirations, where, in the midst of his daily reality there was only joy, family, friends, school and the normal mischievousness of his age, all changed in seconds. Without warning, Luis' world of sports, gatherings with classmates, etc., suddenly turned dark and uncertain.
Luis is presently battling a very tough war, where his health and very survival is at stake due to the diagnosis of T-cell Acute Lymphoblastic Leukemia (ALL). We not only are facing this devastating illness, but, at the same time, are also victims of our country's very broken and devastating medical care system. Sadly, in Venezuela, for the ruling government, the right to Life and Luis' cancer battle is simply not a priority. This means that, even the most basic of medicines are impossible or, at best, very difficult to get, which equates to a state of sheer desperation and grief when Venezuelans find themselves facing a serious and potentially life threatening illness such as leukemia. We are thankful that, in our particular case, when Luis became ill and he was in the ICU of a hospital of our city Maracay, doctors there scrambled and fought to locate and obtain a generic treatment that offered Luis a ray of hope in the midst of the darkness we were living in and stabilized him enough to be able to be discharged from the hospital and well enough to travel to Miami. It was as if we were immunized with a drug called: "YES, IT CAN BE DONE".
Once we arrived in the home of a relative we have in Doral, we were able to bring Luis to Jackson's Holtz Children's Hospital and he was admitted via the Emergency Room. Luis is now enrolled in a chemo protocol appropriate for his disease and is finally receiving the medical treatment he needs. Since being at Holtz, we have learned that the total cost of his treatment is over 1 million dollars. Needless to say, we do not have this kind of money and this is the reason we are appealing to organizations such as yours to please, through your Advocacy Program, allow Luis' story to be placed in your website in hopes of finding a sponsorship from kind hearted people to help us during the time we need to be in Miami for Luis' treatments.
My son has such a strong will to fight…to fight for his life against leukemia, but also to fight against the political and economic problems of our country which has forced us to seek medical help in this great nation, while leaving everything we hold dear: our family, employment, our home…everything. I know God will bless us in this fight we are facing, as I know he will bless each and every one of you for your kindness and generosity. As a mother, I thank you all so much from the bottom of my heart!
Lynett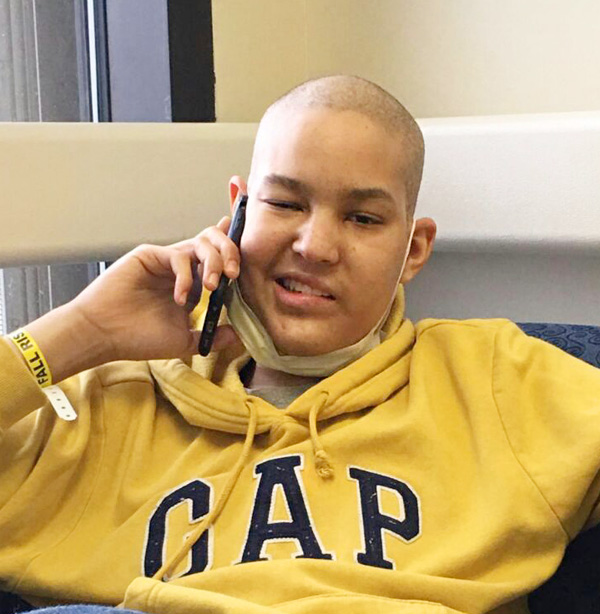 Luis