Assisted Children: Individual Stories
Two Sisters Battle Cancer / Family Faces Medical, Emotional and Financial Crisis
Collection Complete May 2010. Thanks to JJCCF's Financial Assistance and Advocacy programs this family benefited from $3,880 representing basic human necessities (several rent, electricity, phone, insurance, and Wal-Mart payments) plus help from various collaborating charities.
---
Story:
Liana, 5 yrs old, Leukemia (AML), Baptist Hospital
We assisted this child/family last year. Mother used to work in housekeeping for Leon Clinic in Hialeah until her daughter got diagnosed with cancer and had to become her full time caregiver. Father got laid off from AIP-Air Conditioning. Family's low income level qualifies for government programs such as Social Security Income and Medicaid insurance. I recently received a letter from Baptist Hospital social worker explaining the unusual circumstances for this family.
---
Message from social worker, 3/3/10:
Re: Letter Regarding Lilibet Sister of Liana
To Whom It May Concern:
The purpose of this letter is to present Lilibet. She is an 18 year old Hispanic female. Lilibet's sister- Liana- was diagnosed with cancer. She underwent chemotherapy. Soon after Liana completed the treatment, Lilibet was diagnosed with cancer as well- abdominal mass/malignant Sarcoma Rhabdo, (February 2010).
Lilibet will have to miss work- she worked at a bank. Needless to say, her parents have not been able to look for work since both daughters have been ill. The father had a job interview on the day Lilibet was diagnosed. The family is facing trying times and the income is very limited.
The mother has asked me to present this letter. Lilibet has been greatly affected by the present situation. She is receiving chemotherapy and has been ill. The parents are trying to be there for both daughters.
If you have any questions, please feel free to contact me at 786-596-6578 or 786-594-9134.
Thank you,
Gloria M. Ortiz, MSW
---
Plea from Mom, 3/17/10:
I Ana V. Corrochado mother of three one male, and two girls named Lilibet Garcia of age 18 and Liana Garcia of age 5. On September of 2009 my youngest daughter was diagnosed with leukemia, and my oldest daughter was diagnosed with Ewing's sarcoma on February of 2010. Do to this, I'm not able to work and my daughter had to put on hold her job, causing us to only have the income of my husband's unemployment. I'm asking for your support to pay my rent, my car, utilities and my daughters' expenses. Thank you for taking your time on reading this letter.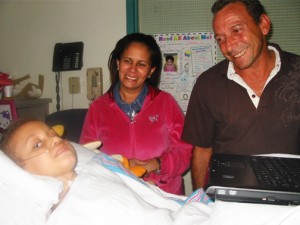 Liana and her parents at her hospital bedside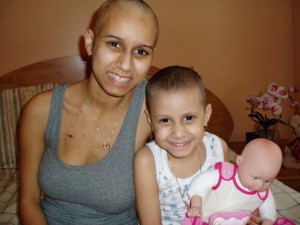 Sisters coping with Cancer, Lilibet & Liana