Assisted Children: Individual Stories
Single Mother of 2 Unemployed as her 6 Y/O Relapses with Wilms' Tumor (cancer of the kidneys)
Collection Complete June 2012. Thanks to JJCCF's Financial Assistance and Advocacy programs this family benefited from having access to basic human needs during a dreadful time.
Story:
---
Leilani, 6 Y/O, Palms West Hospital
Soon after Leilani was diagnosed with Wilms' Tumor in February 2011, her mother had to stop working and was living off her savings. Father does not provide for the family. After the devastating diagnosis, her 11 y/o brother could not cope with everything that was happening, and moved out to live with other family members. After going through extensive treatment Leilani reached remission for a short time.  Sadly, she relapsed on  10/25/11 and is now back in the fight. This time around her treatment is much more aggressive and requires her to be hospitalized more often. Mother is still unemployed and unable to work while caring for her daughter's medical needs, and her savings have been completely depleted. JJCCF assisted this family last year with relief for their rent, electrical bill and provided Wal-Mart gift cards for groceries, but the family is back into crisis mode and needs urgent help!
---
Needs:
For the next couple of months while Lailani is undergoing intense chemotherapy, her family will need assistance with their rent, utilities and gas.
---
Message from Hospital Social Worker, 2/21/12:
Hi Valerie,
I am writing you regarding a young patient of ours who you assisted in the past, Leilani Favela. Leilani is a 6 year old patient who was diagnosed with a Wilm's Tumor on February 18th 2011. Just after completing chemotherapy Leilani relapsed and has now had to undergo intensive radiation and chemotherapy again. Needless to say, this has been an enormous burden for Leilani and her Mom not just emotional and physically having to endure the intensive treatment but also financially. Leilani's Mom Charlean, is a single Mom who receives no financial assistance from Leilani's father. Mom is currently not working and used all her resources when Leilani first underwent treatment. Now their car is on it's last legs and Charlean is unable to get a new car due to her financial situation. Charlean and Leilani must travel over 130 miles round trip 2-3 times a week to come to the hospital for treatment and follow up which has been a major problem with such an unreliable car. Any assistance you can offer this Mom would be greatly appreciated.
Thanks so much for your time and consideration.
Yours truly,
Michelle O'Boyle RN, CPON
---
Plea from Mother, 2/22/12:
My name is Charlean Favela and I am the mother of a wonderful six year old little girl; Leilani Olivia Favela. At the age of five Leilani was diagnosed with Wilms' Tumor/ Kidney Cancer. It was hard on our family because I stopped working to take care of her. I am a single mom to Leilani and her eleven year old brother Damien. Damien, I believe has taken everything the hardest. He decided a few months ago to not live with us anymore and rarely sees his sister. He chose to go live with other family members. That alone weakened Leilani's spirits because they were once best friends.
Leilani was only in kindergarten for about a month when she was diagnosed. She was a trooper going through her treatment even though she had her good days and her bad days. I was fortunate enough to have a little savings that helped us through it. Shortly after treatment was over Leilani started saying strange things, she had told a few people that her cancer was coming back. As a mom I listened but I honestly thought she was crazy! She has said some things in the past but nothing like this. Leilani is now six and she started to not feel so well but was starting first grade and was excited. I picked her up after her first day back in school, she was pale as a ghost and asked me to carry her. The next day the school called me because she was not doing so well yet again and suggested she only comes in for two hours to get her used to being in school again. On the third day she wasn't at school for an hour when they called me to come get her. She was sick but was mad at me and cried because she was so happy to finally be back in school with her best friend, because during treatment she didn't have many friends to play with.
Unfortunately what my daughter had said about her cancer coming back was true. We were all in shock because her cancer had a favorable histology and no one ever thought this would happen, especially within less then two months of her finishing her first treatment.
Leilani is now undergoing her second treatment which includes radiation, another surgery and more intense chemotherapy. This time has been really hard and has been a hectic and emotional year. She has been really sick and we are hospitalized a lot more. We are at the hospital multiple times a week and also a week at at time. I feel like we are at the hospital more then we are at home. Leilani actually calls the hospital home sometimes. My savings is no longer and my car is barely running. I was going to buy a new car last year but she was diagnosed. Every time we go to the hospital it is a three hour round trip. I am not working and trying to make ends meet which is really hard. This treatment has been more stressful on both Leilani and I. The first time I cried all of the time. This time I laugh, I laugh at everything. I honestly don't know why. I think I am scared to cry because I don't want Leilani to think I am falling apart, because I know she is. This time around she has a feeding tube and has lost all of her hair. It didn't bother her until recently. For some reason people have been saying mean things to her, people whom we don't know and people we do know. She once was proud of her beautiful and perfectly rounded bald head, now she hides behind a hoodie whenever we are out and lately that's not very often.
It saddens me that any child has to go through this. Especially my own daughter. I enrolled in school to try and keep my mind off of all the negativity in hopes to graduate and help others in my daughters situation. I don't like asking for help. I always think there is someone who needs it more. This time I have to ask because we are barely making ends meet. Between my car not working and everyday expenses, and some of her meds we aren't doing so great.
Leilani puts everyone else's happiness before her own. I feel like she tries to take care of me when I am the one who is supposed to take care of her. She acts like she is strong but if you listen closely to the things she says when she thinks your not listening; you would know it is hurting her more then she lets people know. Yet she is always making everyone around her feel special and she always smiles even when she is mad at the world. I don't know why things happen, especially twice, but I am very proud to be her mom. She is my hero and I am thankful to people like you that have helped other families going through the same things. Hopefully one day I can repay the favor and do the same.
Thank you, Charlean
Testimonial from Parent, 03/26/12:
The Jessica June Foundation has helped my daughter and I in many ways. Not just with financial help but also with hope and kindness. My daughter Leilani was first diagnosed at age 5 with Wilms' Tumor (Kidney Cancer). Jessica June helped us with our rent and they also helped pay towards some of our bills. If it wasn't for their help I don't know what I would have done. I was disoriented from just finding out my daughter has cancer. Something you would never expect to hear about your child. It also didn't help that I am a single mom of two kids who had to stop working to take care of Leilani. Valerie from JJCCF came to visit my daughter and I in the hospital, which is a far drive from where JJCCF is located and spent time with my daughter. Just showing my daughter that she cared put a smile on Leilani's face. Unfortunately, my daughter at age 6 has been re-diagnosed. You would think that it would be easier the second time around; but it is not. It has been harder on Leilani and I and even harder on my son. Once again, The Jessica June Foundation has helped us with our rent, which  means the world to me. What I love about JJCCF is that they don't just give you assistance, they actually care about you, your child and your family. After Leilani's first diagnosis Sandra wrote to me online and asked how my daughter was doing and she was amazingly sweet. Most people don't get involved. But she took time out of her day and that alone felt nice, that there are people that do care. When you first hear your child has cancer you feel like your the only one in the world who is going through it but you're not alone. JJCCF has helped me realize that.
I would tell donors that JJCCF is an amazing charity that helps amazing children and their families whom never give up fighting. Because of their generosity and help we Moms' can spend more time with our Little Hero's and actually enjoy that time without worrying about anything else at the particular moment. Sandra Muvdi has inspired me to go back to school and pursue a career that will hopefully help more children and their families as she has been doing for years now. I don't understand why things happen in life, but I do know that there are people who have made an impact and a difference in our lives. The Jessica June Foundation has made one in mine, even though it is under these sad circumstances. I hope whom ever donates will realize how much of an impact even a little donation can do for a familiy. It truly gives a family hope that things can be "normal" for them again and even during the toughest times. I personally want to thank The Jessica June Foundation for all they have done; not just for my child but for every child they have ever helped!
Charlean M Favela  ( Leilani's Mom)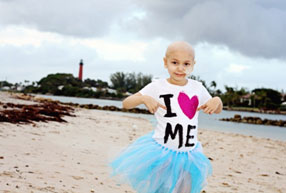 Leilani patient of Palms West Hospital