Assisted Children: Individual Stories
Help Single Mother of Child Facing Final Stage Brain Cancer
Collection Complete January 2022.  Thanks to generous contributors, JJCCF's Financial Assistance / Advocacy / Supportive Care Services Programs and collaborative support from partner charities, this family benefited from having access to basic human needs during a dreadful time.
---
Story:
Kimante, 4-year-old, Salah Foundation Children's Hospital at Broward Health
Kimante has been courageously battling Midline Glioma (Brain Cancer) all of 2021 alongside his single mother, 4 y/o sister and grandmother. Mother had to quit her job as a manager at a fast-food restaurant in order to care fulltime for Kimante. Father is incarcerated and unable to provide.  Although the grandmother is able to work part time and family qualifies for government assistance such as Medicaid and subsidized low-income housing, basic necessities are not being met for the family.
Needs:
Sadly, Kimante will soon receive care from Hospice as his Brain Cancer advances.  While his mother is unable to work, family needs help with their rent, diapers, wipes, plant-based formula and gas for transportation.
---
Letter from Hospital Social Worker:
To Whom It May Concern:
Kimante is a nearly four-year old Pediatric Oncology patient at Salah Foundation Children's Hospital at Broward Health Medical Center.  We first met Kimante when he was diagnosed with Midline Glioma in January 2021.  He required brain surgery to remove the tumor, and additionally chemotherapy and radiation treatment. His treatment has been several times weekly and he is hospitalized as needed. Kimante's strenuous treatment schedule has made it so that his mother is not able to work. The cost of household expenses and travel to and from the hospital has been mounting throughout the treatment process.  Kimante required hospitalization and treatment in Miami for several weeks as well.
At this time, Kimante continue to receive chemotherapy treatment. The brain tumor has caused deficits that require supportive therapies. Throughout this process, the mother has been an amazing advocate for his care.  She has supported him and attended to all his needs.  Now she is the one who requires support. Thank you in advance for your consideration and assistance for this family.
Sincerely,
Melissa Stachowiak, LCSW
Pediatric Hematology/Oncology
Licensed Clinical Social Worker

Click on the PDF icon to view original letter from the Hospital Social Worker
---
Plea from Mother:
To Whom It May Concern,
January 5th, 2021, Kimante came into the hospital suffering from a stroke and loss of mobility.  7 hours later we sadly found out he had a tumor and the diagnosis was Midline Diffuse Glioma.  At 3 years old Kimante went through multiple surgeries, 30 rounds of radiation, 50+ rounds of chemotherapy and continues to fight through it all to this day. 8,300 that's the number of hours we have spent in the hospital.  Countless nights and Holidays in the hospital I wondered what I could do to help and anxious not knowing what will happen next.
I went from being a mother to a nurse in a very short span having to quit my job and devote all my time to take care of Kimante.  I would do it over hundreds of times again but with that comes a constant financial struggle of having to pay for medicine out-of-pocket, diapers and wipes using my last penny to make sure he has everything he needs.  Sometimes it becomes very hard as it affects his older sister.  I don't think people understand how cancer affects the whole family.  I had to devote so much of my time to Kimante that I didn't have any left for his sister. For her to be so young, she understood what was going on.
It has only been a year, but it has been one roller coaster. I'm willing to ride that roller coaster a thousand times more just to know my baby will be okay.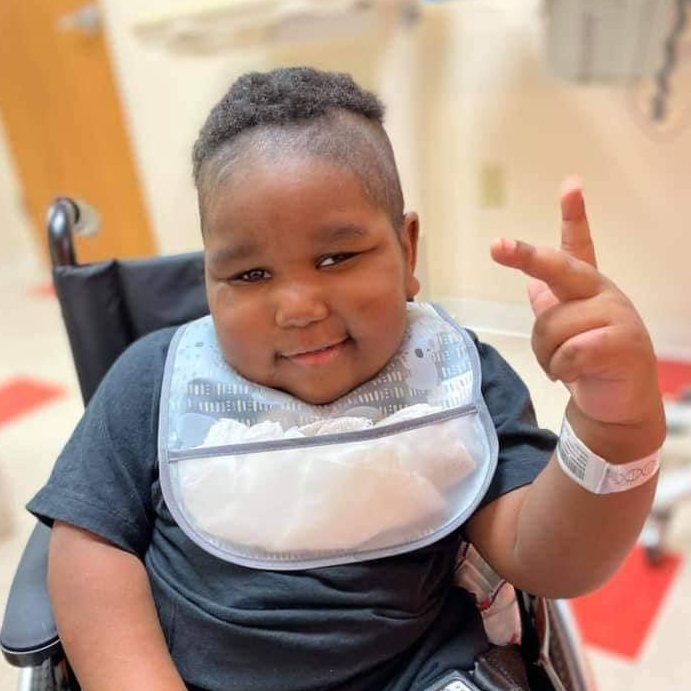 Kimante