Assisted Children: Individual Stories
Palm Beach Family of 6 Struggles for Basic Human Needs As 5 Y/O Battles Relapse Wilms' Tumor (Stage III)
Collection Complete September 2011. Thanks to JJCCF's Financial Assistance and Advocacy programs this family benefited from $2,734 to cover several months of car insurance, car payments, electrical bills, water bills, payment to the Ronald McDonald House in Miami, and provided grocery and gas gift cards during a difficult time.
Story:
---
Jude, 5 year old, Jackson Memorial Hospital & St. Mary's Hospital
Jude is a 5-year-old little boy who was diagnosed with Stage III Wilms' Tumor on October of 2009. Soon after, his right kidney was removed in order to save his life. Recently, doctors confirmed Jude's cancer was back. He needs to receive intense chemotherapy in hopes of getting back into remission so he can receive a bone marrow transplant.
A JJCCF staff member met with this family on July 27, 2010 to deliver hope, love, compassion and emergency financial assistance. JJCCF's Financial Assistance program prevented the family's power from being shut off by making a check payable to "FPL". Additionally JJCCF assisted this family with car payments, insurance and with gas and grocery gift cards.
Child's father lost his full-time job as a Martin County bus driver shortly before Jude was diagnosed. He currently holds a part-time job, however this is not enough to support a family of 6 and often make long trips from their home in Port St. Lucie to Jackson Memorial in Miami for Jude's treatment.
---
Needs:
The Louis family needs assistance with their mortgage payment or they will soon be homeless, and also need assistance with their electricity, gas and food.
---
Message from Hospital Social Worker, 02/03/11:
Dear Sandra,
I first of all wish to extend my gratitude to you and to the entire Jessica June Children's Cancer Foundation staff for all you do to help families of children stricken with cancer in the entire South Florida region. Your assistance to these families is greatly appreciated and does not go unnoticed!
Jude Louis is a 5 year old little boy who was diagnosed with Stage III Diffuse Anaplastic Wilms' Tumor back in 2009. He underwent surgical resection of this tumor, basically resulting in the surgical removal of his entire right kidney (right nephrectomy). Jude underwent a combined regimen of both chemotherapy and radiation therapy last year. Unfortunately, doctors have recently found evidence that his cancer has recurred and Jude will undergo further chemotherapy in hopes of getting him back to remission, and then undergo a bone marrow transplant.
Jude lives with both his parents and three older siblings (all school age) in Port St. Lucie. Dad lost his full-time job shortly before Jude was diagnosed and has only since found a part-time job, which he still has. Mom also lost her job in 2009 and, largely because of Jude's illness, has not been able to look for a job. The main source of the family's income is dad's part-time wages and Jude's Pedi SSI disabilities benefits. Last year, your organization was kind enough to grant Jude's family with $1,000 which his parents used to pay delinquent utility bills. Given the fact Jude's Wilms' Tumor has recurred and now is the hope of getting his cancer back on remission with chemotherapy for a bone marrow transplant, the family has, again, fallen on very tough times financially and are three month's behind on the home mortgage payment and run the risk of losing their home. In addition their light bill is also behind as well as other utility bills.
I write to urge you to post this family's plea for financial assistance via your website. I trust that there will be someone out there who will be moved to donate something towards helping Jude's family make ends meet during this most difficult time in their lives. Thank you so very kindly!
Sincerely,
Rolando Tabares, LCSW, CCM
Jackson Memorial Hospital Holtz Children's Hospital
Miami, FL
(305) 585-5685
---
Plea from Mom, 7/20/10:
Bertha Leny
TO: Jessica June Children's Cancer Foundation
I am Bertha Leny, mother of Jude Louis a 5 year old boy. Jude was diagnosed with cancer (Wilms' Tumor) on September 2009. He had two surgeries, radiation, and chemo at St. Mary's hospital in West Palm Beach. On June 2010 he was cleared and on December after a CT scan they found something else. They send us to Miami, now he had another surgery, we have to drive from Port St. Lucie to Miami for treatment. I am out of job since September 2009, only my husband with a part time job. We are behind on our mortgage, FPL and everything else. We have three other kids to take care. Now we are looking for help to anyone who can help us.
Thank you,
The Louis Family
Testimonial from Parent, 02/7/11:
The Jessica June Children's Cancer Foundation had helped me out and my family so much. Thank you I can't even describe how I feel. Honestly I really didn't know how we would have been able to pay our expenses for the month of July if it wasn't for you showing what love is really about. I hope that all of you keep doing what you're doing and God Bless.  Bertha Leny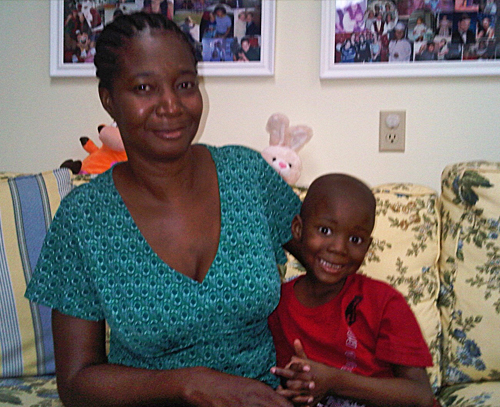 Little Jude with his Mother Bertha