Assisted Children: Individual Stories
Single Mom Needs Help For Rent / Food as Her Toddler Receives Lengthy Chemo to Fight Lymphoma
Collection Complete March 2018.  Thanks to generous contributors, JJCCF's Financial Assistance / Advocacy Programs and collaborative support from partner charities,  this family benefited from having access to basic human needs during a dreadful time.
---
Story:
Jovon, 3-year-old, Holtz Children's Hospital, Jackson Memorial Hospital
After being diagnosed with Large B-cell Lymphoma in May, little Jovon has been undergoing extensive chemotherapy treatments, a tracheostomy and placement of GT tube to provide nourishment. Mom was employed full time, but had to quit her job to care for Jovon as he is in and out of the hospital. Eventually little Jovon will require a bone marrow transplant, but first must undergo chemo. His medical process will be a long and arduous one. The family needs any assistance that can be provided at this time
Needs:
Jovon and his family need immediate help to pay for rent, food, and gas.
---
Message from Hospital Social Worker, 6/13/17:
Dear Jessica June Children's Cancer Foundation,
The Jessica June Children's Cancer Foundation was able to provide rent assistance to the mother of Jovon Moss, a 3 year old boy with a diagnosis of Large B-cell Lymphoma and in active treatment with chemotherapy at our facility. This assistance was a huge help to mom who had to quit her job in order to provide direct care to Jovon. Mom is a single parent with two other small children to care for. Mom has initiated an application for SSI benefits on behalf of Jovon and is in the process of waiting to hear Social Security's final determination. As Jovon's social worker, I ask that you consider for your Advocacy Program for any additional financial assistance possible. Jovon is enrolled in a lengthy chemo protocol and mom will greatly benefit from any additional support possible. Thanks to you, JJCCF, for helping alleviate the financial strain families of children with cancer experience!
Rolando Tabares, LCSW, CCM
Holtz Children's Hospital

Click on the PDF icon to view original letter from the Hospital Social Worker
---
Plea from Mother, 6/12/17:
Dear Jessica June Foundation:
I am the mother of Jovon Moss and we greatly appreciated your generous contribution to us. Jovon will be going through treatment for quite some time. I am a single mother of 3 and I have no income coming in and will be out of work until Jovon finishes his treatment. I've applied for SSI and am waiting on a response. I need more assistance to help with my rent and basic living expenses such as food and gas cards.
Thank you,
Brittany Fluellen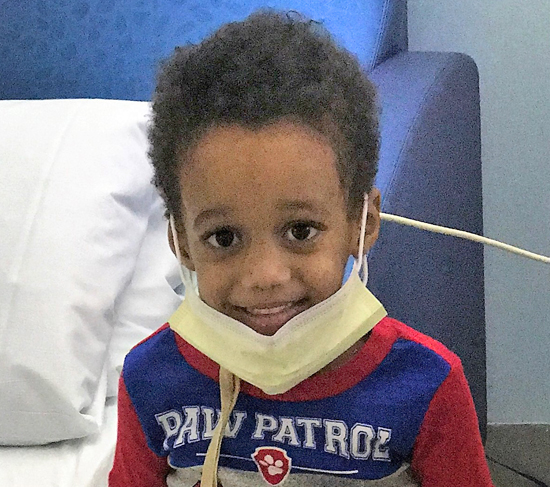 Jovon