Assisted Children: Individual Stories
Child Fighting Relapse Leukemia After Receiving Bone Marrow Transplant (RIP)
Collection Complete October 2014. Thanks to JJCCF's Financial Assistance and Advocacy Programs this family benefited from having access to basic human needs during a dreadful time.
Story:
---
Jorge, 8 Y/O, Jackson Memorial Hospital
In 2011, Jorge was diagnosed with Acute Myeloblastic Leukemia (AML) at the age of 5 years old in Nicaragua. After relapsing in 2013, the doctors in Nicaragua told his family that there was nothing more they could do to save Jorge's life. His father immediately quit his job and moved to Miami with Jorge to desperately find a medical solution… leaving his wife and other children behind
In April of this year, Jorge received a life-saving bone marrow transplant. His Mother and siblings had to wait in Nicaragua to secure their visas and save money to travel up to Miami to be with Jorge. The family is temporarily residing at the Ronald McDonald House in Miami due to Jorge's transplant complications and the special medical care that has required hospitalization for long periods of time.
Jorge's three year battle with AML continues as he is currently hospitalized due to a relapse…. Since the parents can't work in the U.S., due to their migratory status, it makes it nearly impossible for them to provide for Jorge and his siblings.
Needs:
Jorge and his family need immediate help to pay for Jorge's required special nutritional supplements and the family's food and clothing.
---
Message from Hospital Social Worker, 8/12/14:
Jorge is an 8 year old boy, originally from Nicaragua, who has had leukemia for several years and who, earlier this year, was able to travel to Miami to receive a bone marrow transplant. After obtaining visas his mother and two siblings were eventually able to join Jorge and his father here for the transplant which was performed in the Jackson Memorial Medical Center in April of this year.
JJCCF was able to assist Jorge and his family shortly following his transplant and this was a huge help to the family, given their limited financial stability. The family spent a great deal of their savings in medical care for Jorge in Nicaragua as well as the expenses for them to relocate to South Florida for further specialized medical care for Jorge. They are temporarily lodging at the Ronald McDonald House given to Jorge's need for very frequent outpatient medical follow up appointments. Although Jorge is improving medically, he has had to recur back to the hospital on four different occasions, due to complications, since having been discharged from the Pediatric Bone Marrow Transplant unit.
At this time, doctors have determined that Jorge's nutritional status needs to improve and, after trying a number of nutritional supplements, they have decided that Pediasure is the most beneficial to meet his nutritional goals. Unfortunately, Jorge's medical insurance does not cover Pediasure, which is fairly costly if purchased regularly and for a prolonged period of time. Given the parents' migratory status, neither of them are allowed to work during their stay in the US, thus they are forced to use their meager savings or ask local family and friends to assist them in any way possible.
For this reason, I ask JJCCF to consider Jorge a candidate for the Advocacy program in hopes of some additional donations to help his parents purchase Pediasure on a regular basis until such time that Jorge's nutritional status improves and his doctors deem that he can be off the supplement. I thank you in advance for JJCCF's help with, not only Jorge, but with other children battling cancer.
God Bless you all!
Rolando Tabares, LCSW, CCM
Jackson Memorial Hospital

Click on the PDF icon to view original letter from the Hospital Social Worker
---
Plea from Mother, 8/12/14:
Both my husband and I wish to extend our heartfelt gratitude to the Jessica June Children's Cancer Foundation for the help you gave to us in the beginning part of this year when our son, Jorge, underwent his bone marrow transplant.
Due to the fact that our son continues in specialized medical care (Jorge has needed to be re-hospitalized four times since having been initially discharged following his transplant), and our need to be caring for him, as well as our two other children, it has been impossible for my husband or myself to secure employment. In this particular moment, Jorge needs a special or food supplement (Pediasure) to improve his nutrition. This formula is not covered by his medical insurance and it is very expensive, making it difficult for us to purchase it for him. We, again, seek any possible assistance the Jessica June Children's Cancer Foundation can give us to help us make sure Jorge has Pediasure as a supplement at home.
We thank you from the bottom of our hearts!
Ligia Calero (Jorge's mother)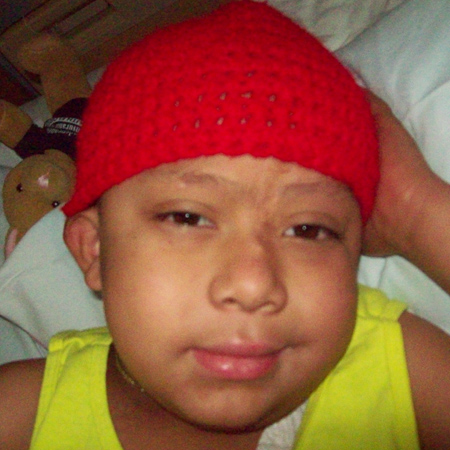 Jorge