Assisted Children: Individual Stories
Single Mother in Need of Assistance While 7-Year Old Son Receives Post-Transplant Medical Care
Collection Complete September 2017. Thanks to generous contributors, and JJCCF's Financial Assistance and Advocacy programs this family benefited from having access to basic human needs during a dreadful time.
---
Story:
Jordan, 7-year-old, alex's place at Sylvester

In 2016, Jordan, then aged 6, was diagnosed with acute myeloid leukemia. His mother Nicole, a single mother of three relocated the family to be close to the children's hospital while Jordan received many rounds or chemotherapy and a bone-marrow transplant. Having to take Jordan to his many medical appointments to manage his post-transplant care resulted in the loss of her job. Mom is struggling to pay for gas, groceries an out-of-pocket medical expenses. Because of Jordan's fragile immune system he requires his own room and Mom is hoping to ensure they have a stable place to live for the next 12 months.
Needs:
Jordan and his family need immediate help to pay for gas, groceries, and out-of-pocket medical expenses.
---
Message from Hospital Social Worker, 2/24/17:
Dear Jessica June Children's Cancer Foundation:
My name is Ida Rodriguez, and I am a pediatric clinical social worker for the University of Miami/ Sylvester Comprehensive Cancer Center/ alex's place- pediatric hematology/ oncology department.
I am writing to you regarding a patient of ours, Jordan Levy, DOB- 10/27/2009. Jordan is a 7 year old male who was diagnosed with Acute Myeloid Leukemia March of 2016, received treatment and ultimately required a bone marrow transplant in which he underwent September 2016 at Holtz Children's Hospital/ Jackson Memorial Hospital. Currently, Jordan receives post bone marrow transplant follow-up at University of Miami-alex's place at Sylvester Comprehensive Cancer Center. He will continue to come to alex's place for his follow-up post-transplant procedure. With the demanding medical follow-up appointments that Jordan requires, mother is not able to work at this present time, as she is his primary caretaker. As a result of not working presently, mother has minimal income. Mother reports a limited support system. Any support to this family would be beneficial and grateful.
Thank you,
Ida M. Rodriguez, MSW, LCSW
Pediatric Outpatient Licensed Clinical Social Worker
alex's place
University of Miami Miller School of Medicine

Click on the PDF icon to view original letter from the Hospital Social Worker
---
Plea from Mother, 2/24/17:
Friends & Family.
As many of you already know, my (then) 6-year old son Jordan was diagnosed with acute myeloid leukemia on March 11th, 2016. It is truly every parent's nightmare. I hope so much that we find a cure so that no one ever has to go through what we've been through. His kindergarten classmates, teachers, nurses, doctors, JJCCF, the Make-A-Wish foundation, and countless others have stood by our family's side as we held his hand and supported him through so many rounds of chemotherapy and then a bone marrow transplant. Our Jojo is an extraordinary boy who, by the grace of God, is today cancer-free. We are so grateful, and we are trying our best to adjust to life post-transplant, but the diagnosis took major tolls on my family's income and financial stability. When Jojo was diagnosed, we relocated our family (me, Jordan and his two sisters) to be closer to the children's hospital where he received his chemotherapy. I lost my only source of income, and it has taken all of my strength to manage Jordan's post-transplant medical care. This care requires visiting a clinic up to 4x a week, sometimes for the entire day, as well as unpredictable hospital stays that have lasted as long as two weeks. In addition, I am doing everything that I can to be the mother that I know my two daughters need. Jordan's extended family has been incredibly helpful, but they, too, have given all that they can over the past year. I would like to ensure that we have a place to live for the next 12 months. Because his immune system is very fragile, it is critical that Jordan have his own room wherever we go next. Transportation; taking Jordan to clinic in Miami several times a week, along with picking-up and dropping-off my girls at their schools, has drastically increased our family's gas needs. I estimate gas to be about $200/month, groceries., money for medical or other emergencies that require cash out-of-pocket.
Thank you so, so much for any help that you can give to our family. Anyone who knows me knows that asking for this kind of assistance is the last thing that I ever wanted to do, but I am afraid for our family's immediate future and just don't know where else to turn.
With love,
Nicole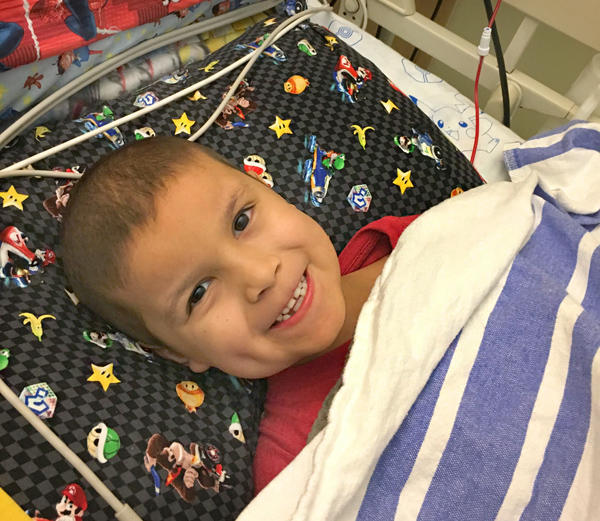 Jordan