Assisted Children: Individual Stories
Family at Risk of Foreclosure as 10 Y/O Fights Leukemia

Collection Complete October 2012. Thanks to JJCCF's Financial Assistance and Advocacy programs this family benefited from having access to basic human needs during a dreadful time. Additionally, Joerie was one of JJCCF assisted lucky teens who received backstage passes to meet Justin Beiber 1/27/13.
---
Story:
Joerie, 10 Y/O, Chris Evert Children's Hospital at Broward Health Medical Center
Joerie was diagnosed with Acute Lymphocytic Leukemia (ALL) in September 2011. Mom was working as a nurse, but has not been able to work while tending to Joerie's needs. Father works as a taxi driver; however, his hours have been reduced. The family has fallen behind on their mortgage and other bills. Their home will soon be foreclosed if they do not pay their mortgage
---
Needs:
For the next few months while Joerie is going through treatment, the family will need help with their mortgage, car payments and insurance.
---
Message from Hospital Social Worker:
November 7, 2011
Jessica June Children's Cancer Foundation
Ms. Sandra Muvdi, President/Founder
Dear Ms. Muvdi:
Joerie Cius is a ten year-old female at Chris Evert Children's Hospital Pediatric Cancer Center. Joerie was diagnosed with Acute Lymphoblastic Leukemia at the beginning of September 2011. She has been receiving chemotherapy treatment in the hospital and as an outpatient. Her treatments can be one to four days per week.
Joerie resides with her parents and siblings, ages thirteen, ten and three. Joerie's mother is a Licensed Practical Nurse. She was working at a local nursing/retirement home. Joerie's father was working as a taxi driver but his earnings are not enough to support his family. Her mother has not been able to work since Joerie's diagnosis because of the demands of her treatment and side effects. She has required constant care.
Joerie was approved for Medicaid and Supplemental Security Income but the monthly cost is not close to her mother's earnings. They are requiring help with their mortgage. Their payments are approximately four months past due and they are at risk for foreclosure. Thank you for your consideration in helping Joerie and her family.
Sincerely,
Bernadette Brunetti, LCSW
Social Worker
---
Plea from Mother, 11/04/11:
I am writing this letter to explain you how challenging life can be. I have four children, two boys and two girls, in May 2011 one of the girls got sick, she had pain in her left side and lost weight, she went to her primary doctor every week to see if I could find out what was wrong with my 10 years old girl. Her primary doctor wasn't able to tell me right away what the problem was, after 3 months I went to a Hematologist at Broward General Medical Center, I finally knew my daughter was diagnosed with Acute Lymphoblastic Leukemia (ALL) which is blood cancer. Since then my life is devastating, I cannot work because she is in chemotherapy, now I'm not able to pay my bills. I own a house and now I cannot pay it. Soon they will foreclose on my house. I don't know what to do because chemo treatment makes her immune system so low, I have to be very careful with her.
It's really hard for me right now, I need some help please. Whoever helps me in this situation may God Bless you.
Thanks, Alberte Cius
Testimonial from Parent, 03/02/12 & 5/24/12:
3/2/12: Seven months ago when a doctor told me my daughter was diagnosed with leukemia. I didn't know what to think because I knew I had to give up everything to stay home with my daughter. I didn't have any hope until I met with the Jessica June Children's Cancer Foundation, this foundation help my daughter and I with everything we need such as car payments, mortgage payments, and other bills. JJCCF was not only able to help us with our bills but also with social activities. I feel like JJCCF does the best thing a family who has a kid which is really sick can do to help.
JJCCF will never stop helping families, who need it. When you donate to this foundation its like you give hope to all the children who battle with cancer, which is what JJCCF is doing, giving us hope.
Alberte Cius
5/24/12: Your help means a lot to me and my daughter. keep the good work, together we will beat this monster who try to make us sad all the time. Thank you so much for your effort. May the Lord bless you and your family. Alberte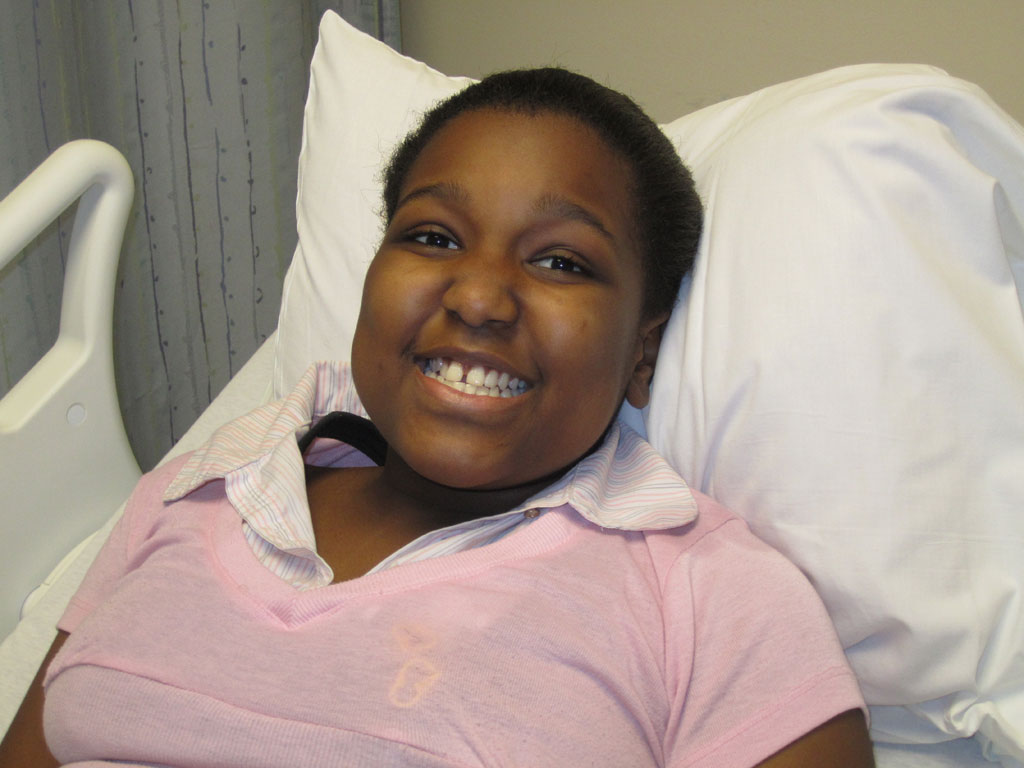 Joerie at Broward General Medical Center