Advocacy Program: Children Urgent Needs
Mother Pleas for Teen with Relapse Leukemia (AML)
JJCCF is accepting donations in honor of Jilka. If you wish to share your compassionate support, 100% of your donation will go towards assisting Jilka and her family with their basic necessities. JJCCF does not charge for its services or take a percentage of funds raised.
Online:
Donate Indicate Dedication / In Honor of Jilka
Mail:
Kindly make your check payable to "JJCCF" and write "For Jilka" in the memo
Address:
Jessica June Children's Cancer Foundation
1 Las Olas Circle, Suite #209
Ft. Lauderdale, FL 33316
---
Story:
Jilka, 17-year-old – UF Health Shands Children's Hospital
Jilka was diagnosed with Leukemia (AML) Nov. 2021.  She underwent 5 months of aggressive chemotherapy which produced positive results.  However, one year later when Jilka returned for a follow up, she was met with the unfortunate news of the Leukemia coming back with a mutation.  Jilka is currently hospitalized undergoing more chemotherapy.  Her best option now is qualifying for a clinical trial administering a promising experimental medicine (Xospata) to address the mutation and pursuing a Bone Marrow Transplant (her sister is a perfect match).  The family is originally from Mexico and does not qualify for government assistance yet while their US permanent residency is in process; Jilka has no health insurance and depends on mercy medicine.  As a single parent taking care of Jilka and her two younger siblings, mom is unable to work.  Financial assistance is greatly needed.
Needs:
The family needs help with food and gas for transportation.  Mom commutes 1 hour and 45 minutes each way to and from the hospital daily in order to care for Jilka and her siblings at home.
---
Letter from Hospital Social Worker:
To whom it may concern:
Jilka is a 17-year-old patient at UF Health Shands Children's Hospital. She has been under the treatment of UF Pediatric Hematology Oncology since her diagnosis with Acute Myelocytic Leukemia on 11/23/2021 when she was 16 years old. She underwent induction chemotherapy cycles 1 and 2 as well as intensification cycles 1-3 at our hospital. She completed her treatment on 6/24/2022. On 1/24/2023 she came to our clinic for follow up and her bloodwork revealed that her Leukemia had returned. She has been started on inpatient chemotherapy again and would like to pursue a Bone Marrow Transplant if she can obtain the funds to do so as she has no health insurance. Jilka's cancer treatment has presented a significant hardship on her family. Her mother and two younger siblings live over 2 hours from the hospital. Jilka copes best when her mother is with her, so her mother has been driving back and forth to visit her daily. This allows Jilka's younger siblings to continue attending school near their home. Because of this schedule, Jilka's mother is not able to work.
Jilka is originally from Mexico and not eligible for public assistance through state or federal government programs as well as many Pediatric Oncology charities as she does not have the necessary documents that those programs require. Jilka and her family would greatly benefit from any financial assistance that can be provided to help them through this time.
Kelleen Simons,
LCSW, UF Health Pediatric Hematology/Oncology

Click on the PDF icon to view original letter from the Hospital Social Worker
---
Plea from Mother:
Hi, my daughter Jilka was diagnosed with Leukemia (AML) on 11/23/21. Jilka was on chemo treatments for 5 months and then went into remission for 7 months.  On January 24, 2023, we took her to her monthly check-up and her exam results were not good.  The doctor informed us that her cancer had returned with a mutation and that she had to be hospitalized immediately to start chemo.  We are anxiously waiting for the medicine needed to attack the mutation and get rid of the cancer cells.  The doctors want to continue with chemo while they find a bone marrow donor to cure her. Jilka and her two siblings are very close, and we have no more family.   Being a single mother, our situation is very difficult.  I have to travel approximately 1 hour and 45 minutes from my home to the hospital and the same back daily to be able to be with my daughter in the hospital and with my two children at home. Jilka's favorite color is purple.  She loves to sing, everything related to makeup, and recording funny videos. Her favorite artist is Ariana Grande.
Yaisy (Jilka's mother)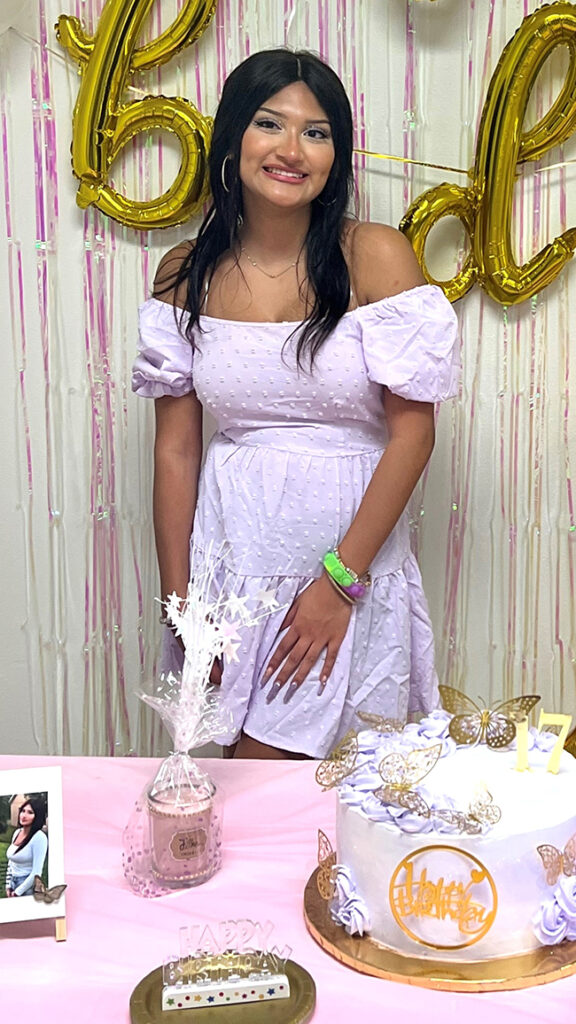 Jilka