Jessica's Story
---
Sandra Muvdi and David W. Eiler gave birth to a healthy, normal, and beautiful baby girl on February 16, 1996. Jessie, an only child, grew up having all the privileges any child could ever dream of having. Both parents adored her, and wanted to give her the best experiences life could offer.
From birth, her mother spoke to her always in Spanish, and spent summers in Colombia with family members. While spending time in Colombia she bonded with family members, made new friends, and got involved in numerous activities/classes such as Spanish lessons, Colombian Folklore Dancing, Tennis, Swimming and day camps. She was growing up with exposure to two cultures and was bilingual.
Other activities Jessie got involved with throughout the years were Gymnastics, Soccer, Sunday school, and acting. She made numerous friends in her Elementary School, and in all the activities she pursued.
Her father got them involved in the organization, Indian Princess, and they have wonderful bonding memories from camping trips in Orlando, park visits, bowling, roller skating and making wonderful lifetime friendships. Dave and Jessie also enjoyed boating and fishing, and spending time with Jessie's precious dog who she named Sarah Flower.
Jessie was a bright eyed, friendly, extroverted, outspoken, energetic, and strong willed little girl. She lived her short 7 years with intensity as if she knew that it was all the time she had left to live. Everything she did was to the maximum; to the extreme. She was always excited to try new experiences, and took advantage of every opportunity offered to her. Every day was a happy day lived to the fullest.
Jessie was like any other normal 7 year old girl. She had many dreams and a strong desire to live and help others.
| | |
| --- | --- |
| Favorite Stars: | Shakira and Hillary Duff |
| Favorite Songs: | "Te Aviso, Te Anuncio" (Tango) by Shakira, "What Dreams are Made Of" by Hillary Duff, and the Grease CD |
| Favorite Movie: | The Lizzie McGuire Movie |
| Favorite Sports: | Soccer and Gymnastics |
| Career Aspirations: | Becoming an actress |
| Her Passion: | All animals |
| Hobbies: | Coloring and doing art work, Game Boy, watching the Disney Channel, and sucking her thumb |
| Favorite Books: | Junie B. Jones, I Spy, and Curious George. |
| Favorite Food: | A big steak and loaded baked potato |
| Favorite Color: | Pink |
How Jessica got sick:
On Monday, September 29, 2003 Jessica came home from a normal day in her second grade class, but complained of initial cold symptoms. She was taken to her Pediatrician twice during that week, and on Sunday, October 5 th her mother took her to the hospital because she was thought to have Mononucleosis. That same day she was diagnosed with Acute Myelogenous Leukemia (M5), an aggressive blood cancer. That evening Jessica suffered a hemorrhage in her brain, became unconscious, and never woke up. Precious Jessica remained unconscious for 4 days, and lost her life to this dreadful disease on October 9, 2003.
---
Jessica's Last Pictures
---
One Year Memorial for Jessica June Eiler (Feb. 16, 1996-Oct. 9, 2003)
Letter from her mother (JJCCF's Founder):
September 9, 2004
My precious Jess,
It's been almost one year without you, and I miss you more each day. Your sudden death has me confused, and still asking myself if your departure is real and forever. I ask myself: "How can it be that we are separated?", "How can it be that you have left?", "How can it be that I have to live without you, my only child?"
You were the purpose of my existence. I was looking forward to watching you grow, and continue giving you all the love and happiness you deserved. Now that you are gone, I ask myself: "What is my purpose?", "What am I looking forward to in life?"
My new purpose is to honor your memory by giving hope and comfort to children in need fighting cancer.
My life has changed forever, but I cherish the 7 years we had together. This experience has made me realize that nothing in life is guaranteed, and that your entire life can change within seconds. The only sure thing is that one day we will all die, and the rest is a mystery.
Every day I feel the pain of missing you. I know that one day the mystery will be solved, and hopefully it will mean that we are together forever in a better place were pain does not exist and where happiness is guaranteed.
I miss and love you so much my baby. I look forward to our future forever reunion.
Your Mami who can't accept losing you.
Mami
(Sandra Muvdi)
---
Feelings and Thoughts from her Mother:
My existence compares to dust in the wind
I feel I am a grain of sand on the ocean floor
I feel I am a particle in the universe
I'm Insignificant, I'm Alone
Everything earthly is temporary
What is permanent? Nobody knows
Some calm their fear of uncertainty with faith
Some seek for an answer
Some accept not knowing
The mystery of our existence and knowing "why" things happen can become a frustrated search. After tirelessly seeking answers you may come to the realization that some times we just have to accept not knowing. Sometimes there aren't answers. Just accept that when your time comes to leave the temporary, and hopefully find the permanent, you will have those answers and you will understand "why". For now, try to enjoy the treacherous, uncertain road called life, and make the best of today and tomorrow because we can't change the past.
For those of you who have lost a child: We all know we were dealt a poor hand of cards, but while we are here, let's make the best of what "IS".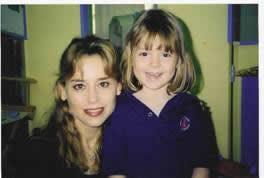 Jess and Mami
"The years of her presence are as short as a day.
A day of her absence is as long as years"
-Ibn Al Fharid.