Assisted Children: Individual Stories
Single Mom Unable to Work Facing Serious Health Issues & Having to Care for 11 Y/O Daughter Fighting Leukemia 
Collection Complete April 2013. Thanks to JJCCF's Financial Assistance, Advocacy and Share the Joy programs this family benefited from having access to basic human needs during a dreadful time. On 7/10/12 Premier Beverage sponsored Jaiya via Share the Joy Program.
Story:
---
Jaiya, 11 Y/O, Palms West Children's Hospital
Jaiya is an 11 Y/O with a warm and friendly smile that is struggling with the rigors of intense chemotherapy that has hospitalized her on several occasions in the past year since being diagnosed.   In addition, Jaiya's mother (Yulanda) has struggled with own health to the point that she can no longer continue her position after 17 years. With no family income, together this mother and child are now faced with the darker reality of juggling their combined medical treatment while finding ways to pay for food and rent.
Jaiya went from being an outstanding soccer player to being a cancer hero. She played all soccer positions except goalie and won numerous trophies and medals. She is a true soccer fan and her favorite players are Abby Wambach and Hope Solo.
Needs:
Jaiya's family will need immediate help to pay their rent, electric, water and groceries.
---
Message from Hospital Social Worker, 7/2/12:
Re: Jaiya Anderson
Jaiya Anderson is an 11 year old with known diagnosis of Pre B ALL. Date of Diagnosis: 6/21/11
Past & Present Treatment info: Jaiya is currently receiving intense Chemotherapy that requires her to come to the Hospital once per weeks for chemotherapy and to monitor blood counts and receive a blood transfusion if needed. If she should develop a fever during this time it will mean a minimum of another 3-5 days in the hospital or longer depending on the source of infection.
Jaiya's diagnosis has put a tremendous strain on her Mother who is a single Mom and who is facing some serious health issues of her own. Mom herself over the past few months has needed to be hospitalized several times and was forced to take a Medical Leave from her job and now has had to resign from her position which she has worked at for the last 17 ½ yrs due to her own health issues.
It would be a tremendous help if you could assist this family with their basic living expenses such as: rent, electric & water. This would help to relieve a little of the stress this Mother is under and allow her to get back on her feet again.
Please do not hesitate to contact me if you should need any further information. Yours truly,
Michelle O'Boyle, RN, CPON, Pediatric Oncology Patient Care Navigator, T: 561-371-1298
---
Plea from Mother, 06/29/12:
My name is Yulanda Perdue. I am the mother of Jaiya Anderson who is 11 yrs old. Jaiya was diagnosed with Leukemia (ALL) on 6/21/11.  That day my life was turned upside down. I cried and I was at a lost of words, angry, and asking "Why?!" Thanks to God and the support of my family and friends, and foundations, I kept my sanity.  The medical bills, trying to work, and taking care of an ill child is very stressful and overwhelming. I had to go on medical leave myself. Due to my own health issues, I'm no longer able to work. I have many worries about medical bills and living expenses. I'm in need of help with rent, utilities, and basic needs.
Testimonial from Mother, 06/28/12:
The Jessica June Children's Cancer Foundation (JJCCF) has helped me financially with the necessities of daily living.  I am grateful for the assistance the foundation has provided me during this difficult time of coping with my daughter's illness.  The JJCCF is a compassionate wonderful foundation with caring hearts that helps families survive while going through difficult times of dealing with cancer (as it affects their families) and allows them to focus on the most important thing in life… their child.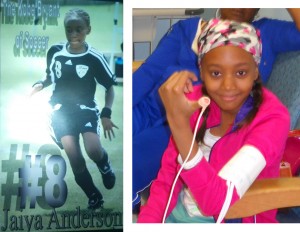 Jaiya in action! Playing soccer before, fighting cancer now!