Assisted Children: Individual Stories
Single Mother Unable to Pay Bills as Son's Brain Cancer Advances
Collection Complete July 2021.  Thanks to generous contributors, JJCCF's Financial Assistance / Advocacy / Supportive Care Services Programs and collaborative support from partner charities,  this family benefited from having access to basic human needs during a dreadful time.
---
Story:
Jaderirst, 16-years-old, Salah Foundation Children's Hospital at Broward Health
When we first met this friendly teen early this year, he walked into our office spreading joy.  Sadly, his brain cancer has since advanced to the point of impairing his speech and ability to walk.  Jaderirst's mother has been told no further treatment options are available and is under hospice care.  His single mother was working for the Broward County Public Schools, but do to school closures during the pandemic and the 24/7 care needed by her child, she is no longer working.
Needs:
As this single mother's bills pile up and her son's condition deteriorates, she pleas for temporary financial assistance to cover the family's rent and utilities.
---
Letter from Hospital Social Worker:
Dear Jessica June Children's Cancer Foundation,
Jaderirst Brown is a 16 year old Pediatric Oncology patient at Salah Foundation Children's Hospital at Broward Health Medical Center. Jaderirst was first diagnosed with Ependymoma at age 7 in South Carolina and began following up with us in July 2018. Unfortunately his tumor returned in March 2019 and he began treatment including surgery, chemotherapy and radiation. The effects of his tumor continued to take a toll on his body and he lost some functioning in being able to walk and speak. Jaderirst is such a loving and cheerful boy, despite his circumstances. He has always had a smile for us when he comes to our clinic. He has won the heart of those in every treatment facility he has been to. Jaderirst's mother is doing the best she can to support her family. The strenuous treatment schedule has taken a toll on this family. At this time, Jaderirst's physicians have informed the family that he has no further treatment options and he is under hospice care. They would benefit from any assistance possible to support their needs. Thank you in advance for your consideration and assistance for this family.
Sincerely,
Melissa Stachowiak, LCSW
Licensed Clinical Social Worker

Click on the PDF icon to view original letter from the Hospital Social Worker
---
Plea from Mother:
My son Jaderirst was diagnosed at 7 years old with a brain tumor. He had surgery and radiation in South Carolina. He was in remission for many years and we moved to South Florida. He was active, playing football, and enjoying time with family and friends. We were following up at Broward Health Medical Center and they found that his brain tumor had returned when he was 15 years old. He began treatment including chemotherapy, radiation, and surgery here. He continued to receive treatment over the course of the year. Although the tumor was responding to treatment, he began getting worse. I was working as a crossing guard but due to school closures, I have not been able to work. I'm a single parent and am doing almost everything for him. In August we were informed that there were no further treatment options and he was referred to hospice. Jaderirst lives at home with me and his 2 siblings including his twin sister. We are taking it one day at a time, and we are trying to stay strong as a family. We are falling behind on bills and any help for our family would be appreciated. Thank you to Jessica June Children's Cancer Foundation.
Angelina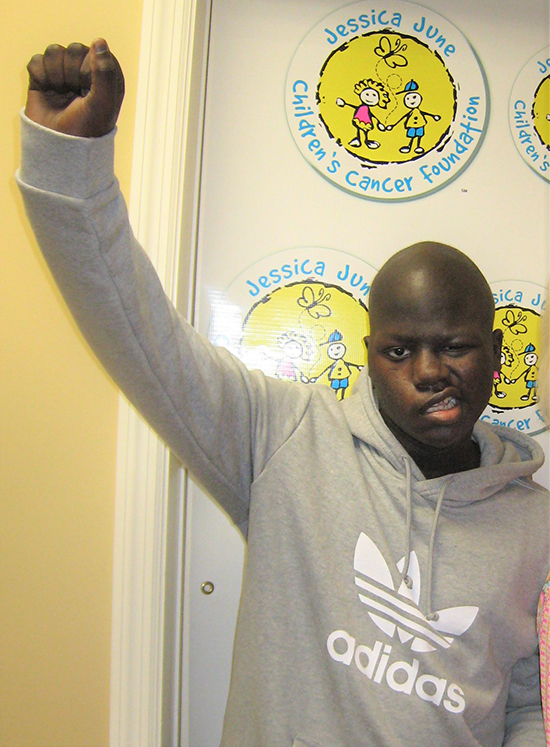 Jaderirst