Advocacy Program: Children Urgent Needs 
Despaired Mom Pleas for Help While Caring for Terminal Son Fighting Brain Cancer
JJCCF is accepting donations in honor of Ire. If you wish to share your compassionate support, 100% of your donation will go towards assisting Ire and his family with their basic necessities. JJCCF does not charge for its services or take a percentage of funds raised.
Online:
Donate Indicate Dedication / In Honor of Ire
Mail:
Kindly make your check payable to "JJCCF" and write "For Ire" in the memo
Address:
Jessica June Children's Cancer Foundation
1 Las Olas Circle, Suite #209
Ft. Lauderdale, FL 33316
---
Story:
Ire, 14-year-old – Golisano Children's Hospital & Johns Hopkins All Children's Hospital
Ire was diagnosed with Midline Glioma (Brain cancer) June 2021.   Ire immediately started an intense treatment plan that included chemotherapy, surgeries, and radiation treatments.  Despite the aggressive treatment he has received, the cancer has quickly progressed leaving Ire with many neurological and physiological challenges.  The prognosis is grave, and sadly he has not qualified for various clinical trials.  Ire is now home receiving palliative care surrounded by his family.
Ire was a vibrant teen with a passion for riding motorcycles.
Needs:
The family needs help with basic living expenses: rent, food, utilities and gas for transportation.  Mom has (6) kids and is Ire's fulltime caregiver. Additionally, the family lost their business directly hit by Hurricane Ian and currently have no income.
---
Letter from Hospital Social Worker:
To Whom It May Concern:
This letter is on behalf of Milagros, mother of Ire Jr. DOB 02/23/2009. Ire is currently a patient at Golisano Children's Hospital of Southwest Florida in the Pediatric Hematology/Oncology program under the medical care of Drs. Nicholson, Macarthur, DePombo, Sawczyn, and Salman.
Ire is a 14-year-old male battling brain cancer; he was diagnosed with diffuse midline glioma on 06/25/2021. Since diagnosis, Ire and his family have been seeking treatment with hopes of curing his disease. Ire has received weekly chemotherapy and 6 weeks of radiation therapy followed by weekly appointments in our office as well as JHACH follow up MRI's, labs, physical exams and symptom management. Milagros is a single mom of 6 and is Ire's primary caretaker. For the past 6 month's Ire's mom has been traveling back and forth from Ft. Myers to St Pete for treatment. Therefore, Milagros has not been able to work. Family is under tremendous emotional and financial distress as Ire's tumor has progressed and his condition has deteriorated. He is receiving palliative care at home, and it is of utmost importance that Milagros be by her son's side to care and comfort him. The family is enduring financial hardship and is seeking assistance to cover basic living expenses.
We thank you in advance for this special consideration for Ire and his family, as they navigate this extremely fragile journey.
Lina Diaz-Conde, MSW, CMC
Pediatric Hematology/Oncology
Golisano Children's Hospital of Southwest Florida

Click on the PDF icon to view original letter from the Hospital Social Worker
Plea from Mother:
My name is Milagros and I am the mother of Iré diagnosed with Midline Glioma Grade 4.  He is currently in hospice and receiving palliative services. First, I want to thank Jessica June, RBIs4CANCER, SIDES, Team Damian, Live Like Bella, Children Battling Cancer, Paramount Property Maintenance, and all those who have helped us in such a terrible situation. Despite being in this terrible situation, we also lost our business due to Hurricane Ian and currently we have no income. Our bills are pilling.  Our car Insurance is past due and soon our rent is due.
We are in such a big hole; only God knows how we can move forward and live day by day. We are fighting each day to move forward, recover and be able to offer my children even the basics.
Again, thank you all God bless you.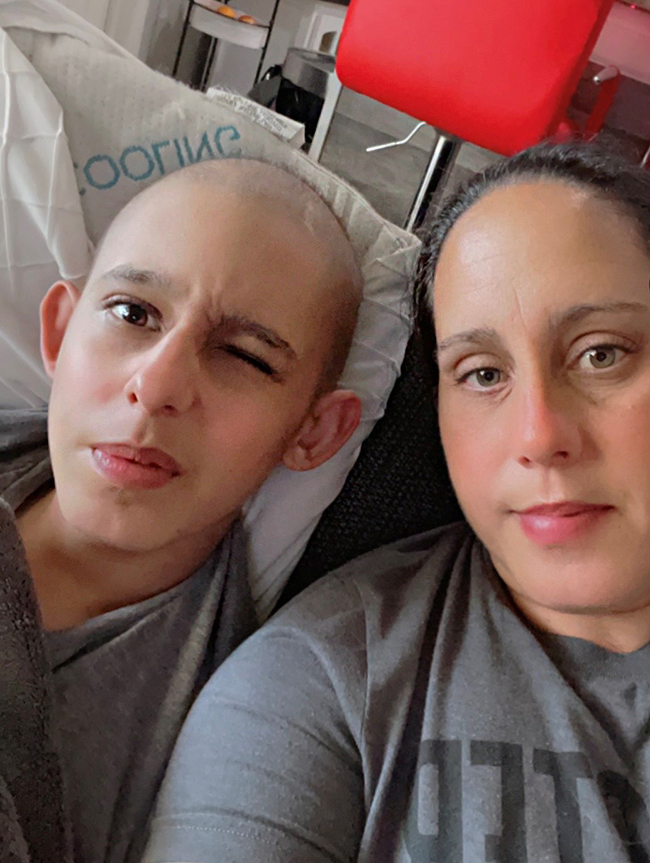 Ire