Assisted Children: Individual Stories
Single Mom Struggles With Child Needing A Life-Saving Bone Marrow Transplant
Collection Complete January 2017. Thanks to generous contributors, and JJCCF's Financial Assistance and Advocacy programs this family benefited from having access to basic human needs during a dreadful time.
---
Story:
Yanella, 6 Y/O, Holtz Children's Hospital, UM/Jackson Memorial Medical Center
Yanella was enjoying a normal young girl's life in Peru until March of 2015 when she was diagnosed with Leukemia. Yanella's mother immediately took a leave of absence from her job as a high school teacher so she could care for her only child. After months struggling with chemotherapy treatments, remission was achieved.
During a routine oncology check-up visit in March of 2016, Yanella's mother was horrified to learn that Yanella had relapsed and now needed a life-saving bone marrow transplant unavailable in Peru. Desperately, Yanella's mother resigned from her job and relocated to Miami seeking emergency medical treatment.
Although both are US citizens, Mom is unable to work due to the care required while Yanella is hospitalized and awaiting a bone marrow transplant. The mother has a temporary arrangement to stay with friends and is on the waiting list at the Ronald McDonald House on the Jackson hospital campus while her daughter fights for her life.
Needs:
Yanella and her family need immediate help to pay for food and basic needs.
---
Message from Hospital Social Worker, 4/13/16:
Yanella is a playful, sociable 6 year old girl with a history of ALL (Acute Lymphoblastic Leukemia), diagnosed and initially treated in her home country of Peru in March of last year. After being in remission for several months, Yanella's disease returned. Her hematologist in Peru informed Yanella's mom that the next step would be to, once again, get her to remission and then immediately a bone marrow transplant. Given that Yanella is an only child, the possibility of a sibling related transplant was out of the question. Peru does not perform unrelated bone marrow transplants; therefore, it was necessary to explore options outside of Peru.
Luckily, both Yanella and her mother are naturalized US citizens (mom had lived in USA years ago and eventually returned to Peru where Yanella was born and able to get dual citizenship). They traveled to South Florida where a friend of the mother lives. Eventually Yanella was admitted to Jackson's Holtz Children's Hospital, where she remains today.
Yanella's mother is a high school math teacher back in Peru and had to give up her job in order to travel to this country seeking specialized medical care for her child. Yanella's biological father is not involved and as per mom, has never displayed interest in helping mom with Yanella's medical care in any way.
Presently, both Yanella and her mom are awaiting availability of lodging at the Ronald McDonald House. I ask that you consider helping this needy family in any way possible. Following bone marrow transplant, Yanella will need to remain in Miami for at least one year. Thank you so kindly
Rolando Tabares LCSW, CCM
Holtz Children's Hospital, UM/Jackson Memorial Medical Center

Click on the PDF icon to view original letter from the Hospital Social Worker
---
Plea from Mother, 4/16/16:
My name is Juana and I am a single mother of one child, who is 6 years old. My daughter's name is Yanella and she was diagnosed with Acute Lymphoblastic Leukemia (ALL) on March 18, 2015 in Peru, our native country and where we permanently live. Yanella was treated for one year and then after a routine test, the doctors in Peru informed me that Yanella had relapsed and needed a bone marrow transplant. This type of transplant is not done in Peru. Given that Yanella and I are naturalized US citizens, I decided to come to Jackson Memorial Hospital in Miami seeking specialized medical treatment for my daughter.
I am a school teacher and before traveling to Miami, I had to resign from my job given the fact that the school had already given me an extended medical leave of absence last year so that I could care for Yanella during a good part of her chemo treatments. When I approached my superiors for another leave I was told that it was not possible, leaving me no other option but to resign from my position. Now I am in Miami with Yanella who is currently hospitalized at Jackson's Holtz Children's Hospital since March 28th, 2016.
I have no family in the US. I am presently on a waiting list for a family room at the Ronald McDonald House on the Jackson hospital's campus, which will allow me to have easy access to Yanella's doctors in the clinic as well as the hospital. I am in need of asking for help to foundations such as the Jessica June Children's Cancer Foundation. I can't work since Yanella needs my fulltime attention. I would be forever grateful for any help you can give us. Thank you.
Juana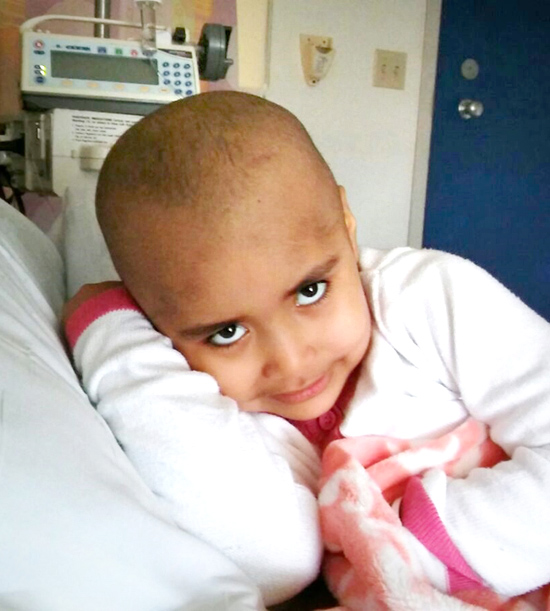 Yanella