Assisted Children: Individual Stories
4 Y/O Boy Fighting Brain Cancer as Single Mother Grapples with Loss of Income
Collection Complete September 2014.  Thanks to JJCCF's Financial Assistance and Advocacy Programs this family benefited from having access to basic human needs during a dreadful time.  JJCCF nominated Malachi for Bank on My Dream contest titled: "Basic Needs for Single Mom Battling Brain Cancer." On 8/12/14 his single mother won $5,000 from the Florida Bankers Association. View press story Brain Cancer News 8/18/14
Story:
---
Malachi, 4 Y/O, Broward Health Medical Center
Malachi is struggling with Brainstem Glioma and has endured intense chemotherapy, radiation and brain surgery over the past year. Malachi's 23 Y/O single mother has remained by his side to comfort her only child during the frequent hospitalizations and necessary trips to St. Jude Children's Research Hospital in Memphis, TN. This battle has required his mother to take a significant amount of unpaid time away from her job which has crippled them financially.  The combined emotional and financial stress has been unrelenting … leaving the mother with only her prayers and hope to sustain them.
Needs:
Malachi and his Mother need immediate help to pay for rent, food, gas and electricity.
---
Message from Hospital Social Worker, 2/24/14:
Malachi Dean is a four year-old pediatric oncology patient at Chris Evert Children's Hospital at Broward Health. He is diagnosed with Brainstem Glioma. Malachi was first diagnosed in April 2013. Since diagnosis, Malachi has undergone treatment including chemotherapy, surgery, and radiation. Malachi and his mother Muriel have also been referred to St. Jude Children's Research Hospital for collaborative treatment. They travel to Memphis, Tennessee where St. Jude is located several times per year.
Muriel is a strong and loving mother who always has her son's best interest in mind. Despite how difficult it has been for her to work throughout his course of treatment, she has been able to keep a job. We have worked together to provide her employer with documentation about Malachi's treatment to ensure she doesn't lose this source of income. The challenge becomes greater when she goes without pay each time Malachi is hospitalized and she has to be present, or when they travel to St. Jude. Malachi's mother is reluctant to ask for help, as she feels she has always been able to make it on her own. Knowing that she is reaching out at this time shows she so greatly needs this assistance. This family requires support for household bills that have been difficult to keep up with due to missing work as a result of Malachi's cancer treatment.
Sincerely,
Melissa Stachowiak, LCSW
Social Worker

Click on the PDF icon to view original letter from the Hospital Social Worker
---
Plea from Mother, 2/24/14:
I would never had imagined a day in my life as a 23 year old single mom that my little bundle of joy and best friend would be battling a life threatening disease. On April 16th 2013, I received the news that Malachi had a cancer mass on his brain stem.  At that moment my world froze and everything was silent.  I panicked, wasn't eating, sleeping, just a lot of praying… at that time the only thing that I had was faith in God.
As months went by the hospital nurses would make me go home to bathe and since I could not work at that time, I was begging my landlord not to kick our belongings out. I would had rather lose everything and be homeless than to leave my little Malachi's side.  The Jessica June Children's Cancer Foundation came to our rescue and helped pay my rent, lights and provided groceries so that we wouldn't be hungry.  I am now still far behind in my bills because I have to take a lot of time off work to take Malachi to his treatments including multiple trips to St. Jude Hospital in Memphis, TN.
I see other parent's that have a good support system and realize how important that is.  I just get teary eyed at times because I wish I had the same.  I wish Malachi's Dad would be a part of all we are going through. I wish I had someone to tell me everything is going to be okay.  But all I have is my prayers, hope and faith.
Muriel Miller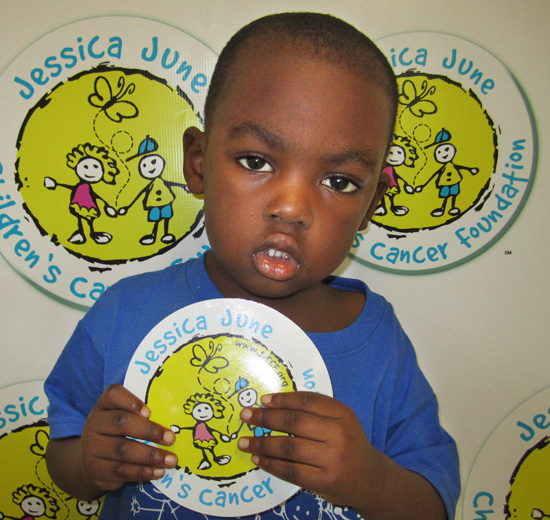 Malachi at JJCCF office at Broward Health Medical Center