Assisted Children: Individual Stories
Help Toddler Without Insurance Needing A Life-Saving Bone Marrow Transplant
Collection Complete December 2016. Thanks to generous contributors, and JJCCF's Financial Assistance and Advocacy programs this family benefited from having access to basic human needs during a dreadful time.
---
Story:
Luciana, 2 Y/O, Holtz Children's Hospital, UM/Jackson Memorial Medical Center
Luciana is 2 Y/O warrior that has been fighting Leukemia most of her life. In January, Luciana's wish to meet Minnie Mouse in Disney World Orlando was close to coming true. On her way to Orlando she developed a severe fever which diverted her family to Jackson Memorial Hospital ER. Soon after her mother was given the devastating diagnosis that her daughter had relapsed and would now need a life-saving bone marrow transplant. The family is from Venezuela and therefore not eligible for health insurance in the US. Going back to their home country is not an option since transplants are complex and costly medical procedures not available in Venezuela. This leaves the mother in crisis mode stranded in Miami fighting to save her daughter's life and hoping caring soles will help her.  El Sentinel 6/9/16
Needs:
Luciana and her family need immediate help to pay for medical expenses and basic needs.
---
Message from Hospital Social Worker, 3/29/16:
Luciana is a 2 year old girl from Venezuela with a history of Acute Lymphoblastic Leukemia (ALL), diagnosed last year and most recently found to have relapsed disease. Luciana had traveled with her Mom around mid-January of this year to go on a pleasure trip to Disney World when shortly after her arrival in Miami and while staying with some local friends, she developed fevers and was brought in to our ER and eventually admitted where it was confirmed that she had relapsed.
Luciana is now undergoing chemotherapy treatments once again with the hope of getting to remission once again. Her only possible cure however is a bone marrow transplant. Being a non-US citizen, Luciana does not have the possibility of being insured here and her mother has indicated that returning home to Venezuela is not an option given the medical crisis that country is going through at this time and the Mom's political ties with the Venezuelan opposition movement through her job as a journalist, makes returning to Venezuela and asking the government for medical help for Luciana next to impossible.
As Luciana's social worker, I am referring the case for the JJCCF's Advocacy program for her story to be posted in your website. Thank you so very much for the opportunity to give Luciana a fighting chance!
Rolando Tabares LCSW, CCM
Holtz Children's Hospital, UM/Jackson Memorial Medical Center

Click on the PDF icon to view original letter from the Hospital Social Worker
---
Plea from Mother, 3/29/16:
First of all, please receive warm greetings. My name is Daniela and I am a native of Maracaibo, Venezuela and I would like to tell you a little of my 2 year old daughter Luciana's story.
A little over one year ago, Luciana was diagnosed with ALL (Acute Lymphoblastic Leukemia). This was an event that completely rattled me, since I suddenly became aware that, despite being as young as she was, Luciana would have to face an unsurmountable challenge, a battle for her very own life.
She received her treatments in a native city and was able to be on remission (zero blasts) for approximately 11.5 months. Around mid-January of this year, after having received maintenance treatments for about 7 weeks, doctors in Venezuela gave the okay for Luciana to travel to Florida to fulfill one of her wishes: to meet Minnie Mouse and the Disney princesses! The moment we stepped in US soil, she however, began spiking fevers and we brought her to the Emergency Room of the closest hospital: Jackson Memorial.
After having given my child excellent medical care and a series of medical tests to determine the source of the fevers I was told on January 22nd that my daughter had an abnormally high leukocyte count which led doctors to conclude that she had relapsed. The leukemia came back after almost 1 year of being in remission.
Naturally, I was totally devastated. A pleasure trip to Disney turned into a prolonged hospital stay. Rigorous medical exams followed and doctors at Jackson's Holtz Children's Hospital confirmed that Luciana had, indeed, relapsed with 80% of the disease. If receiving such news is hard enough for any parent, in my case, it was doubly difficult. I found myself all alone with a very ill child, in a country I had traveled to before but only for pleasure. I do have a few friends in South Florida whom I had stayed in their homes the previous times I had visited Miami. I was bombarded with medical information in one week. Some news was harder than others, difficult to digest but necessary for me to fully understand my child's condition. A difficult process to go through. It is all about perseverance and faith. Of having the conviction of what needs to be done to save my little girl's life. A child who is just beginning to live.
Of all the information shared with me by Luciana's oncologists the one thing that I am able to recollect with perfect clarity is: "without a doubt, your daughter will need a bone marrow transplant. Her relapses are very serious"
The next thing I remember was doctors telling me that Luciana needed to begin chemotherapy all over again. I was filled with fear and uncertainty. The first thing I was asked was: "Will you be returning back to Venezuela?" to which I emphatically answered "No!" The reason for my quick response is that Venezuela right now is a country in a crisis mode: socially, politically, and medically. Venezuela, unfortunately, is a country dehumanized by governmental policies that are absurd and totally out of context of a country that is a major world's oil export.
When a child in Venezuela takes ill, parents have anywhere between 5-12 pharmacies where they can find medicines to lower a simple fever. Hospitals find themselves unable to control diarrhea or have antibiotics to treat a simple case of pneumonia. Returning to Venezuela with a child with relapsed ALL simply is not an option for me. Just the mere thought of it takes my breath away! Returning Luciana to Venezuela would be the equivalent of a sure death sentence.
Please forgive me if I am over extending myself but I find it necessary to fully explain so that you can clearly understand my reason for deciding to stay in this country with my daughter. I need to fight to give Luciana a chance at life!
Everyone knows that if you oppose the government in Venezuela to be accosted, signaled and persecuted in every sense of the word. As a journalist for 13 years I covered activities of the opposition, including those of anti-government leader Manuel Rosales former mayor of my native city and ex-governor of our state, who is now a political prisoner. My work as a journalist covering activities of the opposition made me an open target for the government. I am no longer able to work as a journalist in my country at the present time.
Today, by the grace of God, I am in Miami with my child who is receiving excellent medical care at Holtz Children's Hospital. She desperately needs a bone marrow transplant. I reach out to you and to your noble hearts to help me since I do not have the financial means to pay for such a costly medical procedure. Any help that you can possibly provide would be so much appreciated. My only objective and desire is to see my daughter grow and mature into a young woman. That is every mother's wish for their daughters! Right now, little Luciana is merely 2 years old. She does not fully understand what is happening and periodically will ask me why are we still here and when will we go back home.
I am sure you receive letters such as mine all the time. I do not undermine the importance and urgency of all the others. I can only make you aware of my plea for help. I am in Miami with the support of my mother, who was able to travel from Venezuela to be with me. I stand firm and resolute in my purpose of remaining here to help preserve my child's life and have the opportunity to work and forge ahead to give her quality of life.
Sincerely yours,
Daniela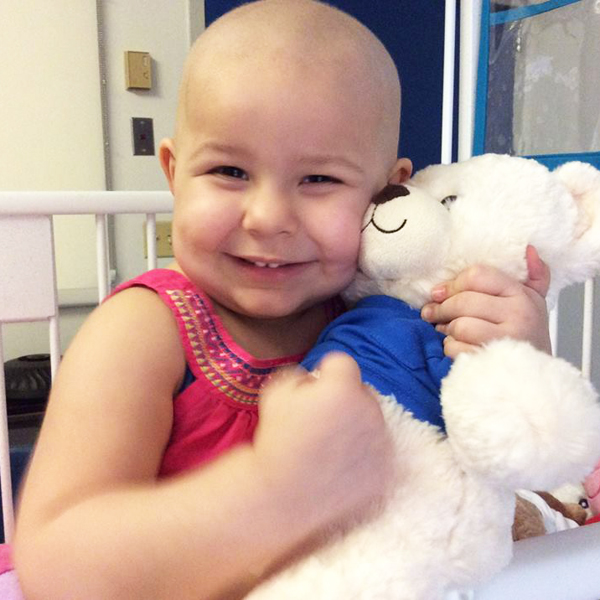 Luciana