Assisted Children: Individual Stories
6 Y/O Fights Leukemia as Family Struggles to Pay for Basic Needs with $0 Income 
Collection Complete December 2014. Thanks to JJCCF's Financial Assistance and Advocacy Programs this family benefited from having access to basic human needs during a dreadful time.
---
Story:
Leonardo, 6 Y/O, Miami Children's Hospital
Leonardo was enjoying a normal young boy's life full of physical activity until the Fall of 2013 where he began to walk with a limp and have flu symptoms. After being misdiagnosed twice in December, the parent's received the tragic diagnosis in January that their son had cancer – Leukemia.  Although Leonardo continues to struggle with the intense chemotherapy treatment required to battle the leukemia, he maintains a positive attitude and shares a gentle smile with everyone he meets. Due to Leonardo's fragile medical circumstances and frequent hospitalizations and treatments, Leonard's mother had no choice but to leave her job as a teacher to care for him. His father also can no longer work as a cross-country truck driver given that he now has to care for their other children as well.  The family continues to grapple with the emotional stress of the cancer and the financial challenge to maintain basic human needs with $0 income.
Needs:
Leonardo and his family need immediate help to pay for food, gas, electricity and mortgage.
---
Message from Hospital Social Worker, 5/19/14:
This letter is on behalf of patient, Leonardo Moreno, a five year old boy diagnosed with Leukemia on December 2013.  The patient is presently undergoing chemotherapy treatment.  Since the patient has been diagnosed his parents have been unable to work in order to care for patient.  The patient's father used to work as a long-haul truck driver, and has left his work to be closer to home and assist with taking care of the patient's twin sisters, when patient is hospitalized and mother has to care for patient.  The patient's mom was employed as a teacher, and has been unable to work in order to care for patient.  The family is struggling financially and needs help with their basic needs.  The family has many expenses which increase more when patient is hospitalized.  I ask that you please assist the family with any financial needs.  I thank you in advance for any assistance you can provide the Moreno family.
Sincerely,
Evelyn Gonzalez, MSW,
Pediatric Social Worker

Click on the PDF icon to view original letter from the Hospital Social Worker
---
Plea from Mother, 5/20/14:
I am Leonardo's mother and I am very proud of my 6 y/o son who has been very strong-willed in our fight with Leukemia.  Leonardo was an active and full of energy little boy until late November 2013 when he started to limp.  He also had cold symptoms and low grade fevers. I took him to a local hospital where he was misdiagnosed twice.  I had a gut wrenching feeling that something was very wrong and followed up with his pediatrician.  While at the pediatrician, signs of Leukemia were found in his blood-work.  It was one of my lowest darkest life moments when they confirmed that he had cancer. He then began receiving treatment at Miami Children's Hospital, where he is still receiving high chemotherapy.  The constant hospitalizations and frequent visits to the Oncologist have made it impossible for me and my husband to work. I had to take a leave from being a school teacher in order to take Leonardo to his treatments and stay with him when he is hospitalized.  My husband is a long-haul truck driver so his job requires him to travel cross-country.  We also have twin daughters that are 7 years old so he has had to stay in town to care for the twins since Leonardo's diagnosis.  We are all fighting this disease to save my son the best we can and I know we will win and he will be fine but it is very hard to watch him suffer and very stressful to find ways to pay for basic needs like just feeding our family and buying gas in order to take him to treatment.
Julia Moreno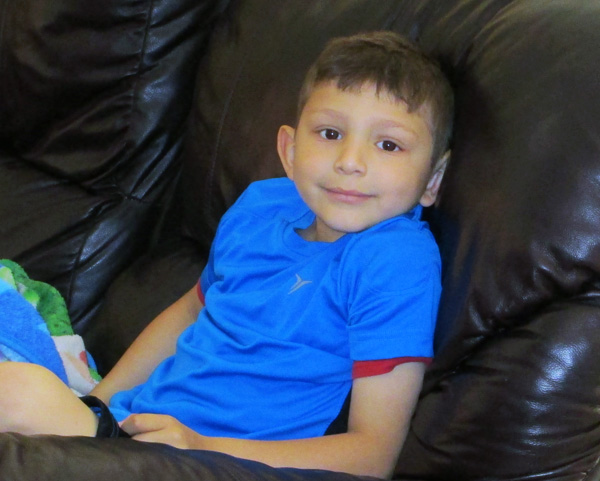 Leonardo Moreno