Assisted Children: Individual Stories
Single Mother Struggles with Relapse of 5 Y/O Son Fighting Leukemia that Led to a Life-Saving Bone Marrow Transplant
Collection Complete September 2014. Thanks to JJCCF's Financial Assistance and Advocacy Programs this family benefited from having access to basic human needs during a dreadful time.
---
Story:
Kaiden, 5 Y/O, Jackson Memorial Hospital
In 2009, Kaiden was diagnosed with Leukemia just before he became 2 years old.  Kaiden and his single mother endured 3 years of rigorous chemotherapy traveling back and forth for long periods of time from their home in the Bahamas to Miami Children's Hospital. Kaiden suffered from the side effects of chemotherapy but maintained a happy disposition as if being sick and in the hospital was normal.
In 2013, the mother was horrified to learn that Kaiden had relapsed and would now need a bone marrow transplant to save his life.  In January of this year, Kaiden received the transplant at Jackson Memorial Hospital in Miami but remains hospitalized due to post-transplant complications that continue to threaten his life. The mother is temporarily living at the Ronald McDonald House in Miami in order stay at her son's side in this nearly 4 year battle. The family is emotionally exhausted and financially desperate for help (having to make tradeoffs among basic human needs).
Needs:
Kaiden and his family need immediate help to pay for food, transportation and clothing.
---
Message from Hospital Social Worker, 3/11/14:
Kaiden Balfour is a bright, socially engaging young man of 5 years who has been struggling with leukemia for most of his life, having been diagnosed in 2009. Kaiden lives in Exuma, Bahamas with his mother, Lorraine Elizabeth Pratt.  Part of Kaiden's chemotherapy treatments were done at Miami Children's Hospital, however he was referred to us given his need for a bone marrow transplant as the only viable means to save his life. Through the International Kids Foundation/Wonderfund, Kaiden and his mom were admitted in our medical center and Kaiden was able to undergo his transplant earlier this year.
Kaiden's mother, a single mother who works at a bank in Exuma, has basically uprooted herself from her work, family as well as social life in Exuma to come to Miami with her child. The JJCCF generously assisted the mom to assist in covering some of her expenses some time ago. This assistance was of great help to her, one she very much appreciates. However, due to multiple post-transplant complications, Kaiden remains in the Pediatric Bone Marrow Transplant unit and his discharge from the hospital is not known and a predicted date of Kaiden's return back home to Exuma is impossible to give.
For this very reason, as his social worker, I appeal to JJCCF to please consider Kaiden for the Advocacy Program. As you can appreciate, personal bills and expenses are ongoing and, with no steady or significant income, Kaiden's mother is experiencing true financial distress. Mom has been relying on financial supports from family and friends, however, any help your wonderful organization can provide for her through the Advocacy Program would be so very much appreciated!
Rolando Tabares, LCSW, CCM

Click on the PDF icon to view original letter from the Hospital Social Worker
---
Plea from Mother, 3/11/14:
My name is Lorraine Elizabeth Pratt and I am the mother of Kaiden Balfour. We are from Exuma, Bahamas and had to relocate to the South Florida area in order for Kaiden to receive a bone marrow transplant. The Jessica June Children's Cancer Foundation (JJCCF) was kind enough to help us with $1,000 worth of assistance (gift cards for gas, food, helped pay a rental car, etc.) some time back and I just want to express my heartfelt gratitude to this wonderful organization for this help, which I consider a blessing from heaven.
My son Kaiden was admitted into the Pediatric Bone Marrow Transplant Unit on 12/26/13 and had a bone marrow transplant earlier this year. He continues in the hospital, given a number of serious complications following the transplant. We do not know when he will be able to be discharged but one thing we do know is that we will need to stay in Miami for a long time before we can return to our home in the Bahamas.
I am a single mother and Kaiden is my only child. I have displaced myself from all my duties back home, including my job at a bank, to come to Miami, knowing that this is the only chance Kaiden has to live. As a mother, I feel fortunate to have been given this chance and will do it all over again if I have to for my son. However, expenses continue to mount and my family back home that've been so very helpful to me, are not wealthy people. For this reason, I reach out, once again, to JJCCF, to post my letter in their webpage to see if there might be a kind soul out there who'd be moved to financially assist me once again. Anything would be so very helpful, and so very much appreciated. May God bless every single one of you!
Sincerely,
Lorraine Pratt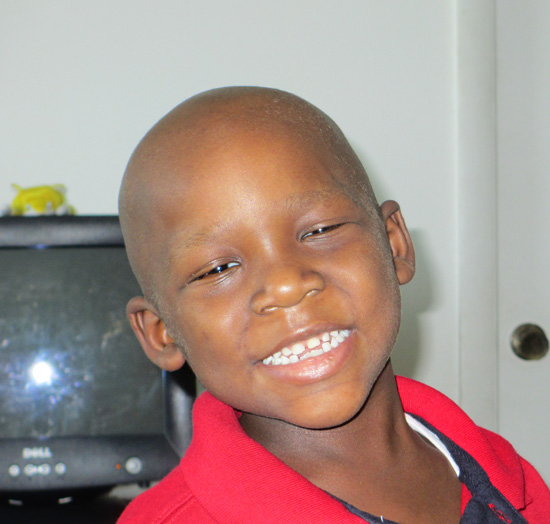 Kaiden