Assisted Children: Individual Stories
Teen Dies After 9 Month Battle with Rare Cancer – Family Needs Financial Help! 
Collection Complete December 2014. Thanks to JJCCF's Financial Assistance and Advocacy Programs this family benefited from having access to basic human needs during a dreadful time.
---
Story:
Bryan, 13 Y/O, Miami Children's Hospital
In January of this year, Bryan was diagnosed with Epithelioid Sarcoma which is a rare cancer found in only 1 of 3.5 million adults and children.  Bryan, his 3 siblings and both parents had just celebrated his 13th birthday 11 days before receiving the tragic news in January that his life was in danger.  After 9 months of the emotional and physical stress of chemotherapy, radiation, required surgery to amputate his hand and many hospitalizations, Bryan died on Monday, September 27, 2014.  The family is overwhelmed with grief and financially destroyed due to the loss of income over the last nine months.
Needs:
Bryan and his family need immediate help to pay for funeral expenses, food and rent.
---
Message from Hospital Social Worker, 9/23/14 (written 4 days before Bryan passed away):
I am writing this letter on behalf of Bryan and his family. Bryan is a 13 year old diagnosed with Epithelioid Sarcoma on January 2014. The patient has undergone an amputation in his hand, chemotherapy and radiation therapy in the past. At this point the patient is incubated and is in the Pediatric Intensive Care Unit (PICU). At this time the patient remains in extremely critical condition.
The family component consists of patient, who resides with both parents and 3 siblings. The family is of very low income and at this time, both parents are unable to work due to being at patient's bedside.
At this time, I ask that you please assist the family financially in any way possible. Some of the family's immediate needs are rental assistance, phone, grocery vouchers, gas cards, electricity assistance and any other financial assistance the family may obtain.
I thank anyone who may assist this family in any way possible as they really need any possible assistance.
Sincerely,
Evelyn Gonzalez, MSW
Hematology/Oncology Pediatric Social Worker
Miami Children's Hospital

Click on the PDF icon to view original letter from the Hospital Social Worker
---
Plea from Mother, 9/23/14 (written 4 days before Bryan passed away):
I am Gloria, Bryan's mother and I am writing this letter to obtain assistance for my family. We have six members in our family and we have very little income due to my son's required care. My 13 year old son was diagnosed with Epithelioid Sarcoma in January 2014. He has been suffering with the chemotherapy and radiation treatment. Bryan is currently hospitalized in Miami Children's Hospital Pediatric Intensive Care Unit.
During this very difficult time, we are asking for any help that our family could receive for rent, phone bills, gasoline, groceries, and any other help that can possibly be offered for our son and family. We also ask for your prayers for our family at this time.
Thank you.
Gloria (Bryan's mother)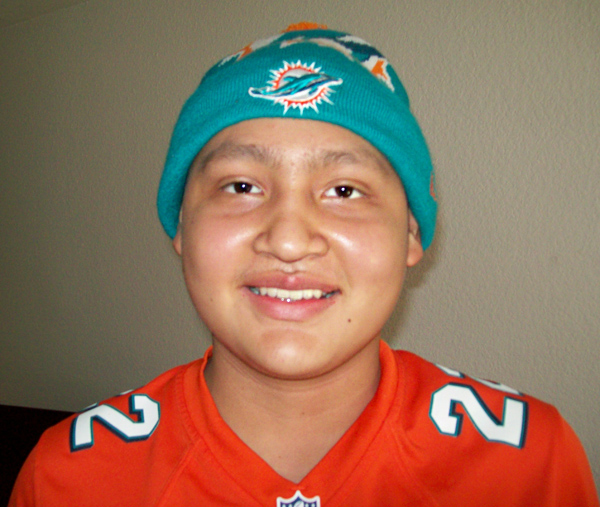 Bryan RIP