Assisted Children: Individual Stories
You Can Be an Angel for Teen Fighting Leukemia
Collection Complete March 2018.  Thanks to generous contributors, JJCCF's Financial Assistance / Advocacy Programs and collaborative support from partner charities,  this family benefited from having access to basic human needs during a dreadful time.
---
Story:
Albert, 16 year-old, Holtz Children's Hospital, Jackson Memorial Hospital
Albert dreams of growing up to make a difference in this world. In 2016, he was diagnosed with Leukemia (AML) in the Cayman Islands. Since the island does not offer specialized healthcare for Albert's cancer, his mother and stepfather brought him to Broward Health Medical Center.
Given the aggressive nature of Albert's condition, he now awaits a bone marrow transplant at Jackson Memorial Hospital. Albert's stepfather became his legal guardian early this year so his mother could return to her job in the Cayman Islands in order to maintain her family's government health insurance policy. His family has made extreme sacrifices to ensure Albert receives the best care and has a fair chance of beating cancer.
Needs:
Albert and his family need help to pay for groceries, clothing, Uber and airfare for his Mom to be able to come and visit him.
---
Letter from Hospital Social Worker, 1/23/18:
Dear Jessica June Children's Cancer Foundation,
By way of this letter, I wish to inform JJCCF that Albert, a patient from the Cayman Islands with AML, whom JJCCF assisted while he was in treatment at Broward General Hospital last year, has been transferred to our medical center due to his need for a bone marrow transplant. Albert is currently hospitalized in out Pediatric Bone Marrow Transplant unit.
Albert's mother has needed to return home to the Cayman Islands to her job and her husband (Albert's stepfather) had to quit his job in order to travel to Miami and be by Albert's side during his time here. Albert's Mom plans to travel when she can; however, she needs to keep working in order for Albert's government health insurance to continue. As you can imagine, this situation places a tremendous financial hardship on the family, and it is for this very reason, I appeal to the JJCCF Advocacy Program as a way of possibly securing added financial assistance for Albert's family. Thank You!
Sincerely,
Rolando Tabares, LCSW, CCM
JMH Holtz Children's Hospital, Miami, FL

Click on the PDF icon to view original letter from the Hospital Social Worker
---
Plea from Albert's Stepfather:
Hello to you all. My name is Cesar; I am Albert's stepfather with power of attorney. My stepson was diagnosed with Leukemia (AML) July of 2016. We are from the Cayman Islands and were referred to Broward General Hospital in Fort Lauderdale. Because of his aggressive diagnosis, he had to begin treatment immediately. At that time, my wife stayed with him in the hospital and we received help from JJCCF, but it has been very hard for us over the last year. I have had to stay in the Cayman Islands alone, working double shifts to try to help cover expenses, so my wife could stay with our son during such a hard time. We really appreciate the support we received from you all. Now, everything has changed. Albert's Mom cannot stay with him anymore, because if she stays, she will lose her job and health insurance. I could not let that happen, so I resigned from my job and came to be with Albert. We are at Jackson Memorial Hospital, where Albert is waiting for a bone marrow transplant. This is such a hard time, especially since I don't have a job and I need to be able to buy food for us, some clothing for him and airline tickets for Albert's Mom, so she can come and see him as much as possible. Any support will be so greatly appreciated. Anything you can do to help my family, we would be so grateful. We are so blessed to have people like you helping us! Thank You! – Cesar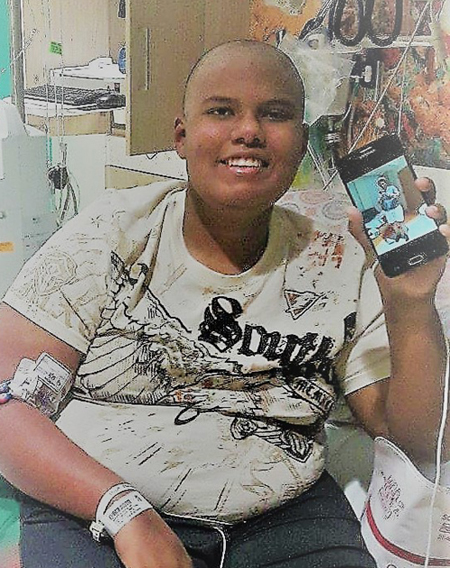 Albert