Assisted Children: Individual Stories
Single Mom Struggling to Keep Home, Feed Family of 4 & Transport 4 Y/O Fighting Relapse Brain Cancer for Treatment 
Collection Complete June 2013. Thanks to JJCCF's Financial Assistance, Advocacy and Share the Joy programs this family benefited from having access to basic human needs during a dreadful time.  On 7/10/12 Premier Beverage and on 10/5/12 Florida Panthers Foundation sponsored Hiram via Share the Joy Program.
Story:
---
Hiram, 4 Y/O, Chris Evert Children's Hospital at Broward Health Medical Center
Hiram is a 4 Y/O cancer champion that although struggling with his second major battle with brain cancer, maintains a fun and happy disposition. Hiram was originally diagnosed with Ependymoma brain cancer in June of 2009 and made progress through 2011.  In May of 2012, Monica (Hiram's mother) was surprised with shocking news that the brain tumor had grown back and that Hiram would have to return to battle for extensive treatment involving frequent hospitalizations. In caring for Hiram since May, Monica was laid off from her job and is struggling to provide basic needs for her family of 4 and to obtain gas money to take Hiram to the multiple South Florida medical facilities required as part of his critical treatment.
---
Needs:
Hiram's family will need immediate help to pay their rent, electric, groceries and gas for transportation to the multiple medical facilities.
---
Message from Hospital Social Worker:
June 27, 2012
To Whom It May Concern:
Hiram Folsom IV is a four year-old patient at Chris Evert Children's Hospital Pediatric Hematology/Oncology Clinic at Broward Health. He was diagnosed with an Ependymoma brain tumor at age two and had several surgeries and radiation therapy. During May of this year his mother brought him to the emergency department because he had been complaining of headaches and testing revealed his brain tumor had recurred.
Hiram has been hospitalized three times since May and had another brain surgery. He will be requiring extensive treatment that will likely require many days of hospitalization. Hiram lives with his mother and two older siblings, ages 14 and 10. She is a single mother who was employed and making ends meet. When Hiram was recently diagnosed again, his mother was laid off from her job. She will also need to be with Hiram for his treatment and care for him at home.
Hiram's family will need help to pay their rent, electric and for gas and groceries. Thank you for your consideration.
Sincerely,
Bernadette Brunetti, LCSW, Social Worker
---
Plea from Mother, 04/16/12:
4yr Hiram "Diggy" is a witty, intelligent little boy that was first diagnosed with a brain tumor June 2009.  As single mother of 3, I'm just getting our life back on track by working a new job and moved into a new place. As of May 30, 2012 the tumor came back, since then he has been admitted 3 times, one was for 6th brain surgery twice for complications. Since I had to be out of work all 3 times my job laid me off.  Now that I have no income I desperately need help with gas traveling 1 hour to Miami Children's Hospital for Neurosurgery which we have to go often for follow ups and hospital admission. So far in 3 weeks, he has been back 4 times.   I have to travel back and forth to Chris Everett for oncology follow up appointments, treatments and physical / occupational therapy, (which may be increased to 5 days).  Then take him to Davie for his neurologist monthly visit.  With the two older kids being out of school for the summer and "Diggy" meds that keeps him hungry, its hard keeping food in the home. I'm a single mother trying to take care of Diggy's needs physically and health wise while trying to maintain a home and keep my other 2 kids stable. It's very hard when you are alone caring for your baby a 2nd time with his life and to balance your other life which is home and other kids, I just wish it was easier to do both.
Ms. Folsom
Testimonial from Parent:
The JJCCF was able to help our family by catching up some bills for me.  I'm a single parent and lost my job during the time my son was in and out of the hospital. My son had a lot of complications.  The JJCCF was there for us in our time of need.  I want to thank everyone with the JJCCF with all my heart.  Thank you from Monica Folsom and Family!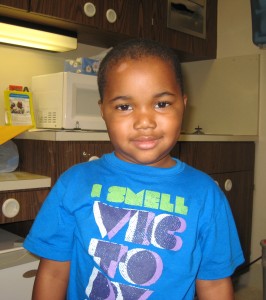 Hiram at JJCCF Office