Assisted Children: Individual Stories
Mom Needs Community Help As Pre-Teen Soccer Aficionado Fights Hodgkin Lymphoma
Collection Complete December 2017.  Thanks to generous contributors, JJCCF's Financial Assistance / Advocacy Programs and collaborative support from partner charities,  this family benefited from having access to basic human needs during a dreadful time.
---
Story:
Hildebrando (Titico), 12-year-old, alex's place at Sylvester

After being diagnosed with Hodgkin Lymphoma this past May, Titico maintains a positive attitude. His mother stopped working to be with her son during the many medical procedures. She is no longer able to support the household of four. She needs help to provide food, medicine and gas for transporting Titico to the hospital.
Needs:
Titico and his family need immediate help to pay for food, gas and medicine.
---
Message from Hospital Social Worker, 5/24/17:
Dear Jessica June Children's Cancer Foundation,
I am the clinical social worker at University of Miami/Sylvester Comprehensive Cancer Center/ alex's place.
Hildebrando Schwarzemberg is a 12 year old boy who recently began treatment for his illness, mixed cellularity Hodgkin lymphoma of lymph nodes. Hildebrand's biological mother is his primary caregiver and stated that she has had to stop working because of his several follow-up medical visits. With mother not having her income at his time, she stated that it is difficult to maintain the overall household expenses. Therefore, any help would be greatly appreciated for this family. Hildebrando is a wonderful young boy, who is confident that his positivity will carry him through this bump in his road. He has such a powerful family support system that encourages him daily on the beauties of his life an how to remain encouraged for the future.
Thank you,
Ida Rodriguez
Clinical Social Worker – alex's place

Click on the PDF icon to view original letter from the Hospital Social Worker
---
Plea from Child, 5/24/17:
Hello my name is Hildebrando Adolfo Schwarzemberg Gonzalez, but my family calls me Titico. I was born on December 9th, 2004 in Valencia, Venezuela and now I live in Miami, Florida. I have two brothers and three sisters. On May 2, 2017, I was diagnosed with classic mixed cell Hodgkin Lymphoma. I have already started my healing process and I faithfully hope to be next to my mother every day for the 6 months in treatment. I like to cook, go to school, play sports, especially football, and dream to someday be a great soccer player like Christiano Ronaldo, my idol. Today with an optimistic and positive attitude I face cancer and I accept this disease. I have much to learn about the classic Hodgkin lymphoma of mixed cells. I'm in stage 2, I know I have to go through a lot of things, but I have my mom by my side, my brothers, friends, family and a community that has taught us how to accept health conditions. We need your help to be able to afford medicines, additional tests, food, and transportation during the six months that my treatment will last. In advance, thank you.
Titico
Mother's words:
Today, Titico has legally signed his donation of 1 mm cubic marrow and lymph node tissue to medical science. Now thousands of children and adults with Hodgkin's Lymphoma will have safer treatment in the future with decreased adverse reactions to chemotherapy. Today my son is a lymphoma hero. Thank you Titico for giving us life lessons every day, my life warrior!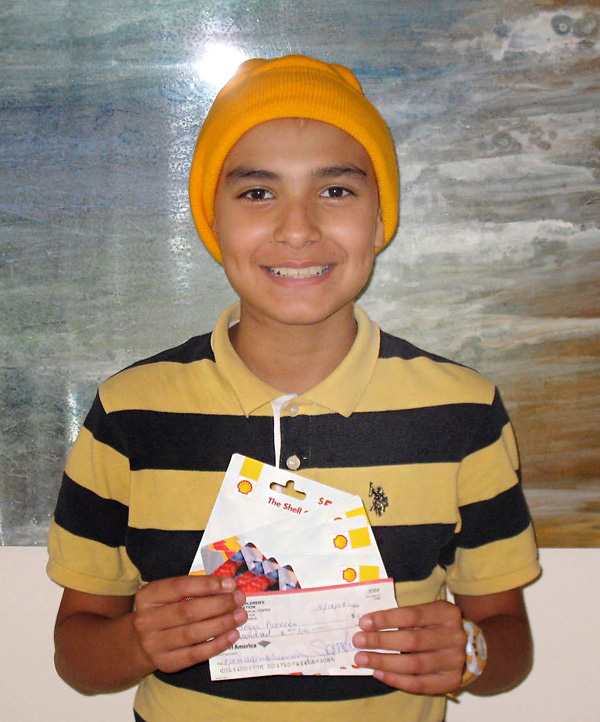 Titico