Assisted Children: Individual Stories
Single Mom Fights For Toddler's Life After 3rd Brain Surgery
Collection Complete November 2018.  Thanks to generous contributors, JJCCF's Financial Assistance / Advocacy Programs and collaborative support from partner charities,  this family benefited from having access to basic human needs during a dreadful time.
---
Story:
Giovanni, 3 year-old, Nicklaus Children's Hospital, St. Jude Children's Research Hospital
Giovanni is a cheerful boy despite the serious adversity he is facing at his young age. Since October 2016, he is battling Brain Cancer with a rare incurable tumor attached to his brain stem. The tumor has not stopped growing even after receiving extensive radiation, chemo and (3) brain surgeries.
Gio, his single Mom and baby sister left their home in Florida to seek hope at St. Jude's Children's Hospital in Memphis, TN. The third brain surgery was performed and the family will remain living at the Ronald McDonald House for 6 weeks while Geo receives radiation. Mom hopes she will still have her secretarial job working at a doctor's office after months being absent.
Needs:
Gio's family need help paying their rent, phone/internet and gift cards for Walmart to buy food and other necessities.
---
Letter from Hospital Social Worker:
Dear Jessica June:
I write this letter to request admittance into JJCCF's Advocacy Program for Giovanni. He is treated at St. Jude's Children's Hospital in hopes to beat this battle as he has  relapsed.  A young single mother of two who continues to fight this battle with Giovanni.  Family is in dire need of financial assistance, as they would not want to lose their home once family returns from treatment. Thank you Jessica June Advocacy Program for all your support and hope that is instilled in our families lives!
God Bless!
Warmest Regards,
Jennifer Lanzas, MSW
Pediatric Social Worker
Hematology/Oncology – Nicklaus Children's Hospital

Click on the PDF icon to view original letter from the Hospital Social Worker
---
Plea from Giovanni's Mother:
Dear Jessica June Foundation:
Since October 2016, my son was diagnosed with stage 3 rare Brain Cancer called Ependymoma.  Initially he had an emergency brain surgery and an External Ventricular Drain (EVD) inserted into his brain to drain the fluid and stop the bleeding. After 9 hours of surgery on 10/10/16, he recovered at Miami Children's Hospital for 3 weeks. Gio's tumor is attached to his brain stem and they cannot remove it without causing paralysis. We went home for 1 week and then off to Jacksonville for proton radiation. After 6 weeks of radiation, we were on our way home to Stuart, Florida.
Every 3 months we went back for scans and for an entire 12 months, they were clear. Just 2 days before last Christmas, the MRI showed my son's tumor had grown back and they had to do yet another surgery. 1/23/18, my 3 year old had his second brain surgery. He came out okay and recovered within a few short days. We then started chemo, which was supposed to be every day for the next year. After one month of chemo, he became extremely ill. Gio was lifeless on the couch not eating for 9 days, vomiting, sleeping all the time and losing his hair. I took him to the emergency room because he had fluid buildup from when they took the stitches out and he became lethargic. They admitted us for 10 days and after they found out his tumor had grown back yet again, they sent us home on steroids and told me they could not help us anymore.
We were sent to Memphis, TN to St. Jude's Children's Hospital in hopes to once again repeat radiation for 6 weeks. I am here with my son and 1-year-old daughter Neveah.  After they did an MRI, port placement and x-rays on Giovanni, the doctor came to the room to tell me the tumor had grown from the last MRI on March 7 (3 weeks prior) to double the size. I was told to consider a third surgery or go home with a prognosis of my son having 6 months – 2 years to live. As I write this in tears, I have agreed to do yet a third surgery on my 3 year old, followed by 6 weeks of radiation in hopes to save his life. We live in Stuart, FL miles and miles away from Memphis, TN. I am a young single mother of two asking for help, but mostly prayers. God bless the people willing to help us.
Sincerely,
Veronica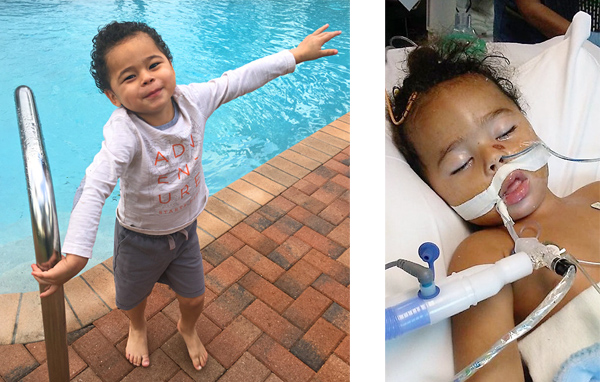 Giovanni