Assisted Children: Individual Stories
Parents Plea to Keep their Home While Battling Infant's Eye Cancer
Collection Complete January 2023.  Thanks to generous contributors, JJCCF's Financial Assistance/ Advocacy/ Supportive Care Services Programs and collaborative support from partner charities, this family benefited from having access to basic human needs during a dreadful time.
---
Story:
Genevieve, 1-year-old – The Children's Hospital at Palms West, Alex's Place at Sylvester and Bascom Palmer Eye Institute
Genevieve was diagnosed with Retinoblastoma (eye cancer) five weeks after birth.  Despite her many days spent in treatment, she was able to enjoy her First Birthday Party on 3/15/22.  Her cancerous eye tumors are of genetic origin, and she receives chemotherapy and laser treatments at (2) Clinics in Miami.  Mother is only able to work one day per week (during the weekend) while father is off work and able to care for their infant.  The loss of most of the mother's income has caused hardships for the family particularly in making their payments for their home mortgage.
Needs:
With significantly reduced work hours, parents need help keeping their home (monthly mortgage payments) as well as the high travel costs associated with daughters' cancer treatments at multiple hospital/clinics (travel from their home in Port St. Lucie to treatment facilities in Palm Beach and Miami-Dade counties).
---
Letter from Hospital Social Worker:
Dear Jessica June Children's Cancer Foundation:
My name is Michelle O'Boyle RN, BSN, CPON and I am the Patient Care Navigator for the Kids Cancer Foundation.
I am currently coordinating services for Genevieve Olivo who I have referred to you for financial assistance due to the fact that the family could utilize financial assistance with their monthly mortgage payment now that Genevieve has been diagnosed with Retinoblastoma and her mother has had to decrease her hours of work to care for and bring Genevieve to treatment.  Due to Genevieve's diagnosis and treatment they need to travel 236-mile round trip to Miami for chemotherapy once a month and 120-miles once a week following her chemotherapy to monitor her blood counts and possibly receive transfusions as needed.  Needless to say the expense of the travel is an added hardship for this family not to mention the cost for meals during the visits.  If at any time Genevieve should develop a fever during this time it will mean at least a 3 night stay at the hospital or longer depending on the source of infection and her blood counts.
If you have any questions, feel free to contact me at:  561-371-298 or fax me at:  561-333-8293.  Thank you so much for all you can do.  It is greatly appreciated.
Yours truly,
Michelle O'Boyle, RN, BSN, CPON
Pediatric Oncology Patient Care Navigator

Click on the PDF icon to view original letter from the Hospital Social Worker
---
Plea from Father:
Hello,
I am writing to request financial assistance to help my family through my daughters' cancer treatment. Her name is Genevieve.  She was diagnosed with Retinoblastoma at 5 weeks old.  She turned 1-year-old on March 15th.  We have been fighting her cancer together and my wife and I have been working hard to provide for our family. We are having difficulties keeping up with our mortgage and would appreciate any assistance available to help us through this. Thank you for all the good you have done and all the help you have given to people in their time of need.
Sincerely,
David, Proud father of Genevieve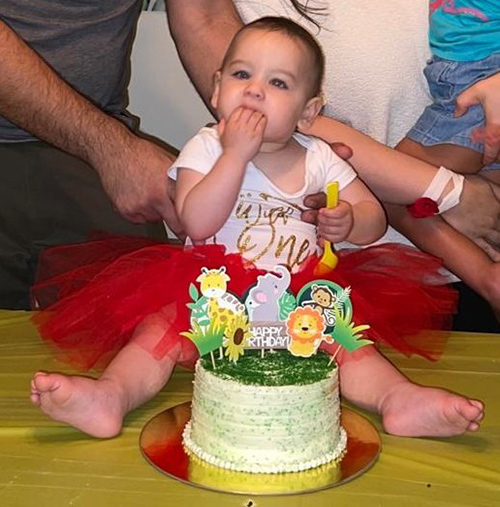 Genevieve