Assisted Children: Individual Stories
13 Y/O Battles Leukemia as Family of 7 struggles to Maintain Basic Human Needs
Collection Complete January 2015. Thanks to JJCCF's Financial Assistance and Advocacy Programs this family benefited from having access to basic human needs during a dreadful time.
---
Story:
Gabriela 13 Y/O, Miami Children's Hospital
Gabriela was an excited child looking forward to her 13th birthday on January 16th when three days before she was surprisingly diagnosed with Leukemia and her life was now at risk. She was immediately hospitalized and began chemotherapy which led to months of medical complications and inability to attend school. Gabriela's care required her mother to stop working which left the family of seven with only the father's income. The emotional and financial stress continues to escalate.
Needs:
Gabriela and her family need immediate help to pay for food, gas, medications and rent.
---
Message from Hospital Social Worker, 8/5/14:
This letter is on behalf of Gabriela, a 13 year-old girl, who is diagnosed with T-cell Acute Lymphocytic Leukemia earlier this year. Since the patient's diagnosis, the patient's mother has stopped working in order to care for the patient who is undergoing chemotherapy treatment at Miami Children's Hospital. The patient's father is the only one employed at this time. Some of the patient's extended family is now residing in the household as well. At this time there are seven people residing in the household. The family needs assistance with their basic needs such as food, and gas, etc. I ask that you please assist the family financially with any help that you can. I thank you for your support.
Sincerely,
Evelyn Gonzalez, MSW
Pediatric Social Worker
Miami Children's Hospital

Click on the PDF icon to view original letter from the Hospital Social Worker
---
Plea from Child, 8/3/14:
My name is Gabriela and on January 13, 2014 I was diagnosed with Leukemia (ALL). It all started with pain I had in my stomach so my mom took me to my doctor. My doctor though it was gastritis and gave me a prescription. When we took it to the pharmacy, however the medication was on back order. Even though I still felt a little bad I went to school. In P.E. class I started feeling dizzy as if I was about to faint. I called my mom and informed her I wasn't feeling good. My older sister picked me up from school and they took me to the Emergency room. When I arrived at the Homestead hospital they did an X-ray, CT scan, ultra sound and blood work. A couple of hours passed and the nurses came back to do more blood work. The doctor informed my mom that he wanted to do more blood work to make sure the results were accurate. The doctor called my mom to the room and informed her of what I had. He also informed her that I was going to be transferred to the Miami Children's Hospital to do further testing.
I left Homestead Hospital at 10 pm and was transported via an ambulance to Miami Children's Hospital. When I arrived, I was taken to the Pediatric Intensive Care Unit (PICU). I still did not know what was wrong with me but I knew it was something serious since everyone that visited me had to wear masks and had to wash their hands and only two people were allowed in my room. The whole night the nurses were drawing blood from me.
On January 13, 2014 my family informed me that I had Leukemia (which is Cancer in the blood). The doctors started giving me chemotherapy on January 14, 2014; they did not want to wait a minute longer to start me on treatment. I had to stop attending school and got transferred to a program called "In home bound" schooling.
The doctor decided to put a pick line in my left arm, before my port was installed. Two days before my surgery for the pick line my left arm was turning purple and swelling. They did an ultrasound and found I had a blood clot in my veins. Besides having me take chemotherapy treatment, I also had to inject myself twice a day with a blood thinner. Two days later they did a minor surgery for my port; however, I was on blood thinner for three months.
At home things changed since my mom had to take care of me and could no longer go to work with my dad. My dad had to hire someone to do the work my mom was doing and we no longer had as much money coming into our household. There are seven of us living on just my dad's reduced income. Also, there are times when we have to go to the hospital every single day or every other day and this costs more gas and tolls. As part of my treatment, my mom can only feed me organic foods which is very expensive. Some of my medications are not covered by insurance so they have to be paid out of pocket.
On July 13, 2014 I was having bad headaches and went to the Emergency Room where an MRI revealed a blood clot in my brain. I have been on blood thinners for over a month and a half and since finding the blood clot in my brain I now have to inject myself twice a day for the next three months and continue with my chemotherapy.
Thanks in advance for your help.
Gabriela Magana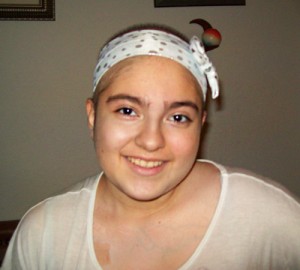 Gabriela