Assisted Children: Individual Stories
Turning Tragedies into Miracles: A new car meant a new beginning that changed this family's life forever
Collection Complete December 29, 2009. Thanks to JJCCF generous donors, our partners at CH 10 and collaborating charities, family gets a new car and coverage of their basic human needs. See video

---
October 2009: Single Mom Needs Transportation for Child Missing Cancer Treatment Story:
OJJCCF received an e-mail from a hospital social worker regarding Felix's condition and his urgent needs. In 2008, JJCCF provided assistance for this family. As a three-year old fighting Rhabdomyosarcoma, Felix underwent an operation to remove a tumor in his stomach. As a result, he needs rigorous chemo treatment going forward for at least one year. Dorymar is a single parent living in Hialeah with four children between the ages of two and eight years old. All are U.S. Citizens. The father went back to his native country and does not provide any support for the family. To support her family Dorymar worked in home health care, earning $15 an hour on a regular basis until Felix's illness. Without the ability to work on a regular basis, Dorymar receives assistance from the Government such as Medicaid, food stamps, and Supplemental Security Income. With four children, however, this does not provide enough for her family to meet the demands of living day-to-day.
---
Needs:
Felix receives treatment from Joe DiMaggio Children's Hospital in Broward County. While the Government typically provides transportation for Medicaid patients, it does not cross county lines. This is problematic because Dorymar's car was repossessed after she lost her ability to earn income on a regular basis. Moreover, she owes two months of rent and is on the verge of being evicted (rent is $1,550 per month and includes utilities). Due to this financial and logistical crisis, Dorymar said Felix had to miss two post-operative appointments because she did not have transportation and was unable to afford $80 each way for a taxi. Currently, she takes public transportation when she is able to work and carpools with co-workers whenever possible. In short, the family lives in Hialeah, Dorymar works in Okeechobee, and Felix has to go regularly to Joe DiMaggio Children's Hospital – ALL WITHOUT A CAR.
---
Message from JJCCF Founder, Sandra Muvdi:
Felix's mom, Dorymar, supports four young children on her own while facing overwhelming pressures due to her son's illness. Last year, Felix was diagnosed with cancer. As you can imagine, childhood cancer creates an immediate medical and emotional crisis, which is compounded by unforeseen financial burdens. Since childhood cancer requires full-time parental care, a single parent taking time away from work loses a source of income. Today, Dorymar is struggling financially to provide her family with basic human necessities while Felix is undergoing treatment. As a result, JJCCF needs your help and contributions to support this family through this crisis.
Thank you to The Wasie Foundation, Children's Aid Club, Andre Sobel River of Life Foundation and Love Jen Fund for your collaboration and support. Moreover, JJCCF has partnered with ABC Channel 10 – Local 10 Care Force to further assist Felix.
---
Message from social worker, 10/5/09:
Hello Sandra
I would like to ask if a family may receive assistance from JJCCF. The patient has been assisted by JJCCF, approximately one year ago. The patient's name is Felix. The patient's mother had her car repossessed. She lives in Dade County and Medicaid does not transport across county lines. There are no reliable options available to this mother. Please advise if your organization might be able to help.
Thanks
Maria Torres, MSW
Social Worker for Pediatric Hematology/Oncology Joe DiMaggio Children's Hospital Pediatric Specialty Center, Hem/Onc Division 1150 N. 35th Avenue, Suite 520 Hollywood, FL 33021
---
Plea from Mom, 10/8/09:
To Whom It Concern
My name is Dorymar, head of house, single and mother of four children between the age of 8,6,3 and 2, residing in Hialeah, Florida
I used to work full time with a decent salary, up in 2008, when my three year old son, Felix, was diagnosed with a type of cancer called Rhabdomyosarcoma. Since October of 2008 my son has been medically tread at the Joe DiMaggio Cancer Hospital, in Hollywood, Florida.
Due to my son's medical situation, there have been many time that he has been hospitalized for weeks, unable me to work and having to find someone to take care of my other children at home.
Felix had surgery on September 17, of this year. With this surgery they were able to removed his tumor but one's biopsy came back the results reflected that he continue with cancer, which means that he needs treatment again for another year.
My situation is very desperate, I don't have family here in Florida and I can't work full time, due to the situation. I don't have any transportation to take my son for his treatment, at this time he haven't seen the doctor since his surgery, because my car was reposes. My rent is $1550.00 a month, that I can't afford but I have tried to get some kind of help from the government with no luck.
I really need help I need some kind of transportation, that my son will be able to get his treatment and any housing program for low or no income.
Thank you,
Dorymar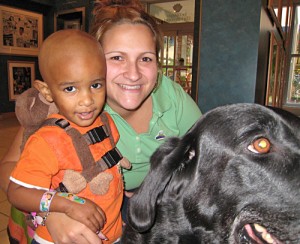 Felix, Dorymar & therapy dog