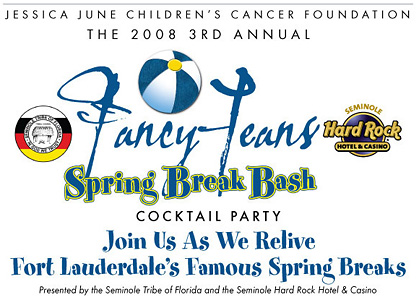 "Fancy Jeans" Raises Over $137,000 for
the Jessica June Children's Cancer Foundation!!!
---
CLICK ON THE SMALL PICTURE BELOW TO VIEW LARGER IMAGE
---
Thank You to all our Generous Sponsors

Presenting Sponsors:
The Seminole Hard Rock Hotel & Casino
The Seminole Tribe of FloridaSilver Sponsors:
Innovative Benefits Consulting
Perfumania
Physicians Insurance Company
Scott McPherson

We Appreciate the Support of:
S.MARK Graphics
Sun-Sentinel
Premier Beverage
Stephens Distributing
Blue Martini
American Airlines
Spirits Nightclub
Movado
Go Riverwalk Fort Lauderdale
Home Fort Lauderdale
Pestana Rio Atlantica Hotel
FortLauderdaleBites.com

Gold Sponsors:
Bloom, Gettis & Habib, P.A.
Steve SavorBronze Sponsors:
Alan Potamkin
Aviation Legal Group
BNY Mellon Wealth Management
Chris Evert Children's Hospital
Ed Morse Bay View Cadillac
GMAir
Great Florida Bank
Joe DiMaggio Children's Hospital
Margaux's Miracle Foundation
Miami Children's Hospital &
Miami Children's Hospital Foundation
Miami Neuroscience Center
Timeless Therapy
---
The Third Annual Fancy Jeans Spring Break Bash raised over $137,000 for local children in need fighting cancer. On Saturday, March 15, 2008, the Jessica June Children's Cancer Foundation hosted the event which was sponsored by the Seminole Tribe of Florida and the Seminole Hard Rock Hotel & Casino. The reception, themed "reliving Fort Lauderdale's famous Spring Breaks", had over 360 guests in attendance, and took place at the poolside of the Seminole Hard Rock Hotel & Casino. Guests had a good time dancing to the music of The Edge while being entertained by professional dancers wearing swimsuits from various decades, and acrobatic performers, including a "yellow haired girl" on stilts. Attendees had the opportunity to bid on more than 100 silent auction items. During the event, Jessica Cotto offered her personal and emotional testimony on stage describing how the Jessica June Children's Cancer Foundation made a difference in her life during times of crisis while her son was fighting cancer. Alejandra Posada, a five year old previously assisted by the Foundation, drew the three winning raffle tickets. Plaques were awarded to Alexandra Nightingale and Mikaela Ballone for Youngest Most Outstanding Volunteers, to Larry Gettis for Most Outstanding Fundraising Volunteer and to Gregg Sjoquist for the Most Outstanding Volunteer of 2007. After Sandra Muvdi, President and Founder, recognized all the events' generous sponsors on stage, she was presented with a $25,000 donation by The Wasie Foundation which came as a surprise to all.
As per Muvdi, "the Fancy Jeans success was beyond my imagination. We raised almost double the amount raised at our last annual event. It wasn't easy planning an event of this magnitude with a staff of just one (me), but an army of volunteers involved with the Foundation worked very hard along my side to make this event possible. The Foundation is fortunate to have such a nice and caring group of volunteers to help out. They are the Foundation's greatest assets."
---
Sponsors and guests express themselves about the Fancy Jeans event:
Susan Renneisen from the Seminole Hard Rock Hotel & Casino: "Congratulations on the huge success and money you raised. We are honored to be part of it and so happy that your hard work and efforts paid off financially for the numerous children you will help."Gregg Sjoquist's letter read at Fancy Jeans event: "On behalf of the Board of Directors of The Wasie Foundation, I am pleased to present you with the enclosed check for $25,000 to support the ongoing efforts of the Jessica June Children's Cancer Foundation. The Jessica June Children's Cancer Foundation fulfills a vital need for the people of South Florida. From the tragic loss of your young daughter Jessica, has grown a world class organization that represents hope, love and promise for underprivileged children who are fighting for their young lives. You, and the Foundation you created single handedly, provide inspiration to the people of your community. It is both an honor and privilege for The Wasie Foundation to stand shoulder to shoulder with you and Jessica June Children's Cancer Foundation as you server the children of South Florida. Although, Jessie cannot be with you this evening, her spirit lives on through the Foundation that has been named in her memory. Best wishes for a successful event. You are a role model for us all."

Michael Scaglione from Bayview Cadillac: "I can not express enough how honored I was to be a part of the Fancy Jeans event."

Jamie Holt from Miami Children's Hospital: "Fantastic gorgeous wonderful, beautiful event!!!! Thank you so much for thinking of us both the Hospital and the Foundation and we thank you for all that you are doing!"

Chandra Geschwill from Perfumania; "I wanted to congratulate you on a successful event as well as thank you for your continued dedication to a wonderful cause. It was a pleasure meeting you and I look forward to next year's event as one of your premier sponsors."

Sherri Winston from the Sun-Sentinel: "Wow! That's almost double what you made last year! Sandra, that's awesome. I had such a good time. It was lovely and sexy and fun!"Jenna Ingraham from Premier Beverage: "It was our pleasure to be a part of the Fancy Jeans fundraiser. Congratulations on exceeding your goal, you must be ecstatic with the amount you raised!"

Yolanda Cintron: "I want to thank you for being a role model for anyone who has confronted adversity and used it to glorify God by helping another hurting soul. Your pouring of yourself is what God called us to do. You are God's daughter and it shows in what you are doing."

Dan Lindblade from the Greater Fort Lauderdale Chamber of Commerce in his weekly newsletter dated March 14th: "What makes this organization unique in my mind is the Founder and Director—Sandra Muvdi. You see Jessica June was her daughter who died in October 2003 of acute myelogenous leukemia. Ms. Muvdi is an exceptional individual who has made it her mission in life to raise money in order to give financial assistance to families with critically ill children. Muvdi doesn't draw a salary and is the only Foundation employee. She is focused, committed and engaging. Most importantly, the question I always ask is how much money goes to overhead costs and how much reaches the end user. With the Jessica June Foundation, Muvdi sends nearly 100 percent to helping families. So whether you or not you attend the Fancy Jeans event, what's important is you make a decision to give back to families in South Florida in some way. What will be your legacy?"
---
Media Coverage
Sun-Sentinel News Article, 3-31-08
Sun-Sentinel News Article, 3-10-08
---