Assisted Children: Individual Stories
Aspiring Young Artist Fighting Brain Cancer Needs Help
Collection Complete January 2019.  Thanks to generous contributors, JJCCF's Financial Assistance / Advocacy Programs and collaborative support from partner charities,  this family benefited from having access to basic human needs during a dreadful time.
---
Story:
Faith, 7-year-old, alex's place at Sylvester/ Holtz Children's Hospital at Jackson Memorial Hospital
Since November 2017 Faith has been fighting a Cancerous Brain Tumor which has already robbed most of her sight after having brain surgery. Faith has been undergoing intensive chemotherapy, radiation and stem cell recovery, in hopes of saving her life. These treatments will continue for the next 6-8 months.
Faith is cared for by her maternal Grandmother, who is her Legal Guardian. Grandmother has another young child, as well, so she is constantly running back and forth between her home and the hospital, making sure both girls are well taken care of. She had to quit her job as a nurse in order to provide Faith necessary full time care.
---
Needs:
Faith and her family most need help with their rent to maintain stability in their home and gas gift cards for transportation to/from the hospital.
---
Letter from Hospital Social Worker:
Dear Jessica June Children's Cancer Foundation,
I am writing to you regarding our patient, Faith Buckner. Faith is a 7 year little girl who was diagnosed with a brain tumor in November of 2017. She had surgery to remove the tumor shortly after her diagnosis. As a result, the tumor affected her vision. She is permanently blind in her right eye, also leaving the left eye with some vision loss. Faith's medical regimens have consisted of chemotherapy, radiation, and most recent stem cell recovery.
Grandmother, Ms. Consuelo Hoo, is currently unemployed due to the frequency of hospitalizations and follow-up clinic visits at University of Miami alex's place.  She faces the challenges of still maintaining her household, as well as being there for her 12 year old daughter whom continues to attend school and maintain good grades. Mrs. Hoo has some family help with her older daughter while she focuses on Faith's health while she is hospitalized and at her follow-up medical visits.
Any financial assistance at this time would be very helpful to Faith and her family, as she receives her medical treatment to help save her life.
Thank you for your time,
Ida M. Rodriguez, MSW, LSCW
Licensed Clinical Social Worker
alex's place at University of Miami Sylvester Comprehensive Cancer Center

Click on the PDF icon to view original letter from the Hospital Social Worker
---
Plea from Faith's Grandmother:
My name is Consuelo Hoo.  My 7 year old, Faith Buckner, was diagnosed with a rare BRAIN CANCER – PERIPHERAL NEUROECTODERMAL BRAIN TUMOR (PNET) in November of 2017.  This Cancerous Brain Tumor has left Faith permanently blind in her right eye, also leaving her left eye with some visual loss and complications.  Faith has gone through High Intensive Radiation Treatments and is now doing High Intensive Chemotherapy Treatments, which are done inpatient in the Hospital for the course of the next 6-8 months depending on the end status of the Cancerous Tumor.
I have had to completely stop working to be with her in the Hospital full time to take care of Faith. I also have a 12 year old daughter who depends on me full time. I have no income at this time and it has been a great challenge to pay all our bills and our home is a far distance from the hospital, of which I have to go home frequently to check on my other daughter.
We so desperately need help and are asking for help. We greatly appreciate all the help and pray God will multiply all your blessings as you help my family in this difficult time in our lives.
Thank You Sincerely,
Consuelo Hoo, Faith Buckner and Family
God Bless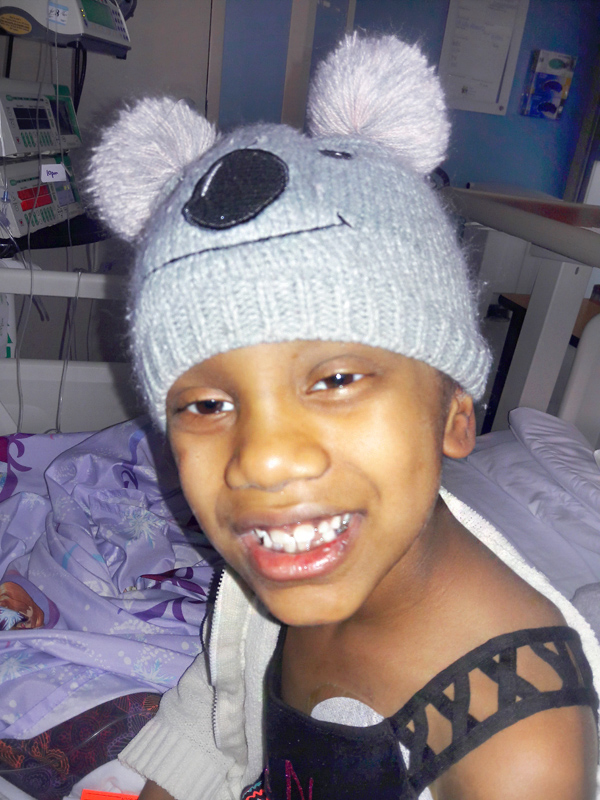 Faith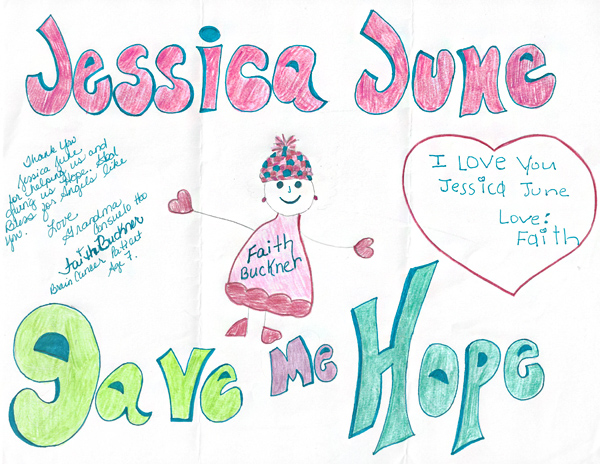 Faith's drawing on 2/28/18