Assisted Children: Individual Stories
Single Mother Fighting to Keep her Home after 4 Y/O Son is Diagnosed with Leukemia & Son's Dad Suddenly Dies
Collection Complete October 2012. Thanks to JJCCF's Financial Assistance and Advocacy programs this family benefited from having access to basic human needs during a dreadful time.  Additionally, JJCCF nominated Evan for El Dorado 45th Anniversary furniture make over. On 5/18/12 family was awarded with a $5,000 furniture shopping spree plus a $500 check from Channel 10! Evan's broken bed, dining room table, and a soiled sofa was replaced. See video on ABC Channel 10 news.
Story:
---
Evan, 4 Y/O, Chris Evert Children's Hospital at Broward General Medical Center
Evan was diagnosed with Leukemia the same year he lost his father. Mother took a second mortgage because she was behind on bills left from her late husband's medical condition before her son was diagnosed. JJCCF has provided emergency financial assistance to help with basic human necessities.
---
Needs:
For the next couple of months while Evan is undergoing intense chemotherapy, his family will need assistance with their bills and any donation will be helpful.
---
Message from Hospital Social Worker:
January 9, 2012
To Whom It May Concern,
Evan Dumervil-Goldsby (DOB: 2/7/07) is diagnosed with Acute Lymphoblastic Leukemia since December 1, 2011. He is receiving chemotherapy treatment. Evan will continue to require outpatient or inpatient treatment one to four days a week for approximately the next six to eight months.
Evan is an only child. He resides with his mother, Marsha Goldsby. She is a single parent. Evan's father died in March of 2011 from a sudden stroke. Evan's mother is a registered nurse but is out of work for medical reasons. She reports she exhausted her finances and was not able to pay her bills. She was beginning to make plans to return to work out of necessity this December just prior to Evan's diagnosis.
Evan will now require multiple treatments and care which will require his mother to be available. He was attending pre-school and will not be able to return for approximately one year. His mother is hoping to be able to work part-time and have someone care for Evan in her absence. She is currently requiring assistance with her mortgage payments, car and some other household bills. Thank you for your consideration.
Sincerely,
Bernadette Brunetti, LCSW, OSW-C
Social Worker
---
Plea from Mother, 12/26/11:
Hello,
My 4 y/o son, Evan was diagnosed with Acute Lymphocytic Leukemia on 12-01-11. He was admitted on 11-30-11 after going to four doctor visits and three ER visits. He would ask me, "mom what happen to me, can you make me feel better"? his would cause me to break down. It has been a challenge because we lost Evan's dad, on 3-28-11, from a massive stroke. As a small business owner, Evan's dad failed to pay into social security so Evan does not qualify to receive any death benefits. We also immediately lost monthly income that we received from his dad after his death. So there has been much to handle in a short time period. I already struggled each month to make ends meet as a result of being $600 short of covering our monthly expenses. Therefore, I thank everyone in advance for any assistance that can be offered to Evan & I during this urgent time of need. Any donation will be greatly appreciated.
Sincerely, Marsha Goldsby
---
Testimonial from parent, 01/24/12:
The Jessica June Children's Cancer Foundation is a God sent to families. There are no words to express the appreciation that Evan & I have for the assistance provided during our time of need. The emotional support also help us to get through with what we face when dealing with a young child with cancer. I want to thank each and every donor for making it possible for the JJCCF to help families because this could not be done without you.
Marsha Goldsby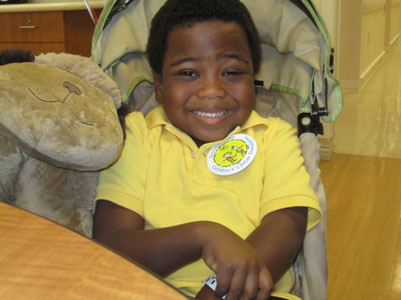 Evan at Broward General Medical Center