Assisted Children: Individual Stories
7 Y/O Girl Fights Brain Cancer as Single Mom Struggles to Pay for Basic Needs
Collection Complete April 2016. Thanks to JJCCF's Financial Assistance and Advocacy Programs this family benefited from having access to basic human needs during a dreadful time.
---
Story:
Emily, 7 Y/O, Nicklaus Children's Hospital, Miami Children's Health System
Emily has been struggling with brain cancer since she was 18 months old. She has survived 3 surgeries, 64 radiation treatments, 2 years of oral chemotherapy and 1 year of intravenous chemotherapy. After her second surgery, Emily was in a coma for 8 days and a vegetative state for 100 days. Emily has lost her ability to walk, is gastrostomy tube dependent (tube inserted into the abdomen that delivers nutrition directly to the stomach) and oxygen dependent. Her single mother is unable to work due to Emily's health care requirements. The combined emotional and financial stress has been unrelenting… leaving the mother with only her prayers to sustain them.
Needs:
Emily and her family need immediate help to pay for rent, food and gas.
---
Message from Hospital Social Worker, 9/25/15:
Emily is a seven year old female with recurrent metastatic posterior fossa ependyomoma with secondary central hypoventilation BiPAP and is oxygen dependent and g tube dependent. Patient is currently receiving chemotherapy treatment. Family is in need of financial assistance and would like to apply for the Advocacy Program. Mother expressed some needs with day to day expenses; like food and gasoline. Please consider helping this patient through the Advocacy Program.
Sincerely,
Amanda K. Treadwell, MSW
Pediatric Social Worker
Hematology/Oncology

Click on the PDF icon to view original letter from the Hospital Social Worker
---
Plea from Mother, 9/28/15:
I am Adriana, Emily's mother. I will never forget the day of her diagnosis. It was December 31, 2009 at 6pm. She had been feeling sick, just vomiting and vomiting. Initially, they thought that she had a virus, but that day we found out that it was much more than that. She was diagnosed with Ependymoma.
She was just 18-months-old at the time. Since then, Emily has had three surgeries, 64 radiation treatments, two years of oral chemotherapy and one year of intravenous chemotherapy. After her second surgery, Emily was in a coma for 8 days and stayed in a vegetative state for 100 days. She also lost the ability to walk. She is now bipap and oxygen dependent, G-Tube dependent and has a VP shunt.
I am unemployed. My son recently lost his well-paying job because he was often late due to the fact that he takes Emily to and from her appointments. He is very involved in her care and is the main provider for our family. This week, he found employment at a restaurant, making significantly less than what he made before. Additionally, Emily's father has not been contributing as much financially as he used to.
We now have a problem with our housing as well. Due to Emily's condition, she uses medical equipment 24/7. Our landlord has stated that we cannot stay any longer because Emily's equipment causes too many expenses. Our rental agreement ends in December, so I do not know what will happen after that.
The Jessica June Children's Cancer Foundation has been a huge blessing in our lives. When Emily was diagnosed, it was such a difficult time, but the Jessica June Children's Cancer Foundation gave us hope when we felt there was no way out. Sandra has especially been a source of strength for our family. Although I have never met her in person, I feel so close to her. Everyone at the Jessica June Children's Cancer Foundation has gone above and beyond for us, not only financially but also by giving us their love and support. I send every one of them many blessings. One day, I hope there is a way that I can give back.
I would be so thankful if the Jessica June Children's Cancer Foundation would help my family once again by accepting Emily into the Advocacy Program. We are in great need of help and could use the assistance in any way possible. Once again, thank you for taking the time to consider Emily's case.
Adriana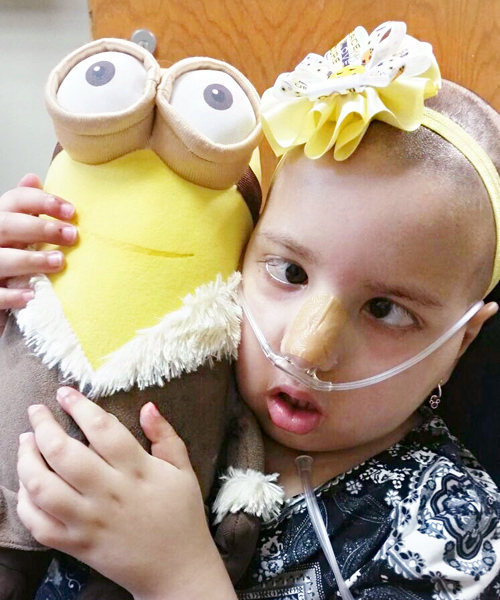 Emily