Advocacy Program: Children Urgent Needs (updated 4/30/2021)
Family Crisis Spirals as Baby Battles Aggressive Infant Leukemia 
JJCCF is accepting donations in honor of Elizabeth. If you wish to share your compassionate support, 100% of your donation will go towards assisting Elizabeth and her family with their basic necessities. JJCCF does not charge for its services or take a percentage of funds raised.
Online:
Donate Indicate Dedication / In Honor of Elizabeth

Mail:
Kindly make your check payable to "JJCCF" and write "For Elizabeth" in the memo
Address:
Jessica June Children's Cancer Foundation
1 Las Olas Circle, Suite 209
Ft. Lauderdale, FL 33316
---
Story:
Elizabeth, 1-year-old, Salah Foundation Children's Hospital Broward Health & Holtz Children's Hospital
Baby Eli has spent most of her short life in the hospital battling Leukemia.  Late 2020, while receiving chemotherapy, she was diagnosed with COVID-19, placed on a ventilator and survived.  Earlier this year, after receiving a Bone Marrow Transplant, Baby Eli was in the PICU 15 days in a medically induced coma due to liver/ kidney failure and survived.  This little warrior has survived aggressive infant Leukemia, COVID-19 and a Bone Marrow Transplant.
In 2020 the family's crisis intensified when Baby Eli's father tried to take his life and was also hospitalized.  Due to the pandemic, father lost his job in landscaping and could not face the reality of not being able to provide for his family. Miraculously he was taken off life support and survived a near death experience.  The family received our immediate assistance to pay their rent, phone and food at a time when the family had no income, but more help is needed to make it through the crisis.  Although the father has recovered well through therapy, he can only work part-time and must also take care of his two young sons while the mother cares for the ill baby.
Needs:
Elizabeth's parents' plea for temporary assistance to pay for their rent and food to maintain the family's stability.
---
Letter from Hospital Social Worker:
Dear Jessica June Children's Cancer Foundation,
Elizabeth is a ten-month-old pediatric oncology patient at Salah Foundation Children's Hospital at Broward Health Medical Center. Elizabeth was first diagnosed with B-cell Acute Lymphoblastic Leukemia in February 2020 when she was only four months old. Elizabeth has been treated with chemotherapy treatment. Her case is complicated by her young age. She has been told she will need a bone marrow transplant. Elizabeth's family would benefit from any assistance possible during this time of need. Thank you to the Jessica June Children's Cancer Foundation for the support that would be so beneficial to this family.
Sincerely,
Melissa Stachowiak, LCSW
Licensed Clinical Social Worker, Salah Foundation Children's Hospital Broward Health

Click on the PDF icon to view original letter from the Hospital Social Worker
---
Plea from Father:
My 10-month-old baby girl has been battling Leukemia for the past 6 months, which along with COVID-19, has hit my family very hard.  I am the sole provider for my family of (5) and can only work part-time three days per week due to a sharp pain in arm for which I receive therapy.  Additionally, I need to care of my two young boys (6 and 9-year-old) while my wife takes care of our baby girl who has been hospitalized most of her life.  During this critical time while baby Elizabeth battles COVID-19 and gets ready for a Bone Marrow Transplant, we ask for your consideration to help us pay our monthly rent ($1,300/month) so we can maintain a roof over our heads.  The limited income I am able to make, can pay for our cell phone, electricity and some food.  Most important, I want to express my heartfelt appreciation for those who can help us and pray for my daughter.  God will bless and protect you.
Jesus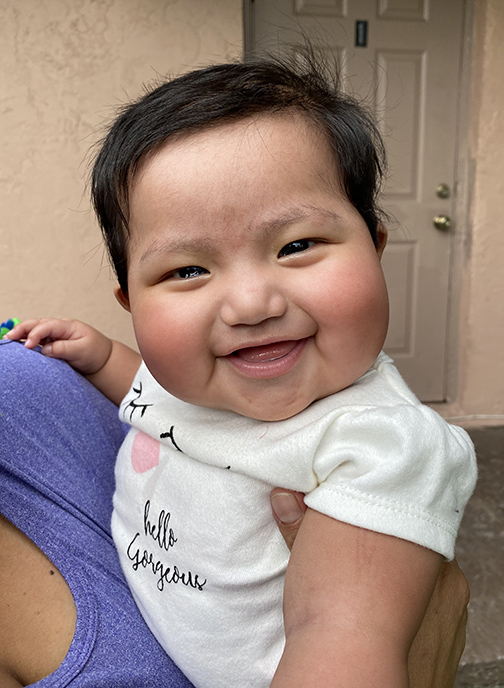 Elizabeth